Annual Function
Dazzling Evening On Annual Day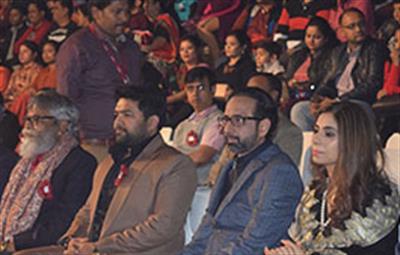 Delhi, 22nd December, 2017: Happy English School organized its annual event on 21st December, 2017, Thursday. The school staff along with its students organized the event at Yamuna Sports Complex auditorium. They organized the event to celebrate harmony to spread the word of peace in the present era when the world is torn by violence and restlessness. Anupam Shyam Ojha (Sajjan Singh), the renowned actor was the Chief Guest of the event.
The event began with lightning of lamp by Chief Guest, Head Sir and Head Ma'am followed by Ganesh vandana. Further, Mrs. Arti Khungar, principal of H.E.S. addressed the gathering by her simple and thought provoking opening speech. To welcome the guests, Mrs. Sunita Phuloria, the dance teacher along with the students presented a dance performance on the song 'Ghoomar'. The event was followed by two ballets: 'Khul Ja Sim Sim' and 'Ek Khwayish' performed by the students of primary and middle wing respectively.
The first play 'Khul Ja Sim Sim' was based on the famous Arabian nights' story 'Ali Baba And Challice Chor' projecting the various shades of human character through a ballet. Some of the songs in the ballet were, 'Senorita', 'Pyar Ki Ek Kahani Suno', 'Bhardo Jholi' and many more.
At the end of the first ballet, Harmony, the school magazine 2017-18 edition was launched. Further, the Chief Guest and Head sir delivered speeches on this occasion.
Preceded by a song, 'Together we can change the world', the second ballet, 'Ek Khwayish' began. It was based on harmonious human co-existence inspite of various social and geographical variations. The ballet had dance presentations on songs like 'Bulleya'. The annual event ended with grand finale dance presentations.
An overview of the programme was expressed by one of the teacher representatives captures the spirit of the Annual fiesta "Harmony" - 'Hard work and dedication of the entire team enabled to accomplish our mission.'
By: Khyati Jain and Kritvi Gera