Event/Activities
Orientation Programme at Happy English School
Happy English School embarked their new session with an Orientation Programme on 3rd April, 2018 which offered students and parents a glimpse of the school that will play a defining role in the whole family's life for the upcoming years, and in that sense, it would be just as important to parents and students. Becoming familiar with the physical campus and the school culture made it easier to understand what lies ahead and have informed conversations in the coming years. The Principal of the School, Ms. Arti Khungar enlightened the gathering with the Vision and Philosophy of the school along with a brief introduction of the entire Academic, Administrative and Support Staff to the parents. The aim was to give parents an opportunity to understand the world their child explores in the school.
Event/Activities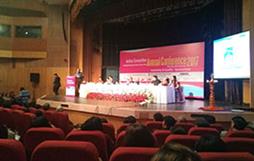 Conference of Action Committee Unaided Recognized Private Schools
HES, Sharad Vihar was an active participant in the conference organized by an action committee meant for unaided recognized private schools which was held on the 16th December, 2017 at Indian Habitat Centre, Lodhi Road. The committee members discussed actively on quality of education being imparted by the unaided recognized schools and proposed suggestion for further improvement and advancement in the areas thereto. Various eminent personalities namely Retd. Major General P.R. Sehgal, Justice Mishra contributed their views pertaining to this. Moreover Educationist and corporate executive Professor Vikram Dutt shared how we can guide our children to build their career according to their strength and ability. Mr. S.L. Jain, senior vice president of action committee emphasized on this point – how to strengthen the coordination and ties with the organizations like CBSE, Directorate of Education and parents association to work meaningfully in the sector of education.
Event/Activities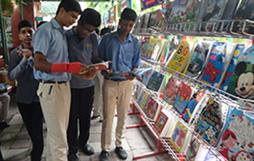 Book Fair
"We should not teach great books; We should teach a love for reading" -B.F. Skinner Complimenting to this quote, an exclusive Reading programme of Happy English School provided platform with purpose of booming the interest of children into books and towards reading by organizing an enriching book fair.The purpose of book fair was to promote the habits of reading through which a great enthusiasm and love for books has been witnessed among students. It was organized by 'Scholastic India' and held from 23rd to 25th of August 2017 in the school premises. It saw an overwhelming response from students and parents who had come to attend the PTM. For the entire student community of the school these three days were spent browsing a wide range of books from all disciplines of education on display catering to the taste and age group of every student, however, fiction saw the greatest takers but activity books and subject related books also captured a limelight. A lucky draw was organized by the scholastic group for book lovers. The highlight of the event was the Classroom Challenge Activity that captivated the maximum readers to the book stall to grab the title for their class. The most incredible class of Readers received a hamper of books for their class library. The event was inaugurated by School Principal Ms. Arti Khungar. It felt overwhelming to see the participation of all the stakeholders with passion and eagerness. The aim of encouraging and inculcating love for reading seemed to be fulfilled by efforts of team members. Reading in itself is an experiential journey and we all want our children to travel miles across that journey. It is the most marvellous adventure that one can have and through such events we are trying hard to provide that adventurous experience to our children. We hope that continuous efforts towards this direction and organization of such events like book fairs, children would get ample opportunity to interact with books and immerse themselves into world of literature.