Event/Activities
Skit and PowerPoint Presentation On Say No to Plastic Bags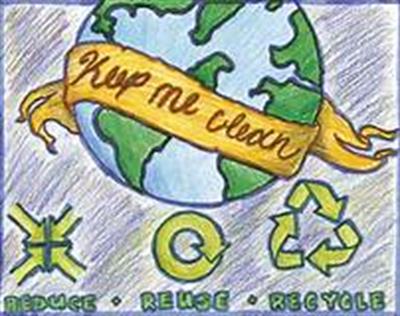 As you open the gate of your home to go out, you will probably step over used plastic bags, empty biscuit wrappers or even empty pan masala pouches, strewn everywhere from the street. All over the street, in the drains and on the pavements there are discarded plastic packets and bottles, used packaging and numerous packets with wasted food from the surrounding eateries. Plastic is a scourge that seems to have grown to alarming proportions "The average human in India uses 3 kg of plastic per person per year. That's far lower than the European who consumes 60 kg per year, and the American who consumes 80 kg. Because we are so populous, the amount of plastic consumed is mindboggling and our disposal habits make it a health hazard. As long as our homes are clean, we are fine; throw all the plastic waste on the road for the corporation sweeper to clean. If they do not, we just sit back and grumble that the municipality is doing nothing." Most people know that litter is bad for the planet, but did you know that it's also bad for animals? Birds frequently get their beaks wrapped or wings tangled up in discarded fishing line. Hooks can be swallowed or become embedded in birds' skin or beaks.
As a matter of concern "Please Don't Litter, Pretend You Were the Critter!" is the message from the students of classes VI -X who performed a sensational skit under the guidance of their science teachers, Ms. Nidhi and Ms. Kanika in the morning assembly expressing their deep concern on how the plastic we all use kills and injures the innocent animals when they mistake it for food they get tangled in it and they die from it.
Presenting more authentic facts in figures they informed that at least 8 million tons of plastics wind up in the oceans each year ― that's like dumping the contents of a garbage truck into marine waters every minute. This trash ― be it bottle caps, balloons or fishing twine ― can take a toll on marine life. When animals find plastic refuse floating around in the ocean, they can mistake it for food and eat it. Over time, if they eat enough, they can begin to feel full and die of malnutrition. They can also get entangled in discarded packaging materials or abandoned fishing gear, leading to injury and sometimes death
The Kpites unanimously pleaded with folded hands to take the message home presented through their skit, Never, ever litter. Animals of all kinds often mistake trash for food or shelter. Securely cover garbage cans and recycle bins so that animals can't get into them and become trapped inside. And don't forget to keep an eye out for other people's trash, too. Your actions could be the difference between life and death for an animal. In addition to the specified skit presentation the students of class IX presented POWER POINT PRESENTATION on WASTE MANAGEMENT under the table guidance of their science teacher Ms. Sangeeta Verma
Kpites confirm that Waste Management has been a major environmental issue everywhere since the industrial revolution. Besides the waste we create at home, school and other public places, there are also those from hospitals, industries, farms and other sources. Humans rely so much on material things and they all (almost) end up as waste. And where does the waste end up? This was a million dollar question raised up by each and every Kpite during their presentation. Furthermore they compelled their class companions to imagine that we all throw garbage, junk and rubbish away anyhow. Imagine there was no authority to supervise waste management activities .Imagine we all just sent our rubbish to the landfill, or just dumped them in a nearby river. What do you think will happen? A disaster! The PowerPoint presentation particularly targeted for the important aspects of only waste management.
The Students wonderfully explained the elite topic step by step and emphasized that the priority is to move from reliance on waste dumps that offer no environmental protection, to waste management systems that retain useful resources within the economy. Waste segregation at source and use of specialized waste processing facilities to separate recyclable materials has a key role to play in protecting our environment. Needless to say that both the activities presented on the same day were worth appreciating.
We, at KPS, believe that not only adults but even children should be taught of the ways to prevent usage of plastic bags so that they can get habituated to the practice and responsibly contribute to creating a better environment tomorrow. Being the next generation citizens, our children should have a better understanding of the need to use the natural resources appropriately and not waste or damage the environment in any way. Since plastic usage is common in every household, children should know what role they personally play in the big picture of plastic pollution and how they can help make a difference. Saying 'no' to plastic bags should not be a big deal. Of course, humans have lived years without it. Isn't it? But what makes plastic the 'indispensable thing' in today's life is its easy use and durability. It is important to understand the impacts it brings on the environment and hence each and every one of us should contribute actively to stop the usage of plastic in our lives. Keep a jute or cotton bag handy with you whenever you go out and value Life.
KPS Audience In The Battle Of Brains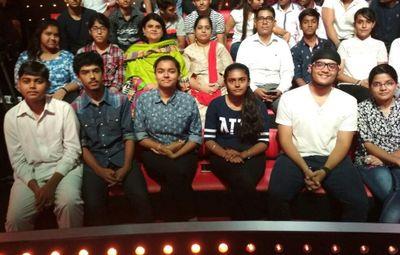 With an aspiration for KPS minds who can be encouraged to learn more about news and connect with it on a much larger scale, a cheerful group of 30 students from class XI were escorted by their teachers namely Mr. Vinod, Mrs. Kumud and Mrs. Poonam Kumar at India Today studio, Noida on 19th September2017 to watch News Wiz 2017, India's first and only news quiz on a news channel hosted by Rajdeep Sardesai. "Starting outside the big blue doors, go inside and see multiple productions set up ready to shoot.
"Students were enthralled to see the glamorous set up of the venue- Glittering Lights, Cameras, Music, Sound system etc. Three top scoring teams from the top schools of the country participated for the television round. The zealous brains of St. Joseph Bangalore, DPS Nagpur, Sunbeam Varanasi showcased the top quizzing talent, with edge of the seat excitement and nail biting finishes with buzzers and with the spark "If your knowledge is sound, make the noise." St .Joseph School added feather to their cap by bagging the First Position. The K.P.S students had an enriching exposure of the reality of hard work involved in behind the scenes .Things are not as simple as they look. The unending retakes, dubbing, co-ordination, indispensable role of the audience during recordings and T.V shoots require immense patience for ultimate success of any show before its telecast in the air. At the end of the event students relished the sumptuous lunch provided by the host. All returned back to school with mesmerizing memories and lifelong skills.
A Sankalan Of Wipticks Compiling Innovation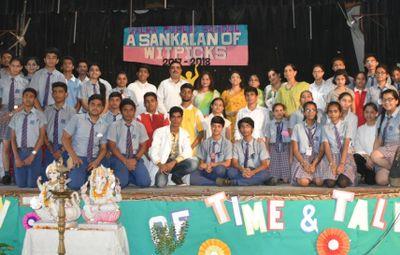 Kalka Public School, Alaknanda, New Delhi organized SANKALANOF WITPIKS-An ANNUAL INTERSCHOOL COMPETITION in the school premises. It was a one-day MEGA -FEST scheduled on 26th July 2017, encompassing several technical and non-technical events with a vision to bring together the vibrant minds across Delhi schools under one roof and to give a platform to showcase their talents in their respective fields.
The event commenced with the ceremonial lighting of the lamp by the venerable guests and the managerial dignitaries of the institution. Holy shalokas sung by the students' added serenity and purity in the air. The Meet was declared open by our distinguished judge Mr. V.P Singh. He showered his blessings on the competitors.
Sankalan undoubtedly provided the students an amalgamation of Academia and Thrill. Creative participants from New Delhi and NCR's prestigious schools explored a unique dimension of knowledge to showcase their talents through a plethora of events viz Count To Mount , Enact to tell a tale , Hindi Story Telling ,Recital of Sanskrit shalokas , Demonstration of classical Experiments titled 'The 'Shelved' in science, Innovation to Invention, Impromptu, Pyrotechnique in Maths &Physics Spell-Bee, English Debate. The participants were filled with enthusiasm, anxiety, curiosity and amazement. Bindi and Bangle competition was also organized for the teachers who had accompanied their participants from various schools. Fulfilling our GREEN MISSION the event Regard before Discard (Best out of waste), was a perfect blend of learning and fun and a perfect design for change. Participants from various prestigious Delhi schools loved to showcase their coding abilities, while others showed their gaming talents. Zealous participation of the talented students spoke volumes about the young minds and their perception in every field -- be it technical or non – technical event. They guaranteed to open the doors to a new perspective, where the geniuses think, plan and create.
Thus at the end of the events all participants converged at the school auditorium 'Sanskriti'. The VALEDICTORY FUNCTION commenced at 11:30 AM. SANKALAN has always been endowed with the host of eminent guests from Academia &Industry. The Guests of the VALEDICTORY FUNCTION were Mr. Nimish Kapoor, eminent senior scientist at VIGYAN PRASAR ,Dept. of Science and Technology and Ms. Eti Gupta, a gemologist and Director of GIS Institute. Finally results were declared amidst tensed expectations and nail-biting suspense during the Valedictory Function. Talents were recognized and rewarded. The Guests of the event addressed the gathering and acknowledged the untiring efforts of the teachers and students. The victors were awarded trophies and certificates by our Honored Principal Dr. Anju Mehrotra. St. Columbus School took the Rolling Trophy. A befitting end indeed to the gamut of potential was orchestrated by the future promising leaders of the country. The event concluded with the Vote of Thanks and the 'non vocal' representation of the National Anthem. A silent but note worthy end to a memorable SANKALAN FEST 2017.