Event/Activities
A Run to Beat Plastic Pollution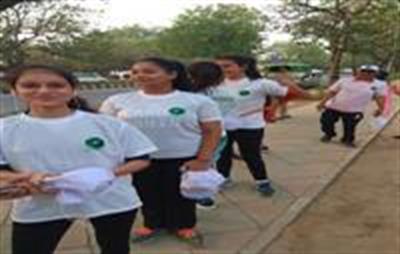 On 03.06.18 students of Ramjas school Sect 4 ,R.K Puram participated in in minimarathon "ENVITHON" . Its theme was to "RUN TO BEAT PLASTIC POLLUTION". Marathon was organized by Deptt of Environment,Forest and climate change on account of World Environment Day
on 05. 06.18. Students assembled in the school premises at 5.00am in the morning and reached the venue at Vinay Marg sports complex. It was a great site to see the enthusiasm and fervour among students and their parents. Mr. Mukesh and Mr. Nitin from the school accompanied students. Many dignitaries from Deptt of Environment and Forest motivated students in combating plastic pollution.
It was a great step by the students, their parents and exstudents to make this event a big success and to spread awareness about plastic pollution.
Earth Day Celebrations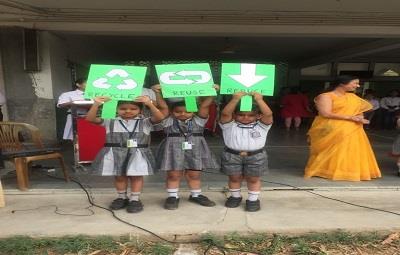 Together we can make everyday Earth Day and each one of us in the school can make a difference'
Earth Day was celebrated on April 20th, 2018 at Ramjas School R.K.Puram in the school premises.
It was a great day to showcase environmental education, highlight efforts to green the school and engage the whole school in making a change.
Street play showcased in the assembly explained to the students how Earth can be saved . Classes 1and 2 also participated in the assembly where in Preksha of class 2-B delivered a speech where she spoke about the importance of the 3R's . The assembly was concluded by a pledge taken by the whole school to plant more and more plants to make our environment clean and green. The little kids in the classroom were engaged in colouring activities and badge making along with some poems related to the mother Earth .
The Project on "Foldscope" Gets a Kick-Start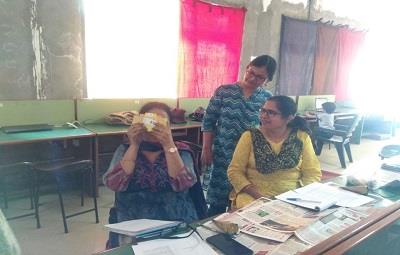 In 2017 our school sent a proposal for a project on Foldscope ( a foldable paper microscope made by Prakash Labs) which was selected by Department of Biotechnology. Under this project the school will be given a grant of Rs 400000/- to be utilised for the project in a time period of one year. An orientation program for the same was held at ICGEB which was headed by the COO of Prakash Labs and 30 Foldscopes were handed over to be used by the school.
The project kick-started in our school with an orientation and sensitisation program for the teachers of science department on 26 April, 2018. The workshop was conducted by Mrs Sonia Varghese one of the project coordinators ( the second being Mrs Charu Arora). The teachers were shown how to assemble and use the foldscope in the class. They were also told about the advantages that the foldscope brings to the classroom. Foldscope were distributed to the teachers for further use in their projects.