Event/Activities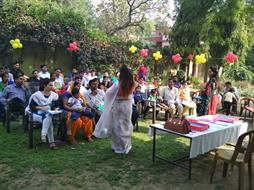 New Nursery Orientation Programme
Ramjas School, R.K. Puram organized an orientation programme for the parents of Grade nursery on 3rd April, 2018 in the school lawn. The aim was to familiarize the parents as 'partners in progress' with the curriculum, rules and regulations of the school, teaching methodologies and the co-scholastic activities. The session started with a welcome note by respective class teachers.Parents were briefed about the various forms that are required to be filled. The teachers gave an overview of the co-scholastic activities which provided the parents with an assurance that our curriculum involves hands-on learning activities which not only are a vent to the creative talents and energies of the children but also help in their all-round development. The respective teachers gave detailed information about the learning parameters and stressed upon the innovative teaching and learning methodologies followed in school. While addressing the parents, all nursery teachers emphasized that nursery follows creative curriculum which offers children plenty of opportunities to exhibit creative behavior. Such a curriculum will emphasize on independent learning, self–initiated projects and experimentation. Today's children must be given the chance to develop their creativity to the fullest. The orientation programme was ended on a good note with an aim of growing our children into happy, skillful and creatively well- adjusted citizens.
Event/Activities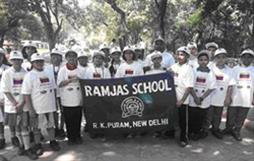 REPORT ON TREE PLANTATION
Students of Ramjas School, R.K. Puram participated in Tree plantation activity organized by Embassy of the Bolivarian Republic of Venezuela and NDMC to plant 200 trees on Friday, 18th August 2017 at Bolivar Square, the crossing of Sardar Patel Marg with Simon Bolivar Marg under the slogan 200 Trees for India. Students of class 6th were accompanied by sport's teacher Mr Sanjay Singh and the other dignitaries of Venezuela embassy and NDMC planted saplings with great enthusiasm. This was in connection with the Earth Day celebration held on 22nd April in the Ramjas School where Mr Augusto Montiel, Ambassador, Embassy of the Bolivarian Republic of Venezuela was invited as a chief guest for the occasion. This activity promoted the importance of planting more and more trees to preserve the environment and balance the Eco-system.