Workshops
ATL-Unbox Tinkering Workshop at Ramjas School, R.K. Puram, New Delhi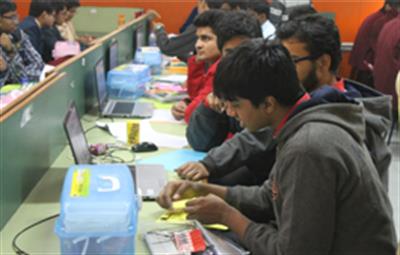 A two day unbox tinkering workshop was held at Ramjas School, R.K. Puram on 21st and 22nd November 2017. Eleven schools, teachers and students, participated from the community and neighbourhood along with the host school. The schools invited do not have an Atal Tinkering Lab facility in their own school. The purpose of organising such a workshop at Ramjas was to encourage students to identify problems in their immediate surroundings, ideate and come out with solutions which could benefit the society at large.
The workshop started off with the words of encouragement from our guest of honour Mr A. Muralidharan (parent advisory committee) and our Principal Mrs Rachna Pant. The activities of the first day consisted of an introduction to ATL, Introduction to the ATL takeaway electronic kits and a hands-on session using paper circuits.
Day two consisted of an introduction to Arduino, problem-solving and a brainstorming session on related problems. An ATL challenge was put forth to the teams so that they could come up with solutions to problems that affected them the most. The teams demonstrated their ideas and solutions by the end of the workshop. It was a great learning and enriching experience for all stakeholders as suggested by their feedback forms of the participating schools.
We thank STEMROBO technologies Pvt. Ltd. for technical support during the workshop.
Ramjas School, R.K. Puram welcomes all the neighbouring schools of the community to participate in such endeavours in the future as well.