Event/Activities
WAR TROPHY PROCURED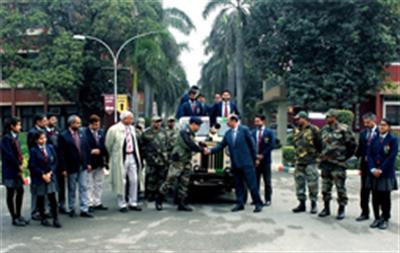 After the procurement of the obsolete trophy, 'Vijayanta Tank', The Mann School elatedly welcomed a war trophy; a jeep mounted Recoilless Gun (RCL) Gun 106/32,1A at its campus. The school is proud of its alumnus Col. Prahlad Oinam (1995 batch) whose sincere and committed efforts made the acquirement possible. It is a light rugged anti-tank weapon capable of firing from the ground or mounted on a jeep.
ARMY DAY CELEBRATION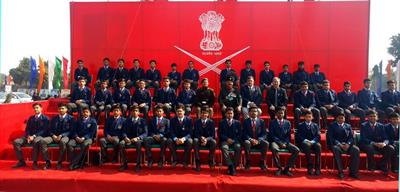 With the commendable efforts of the alumnus of The Mann School, Col. PrahladOienam (1995 batch), 52 NCC cadets of the school visited Cariappa Ground along with Mr A.K. Chugh, Mr A.C. Thakur and Third Officer Ruchi Shanke to witness the Army Day Parade. The excellent parade including military shows took place to indicate the new technologies and accomplishments in the Indian Army. Gen Bipin Rawat addressed the Army and honoured the valiant soldiers with Sena Medals.
Students were thrilled to see BLT T-72, T-90 tanks, Brahmos Missile, carrier Mortar Tracked Vehicle, 155 MM Soltum Gun, Advanced Light Helicopters of the Army Aviation Corps exhibited on this day.
MAPSIANS HOSTED GERMANS FOR STUDENT EXCHANGE PROGRAM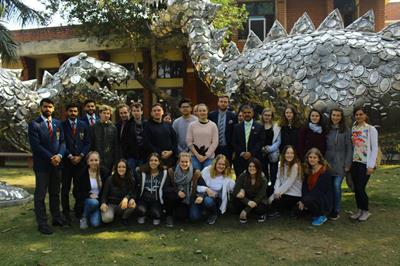 The Mann School hosted a student-exchange program with a school in Germany and contributed in strengthening the Indo-German ties. The students of the host school had visited Stadtisches Gymnasium Gutersloh, Germany earlier this year. In reciprocation, a team of 21 students, two teachers visited The Mann School for 10 days.
The students visited monuments and historical sites at Agra, Jaipur and Delhi during their stay at the school. They appreciated the rich culture and traditions of India and enjoyed capturing the beautiful moments. They adored Indian cuisine and art and crafts of our country. They tried their hands on pottery and tie and dye, which is a traditional art of printing. The inclination of girls towards Indian outfits couldn't stop them buying and draping sarees and lavish themselves with an ethnic. The exchange program gave them an exposure to the education system, culture and the way of life in India.
Lohri was also celebrated during their stay at The Mann School campus which was an amalgamation of Indo–German cultures. They lauded the Indian dances and couldn't resist themselves from dancing on the beats of dhol.
The success of this exchange program was evident from the deep bonding between Indian and German students which culminated in a tearful farewell on the last day of their stay.