Scholars of the school
Success Story of our 10thies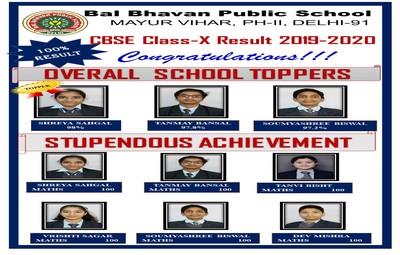 "They say perseverance and grit lead you to achieve the heights of success"
Our toppers from class X are; Shreya Sahgal with 98%, Tanmay Bansal with 97.8%, and Soumyashree Biswal with 97.2%. All these witty minds have shown, "if you are determined to go beyond the limits, success will certainly follow you".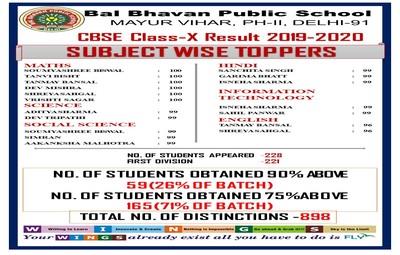 The stupendous result reflects the perseverance, tenacity, and hard work of the students, parents, and the faculty under the guidance and leadership of our school Principal, Mr. Vividh Gupta.
Success Story of our 12thies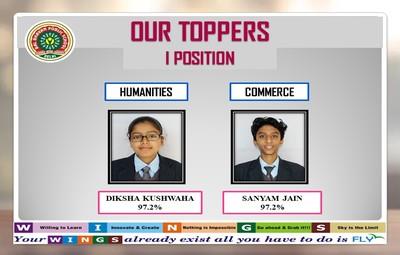 Our young minds have truly proved with their stupendous results that, it is the ability to persist in something you feel passionate about. This kind of passion is about having direction and commitment to oneself. Our students of class XII have set an example of "dream big and strive to fulfill that". They have truly shown, when you are passionate about your dreams, you stay committed and focussed on them.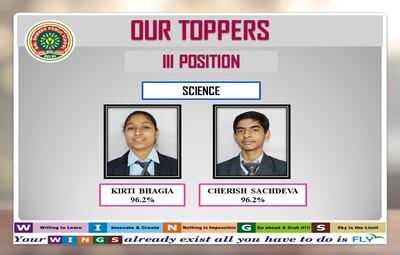 Our 12thies have exhibited exceptional performance in the CBSE Examinations for the session 2019-2020. Our toppers from class XII are, Diksha Kushwaha from Humanities and Sanyam Jain from Commerce both have secured 97.2%.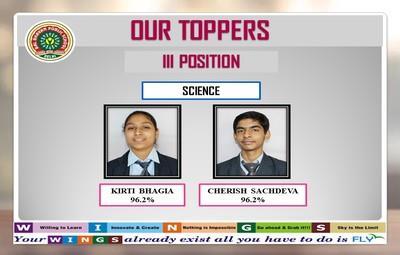 Second position holders are, Shailja Singh and Tanya Sachdeva with 96.4% both are from Humanities. The third position is secured by Kirti Bhagya and Cherish Sachdeva with 96.2%.