Workshops
Workshop on Artificial Intelligence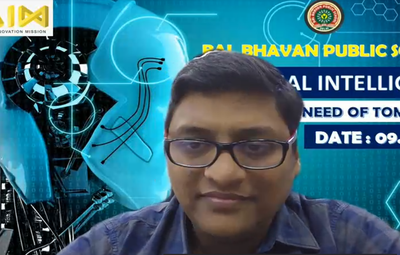 Artificial Intelligence is one of the fastest-growing and most transformational technologies nowadays, with this notion and to foster curiosity, creativity, and imagination in our young minds, a workshop on Artificial Intelligence was organised for the students of classes IX and X.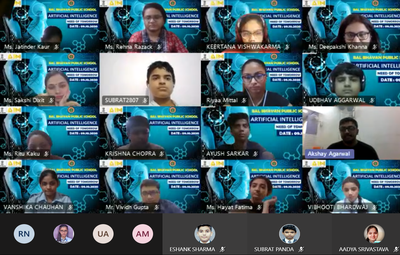 Resource Person Mr. Akshay Agarwal a STEM facilitator from STEMROBO encouraged divergent thinking which helped the students to trigger their minds. They were highly motivated and inquisitive in the session. It was an informative and enriching experience.
Insights Into The World Of Online Learning And Development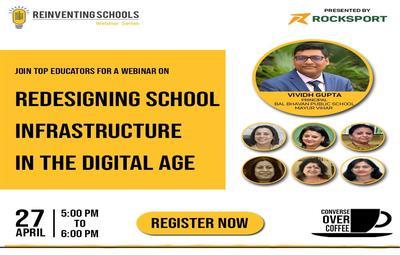 BBPS is a team of visionaries carving a landscape embellished with ever rejuvenating goals, the school marks a stroke of a positive change in the society. Following the praxis of the founder chairman late Sh. G.C. Lagan, The School Principal, Mr. Vividh Gupta, has kindled the lamp of virtual awakening for many educationists, teachers, parents, and students by conducting a number of webinars and CBSE capacity building programs.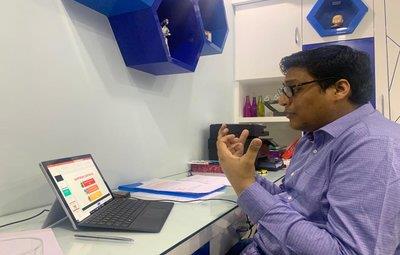 Being a spokesperson in webinars and CBP sessions such as Blub World Web Talk, Reinventing schools by Rocksport, Life skills CBP by CBSE, Classroom management CBP by CBSE and so on, he has provided a vast number of strategies with which innovation can be brought even into the virtual world of learning.
Webinar on Cyber Security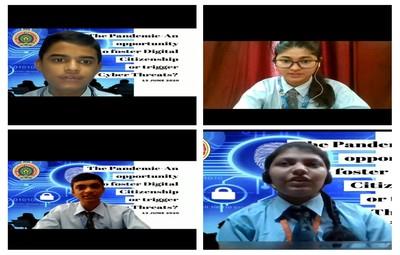 "The COVID-19 outbreak has introduced almost overnight changes to various landscapes across the globe as it swept through continents."
Our school organized a webinar on much needed and vital topics nowadays-"The Pandemic-An opportunity to foster Digital Citizenship or trigger Cyber Threats?". The guest for the day was Mr. Rakesh Kharwal, Managing Director in Cyberbit who with our young panelists discussed the state of cybersecurity in delicate times, the evolution of the threat landscape since the outbreak, and counter-responses to keep individuals and organizations safe. Our reliance on technology in our day-to-day life is exposing us to new kinds of risks.
Organizations are it educational or non-educational, are now facing new challenges in the business cybersecurity landscape.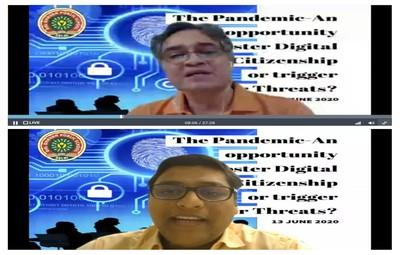 Increasing the vulnerability to attacks by opportunistic cybercriminals. However, a few simple good practices by students learning from home with their devices can go a long way.
Students understood the motive behind the webinar and learned how to deal with such cases as online criminals have also begun to abuse the current situation using COVID-19 themed email attacks, phishing, and spam. These attacks feed on our current fear of the situation which leads to the tendency of not thinking twice before clicking email links or attachments. There were many takeaways for both, students and teachers.
World Environment Day And Webinar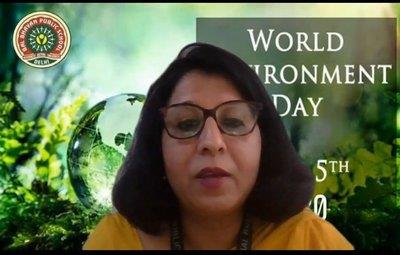 Our school celebrated world environment day and carried out with many activities to promote and instill Environmental concerns amongst students. We stayed home, maintained social distancing, and marked the day virtually wherein all the participants looked enthusiastic while participating in an array of learning activities like- Webinar, Essay Writing Competition, and Grow a sapling in their name. This intensive program was led under the theme; "Biodiversity: Time for nature".
Our school organized a webinar on 5 June 2020 with our young panelists in order to aware the masses. Mr. Gnaneswar C H Assistant Coordinator at Madras Crocodile Bank Trust/ Centre for Herpetology had kindly consented to be the Moderator during this important session and made it a success.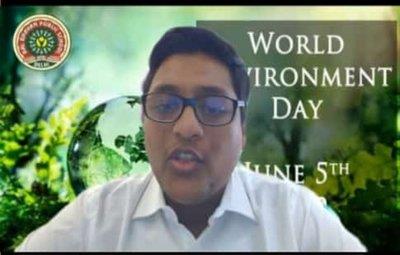 Our Principal, Mr. Vividh Gupta addressed the session with his words of wisdom.
Our school also organized an Online Essay Writing Competition for Classes VI-XII in which students participated enthusiastically keeping the theme in mind. Their posters were so lively that each one of them was sending a message. It indeed was a success.
FairGaze Webinar: Holistic Yoga & Pranayama Therapeutic Session in Covid Times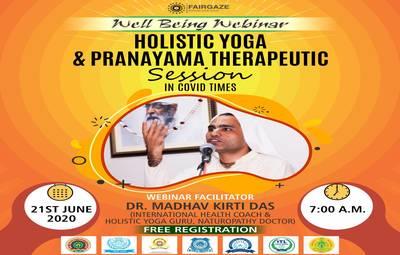 Every 21st of June, International Yoga Day is celebrated. It is praised to spread mindfulness about the significance and impacts of yoga on the wellbeing of the individuals. The word 'yoga' is extracted from Sanskrit which intends to join together.
This Yoga Day will not be the same one as every year it was. Remembering the pandemic circumstances around the globe, presently it will be celebrated on the web.
FairGaze thank and appreciate the school community, especially Bal Bhavan Public School, for supporting this initiative.