Annual Function
Mehta Vidyalaya celebrated 55th Annual Day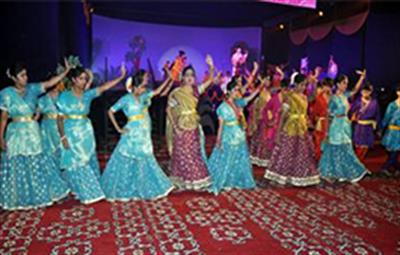 Bharatiya Vidya Bhavan's Mehta Vidyalaya celebrated 55th Annual Day on 26th Oct 2013 in the school premises. This year's Annual Day Celebration was significant in that it marked the twin celebrations of Bharatiya Vidya Bhavan's Platinum Jubilee and 125th Birth Anniversary of its founder, Kulapati Dr. K. Munshi.

The function showcases brilliant achievements and immense talent of the students.

Hon'ble speaker, Delhi Vidhan Sabha, Dr, Yogendra Shastri was the Chief Guest for the programme and Vice Chancellor K.R. Mangalam Group of Higher Education, Professor Kailash Narain Tripathi was the Guest of Honour.

The function was presided over by Padma Bhushan Kumari Surrender Saini, Chairperson, Mehta Vidyalaya. Other eminent guests and dignitaries present on the occasion were Smt. Uma Vasudev, Vice Chairperson, Delhi Kendra Shri Ashok Pradhan, Director, Delhi Kendra Shri A. S. Awasthi, Registrar, Bhavan's Delhi Kendra and Shri Upendra Kaushik, Manager. The function commenced with the lighting of the lamp, garlanding of Dr, K. M. Munshi's bust and melodious rendition of the School's Sarva Dharma prayer presented by the school choir.

The welcome address was delivered by the Vice Principal, Smt Vibha Kohli. This was followed by felicitation of the guests and dignitaries on the dais with bouquets and books.

Shri Ashok Pradhan, Director, Delhi Kendra in his address spoke of Bharatiya Vidya Bhavan's contribution towards education in India and abroad and the special role played by it in nurturing its students to become cultured and well rounded personalities in society. He also mentioned the twin celebrations of Bharatiya Vidya Bhavan's 75 years and 125th Birth Anniversary of its founder Kulapati K.M. Munshi. He added that Kulapati K. M. Munshi Sangeet Samman and Bhavan's Sangeet Samman would be conferred on two eminent artists on 8th Nov 2013 (Bhavan's Sangeet Samrat 2013) for outstanding contribution in the field of Arts and a five rupee postage stamp would be released by Department of Posts, Government of India on the occasion of Bhavan's Foundation Day 7th November, 2013.
The Guest of Honour, Shri Kailash Narain Tripathy spoke of the Founder Dr. K.M. Munshi as one who was a heterogeneous mixture of culture and politics and that he had been highly inspired by the book `Badrinath Ki Ore' which had been authored by Munshiji.

He urged the students to be focused on studies, since securing high marks is necessary for getting admission to institutions for higher education.

Smt. Usha Vasudev congratulated the Principal and the school for producing talented pupils.

Km. Surrender Saini in her speech said that the awards conferred on the students for brilliant achievements bore testimony to the school's level of excellence. She further mentioned that the desire to excel is necessary to scale great heights. She added that BVB played a special role in propagating Indian culture even abroad by opening institutes.

This year's cultural programme was a ballet based on the story of Ekalavya which epitomizes `Guru Bhakti Pratha'. The various episodes in the life of Ekalavya were flawlessly and brilliantly enacted by the students from Classes I to X.

The Vote of Thanks was proposed by Headmistress, Smt. Shashi Bhargava. The rendition of the National Anthem brought the programme to a close.