From the school desk
Principal's Message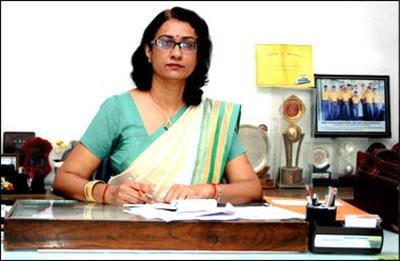 Dear Students, Bhavanites and Parents,
As we enter the second decade of the 21st Century, we have an important mission before us. Our mission is to spread knowledge far and wide across our country so as to achieve the goal of 100% literacy and make our nation a true superpower. For this school has to play an important role. A school is not just about bricks, mortar and concrete, but about building character, enriching minds and enriching experiences that lasts a lifetime. Here comes the pivotal role of teachers which like a pearl oyster transforms every grain of sand into a precious pearl. We must remember that students of today are going to build tomorrow's India. If they once get a firm footing, they build a strong nation.
Bharatiya Vidya Bhavan's Mehta Vidyalaya as a pace setter and seat of excellence endeavour to promote character building and intellectual pursuit to turn the young boys and girls into models of decency, uprightness and hard work.
Mehta Vidyalaya is an island of excellence imparting education to provide for the manifold needs such as intellectual, creative, emotional, spiritual and physical for full growth and development of demeanour. It is an institution for the young aiming at full blooming and maturing of their personality.
In order to do so Mehta Vidyalaya imparts a curriculum with a view of shaping the youth into well-rounded, well-disciplined, well-adjusted and well-tuned individuals making their mark in different walks of life.
I am deeply humbled by the management's confidence reposed in me while offering the post of the Principal. It is both a privilege and honour to be given this great opportunity to serve and contribute to the cause of education.
I realize that without the continued generosity of our parents, bhavanites and dedication of teaching and non-teaching staff Mehta Vidyalaya would not be the happy home away from home for thousands of children where they find love, security and hope for a better future.
Therefore I appeal to all supporters of Bhavan to join hands, to work together as a team for the school to achieve great heights. We are committed to empowerment and capacity building for a strong and stable organization where team work, shared responsibility and a culture of democracy and discipline are not only valued but also practised.
Let us work hard to develop students who believe in abiding by the standards of social behaviour, students who are not afraid to follow the truth, who are well-mannered, sensitive and smart and cherish freedom of their mind, humanity in their heart and integrity in their soul. They love truth, goodness and beauty and are epitome of what a cultured man aspires to be. The spirit of adventure is sustained and dignity of labour inculcated and their involvement in the community is unquestioned; 'Work is worship" and "Service before Self" are their guiding goals.
In the end, I wish to convey my appreciation and good wishes to students, Bhavanites, Parents and Staff of the school who have constantly played a very critical part through their dedication and have been the pall bearers in bringing fame and recognition to the school.
May God constantly shower his blessings on all of us!