Event/Activities
Billabong High International School, Noida hosted Litspree – An Inter-school Literature Festival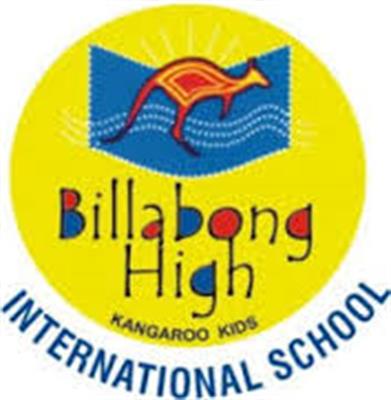 "There is no surer foundation for a beautiful friendship than a mutual taste in literature" - Pelham Greenville Wodehouse
Inspired by the great comic author, Billabong High International School, Noida hosted Litspree – An Interschool Literature Festival, on 8th & 9th September 2016.
Around 20 schools with over 400 students participated from Noida, Delhi & NCR with full gusto.
The vibrant activities Show n Tell, Pantomime, Masquerade, Stagecraft, The tale tellers, to name a few gave the learners a platform to exhibit their immense talent and knowledge. The age appropriate events enabled the learners to entertain, intrigue and enlighten themselves of books, authors, fables and love literature.
Various eminent personalities from the fields of dance, music and drama graced the occasion as jury members.
The learners were thoroughly engrossed during the events and imbibed a lot of knowledge through peer discussion as well. It was a huge platform where they not only showcased their oratory and creative skills but their intrapersonal and interpersonal skills as well.
The winners and participants were awarded with certificates and awards for their zeal and hard work.
The Principal, Ms Sharmila Chatterjee blessed and encouraged the participants.
BHI Encourages to 'Think Today for a Better Tomorrow' Through Their Yearly Science Fest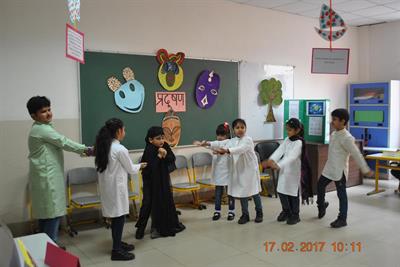 Billabong High International School, Noida (BHIS Noida), one of the premier schools to advocate integrated curriculum, celebrated the joy of science with "SCIENCE FEST" on 17th & 18th February, 2017.
Science is creating wonders almost every day! What was once sheer fantasy is now almost a reality by virtue of the recent achievements of people of this discipline. The advances in technology & science are transforming our world at an incredible pace, and our children's future will surely be filled with leaps in technology we can only imagine.
The theme of this year's Science Exhibition was 'Think Today for a Better Tomorrow' to make the next generation future ready. With the global warming gaining more impetus, children of today need to be prepared for tomorrow and inculcate habits of learning with scientific experiments that help them & the society to sustain and sail through.
Living the curriculum vision of developing a passion for scientific enquiry and thinking, BHIS Noida rolled out its annual science festival enabling their children to enjoy & grow in this discipline. The Science Fest was an exciting explorative adventure full of surprises. Each grade had a theme of their to learn with experiments like Creativity is Contagious, Body Faculty, Harmony in Music – Pollution in Noise, Odyssey of mind, Great Barrier Reef, and more.
The learners of astronomy club showcased Earth & Beyond through presentations & experiments, the learners of Robotics Club presented around Mechanization and there were attractive ICT presentations on Man Vs Machines, developed in-house by students of the school to enhance the learning process. The various clubs which showcased their works through various forms were Heritage club, Robotics club, Art club, Astronomy club, Literary club, Numeracy club, Science club, French club and more.
The kindergarten children of the school also had participated to showcase their trials & learning on Space Mania, Ombre – The Shadows and more through presentations on iPad, role plays, music & movement, interesting mind games, jingles, Nukkad Natak and much more.
The exhibition aimed to inspire students to think, connect and learn using knowledge, tools, technology & curricula of literacy to develop higher order thinking skills. Every learner tried his/her level best to imbibe every aspect which encompassed all the measures to make a better future for the upcoming generation. The scientific models and new innovations were a sight of treasure to relish and learn new concepts.
The school also set an example for others with the inclusion of experiments & participation from children at Sanchetna – the wing for education & development for children with special needs. The children also overwhelmed the audience with their informative presentations on Wonders of Green.
This year's Science Exhibition was prelude to the standards set by Billabong High International Schools in curriculum and teaching learning processes. The honours and accolades received by the school only reaffirm the faith of our stakeholders in our vision and endeavours. The school added few more feathers in the cap as Billabong High International School, Noida got "Ranked No.1 School of Noida & Uttar Pradesh" by India's School Merit Awards 2016, awarded "Best School for Excellence in Science Education" at Global Education Summit 2016 and awarded for 'Best ICT implementation, School Implementing PBL Methods of Inclusive Education' among top Noida schools by Brainfeed. The school was also voted "THE TOP SCHOOL OF INDIA" by the ELETS Digital Learning –School Ranking Survey 2016.
The pre-primary wing Kangaroo Kids also got voted "The Best Franchised Preschool of Noida" on a survey by a leading education magazine, for the second consecutive year.
Report on Spic Macay
Dance is a conversation between the body and the soul.
Billabong High International School, Noida in collaboration with Spic Macay celebrated World Dance Day on the 25th April, 2017 with Manipuri dance form performances by the renowned Padmashree Guru Singhajit Singh who is a leading exponent, choreographer and a guru of Indian classical dance form of Manipuri conferred with Sangeet Natak Akademi Award in 1984 and the Padma Shri in 1986 for his contribution to the Manipuri dance alongwith Ms Charu Sija Mathur who is also a Sangeet Natak Akademi Award recipient.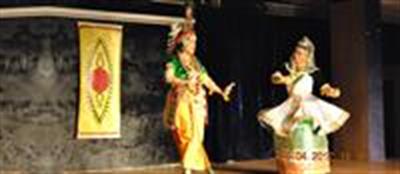 The programme began with the traditional lightening of the lamp and a warm welcome note presented by the students of Billabong where the learners spoke on the importance of world dance day and emphasized on the inspirational motivation behind organizing a spic macay event based on the Manipuri genre of dance. The performers displayed a unique presentation portraying a distinctive amalgamation of the life and culture of Manipur.
At the end of the event, Guru Singhajit Singh interacted with the students and satiated their queries by sharing interesting facts & valuable inputs. The performers were applauded and a token of gratitude was given to them by the Director, Ms. Jasmine Gandhi and the Principal
Ms. Sharmila Chatterjee.
Kangaroo Kids Present "The Creepy Crawlies Day"
Weaving a web of knowledge for children is one daunting task, which Kangaroo Kids undertook as the staff organized the "Creep and Crawlies Day" for little toddlers. Synonymous with the theme, learning was fun and exciting, as little ones understood complex concepts surrounding vermiculture, apiculture and the like.
Classrooms were transformed into colourful learning centres decorated with artistic displays, models and pictures where the little ones viewed the metamorphosis of caterpillars; life cycles of a spider, ladybug and other such species.
Astonishing facts and figures were creatively imparted with the help of short stories, puppet shows, movies, and exciting hands-on activities. Teachers had a field day as they donned the garb of bees, butterflies, and ladybugs and indulged in a song and dance, which enthralled the little ones. As the creepy and crawlies jostled for space, giving them competition were the dinosaurs, as children took a walk though a Jurassic-park like set-up all replete with models of different types of dinos, and took a quiz at the end of it all. This was not all to feed children's appetite; connoisseurs from diverse fields spoke to children on apiculture, vermiculture, and thereby imparted relevant knowledge.
The highlight of the exhibition was 'Dinosaur Kingdom' exhibited with life-size dino structures and an eloquent vocal presentation by children complemented the light & sound show beautifully. The exhibition also had reel shows on creepy crawlies for young visitors.
Another interesting facet of the exhibition was the Cinema Time for young visitors. Learners of Billabong High International Noida had prepared an entire shadow play on creepy crawlies. The children presented the show with their well-honed diction, precise voice modulations and impeccable intonations.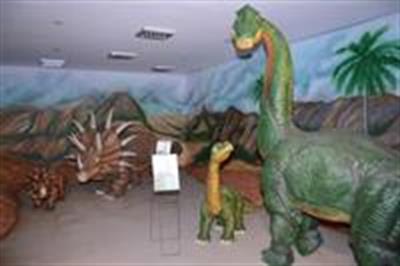 The curiosity in young minds about the world of insects gave Billabong High international school, an opportunity to re-create the enticing world of bugs by conducting the Adventures of Creepy Crawlies -a four day extravaganza.
The event saw approximately fifty five schools participate in the inter school events which were conducted on 12th and 13th of October 2017. The theme of the events revolved around the world of bugs and Dino's. Like innovative ways to create origami insects; using magic of colours to design an encyclopaedia cover; exercising the speech craft to recite poems in bugs enthralled the audience as well as the judges.

Little learners from various preschools of Noida and Ghaziabad came to witness the magic that these creepy crawlies weaved. Creative display of multi-legged creatures throughout the entire learning space made all the difference. There is no dearth to learning. The students who were a part of the entire event right from conducting the inter school events to enacting the baby Dino's truly made the event more majestic.
Kangaroo Kids has always endeavoured to break away from the traditional teaching practices with an orientation towards more experiential and contemporary concepts of learning. The curriculum stresses on "hands-on" learning which makes it less stressful and more interesting. This entails the creation of educational resource material that children can manipulate and interact with; this makes it stand out in stark contrast to other medium of instruction or information.
BHIS Noida Hosting 3rd All India Digvijay Singh Memorial Air Rifle Championship 2017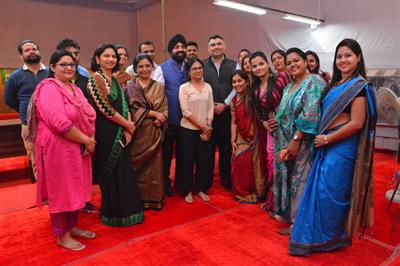 Billabong High International School, Noida is hosting 3rd All India Digvijay Singh Memorial Air Rifle/Air Pistol Championship in association with U.P State Rifle Association, Lucknow and National Rifle Association of India, New Delhi from 11th - 14th November2017.
The Championship will be inaugurated by ace Indian shooter Rajiv Gandhi Khel Ratna and Padmashri awardee Mr. Gagan Narang on 11th Nov, 2017.
The tournament is open to ISSF shooters and the qualifiers of 61st NSCC. The matches of this competition will follow rules set by ISSF Air Rifle Qualification (non-decimal) as they will be played on paper targets. According to these rules, the key element of this tournament clearly outlines that participants of the Rifle category cannot participate in the Pistol category and vice versa.
Winner of this Championship (Pistol/Rifle) will be awarded cash prizes of Rs.50, 000 for Gold medalists, Rs.30, 000 for the Silver medalists and Rs.20, 000 for Bronze medalists, sponsored by Billabong High International School Noida. The finalists of 5+5 of Champion of Champion will each get cash prizes worth Rs.10, 000.
"Shooting is a game of focus and precision. We're delighted to host this championship and set encouraging examples for young shooters to take up the sport enthusiastically and excel in it. We wish all the best to all the participants." Said Mr. Parmjit Gandhi, Chairman of Billabong High International School, Noida.
Speaking on the occasion, Rifle ace Gagan Narang, who recently returned after winning silver at the Commonwealth Shooting Championships in Brisbane, Australia, said, "It is really exciting to see Shooting spreading its wings in this country and schools slowly but surely embracing the sport. It is from schools that Olympic champions of tomorrow will emerge. I commend Billabong High in taking this initiative to host the 3rd All India Digvijay Singh Memorial Air Rifle/Air Pistol Championship and I am very happy to be here and see students excited to know about the sport."
Under the aegis of G. D Education Society, located in Sector 34, on a sprawling seven-acre campus, affiliated with CBSE Senior Secondary, Billabong High International School, Noida has been serving the community in the field of Education since its inception in 2007. The school aims to provide education that produces well grounded, resilient and successful human beings.
With an enigmatic championship organized with much fervor and enthusiasm, the event will bring about immense knowledge and awareness about this vivacious sport.
Dates: 11th- 14th November, 2017
Venue: Billabong High International School, Noida