Sports
Inter-School U-16 Cricket Tournament
Billabong High International School, Noida (BHIS Noida) humbly announces the onset of second season of the "T20 Billabong High International Inter School Cricket Tournament" (Under 16 Boys Category) 2017. It is a 6-day cricket series to inspire the young sportsmen and applaud the best.
The tournament started on 24th April and will end on 29th April 2017 with the closing ceremony announcing the winners. The school believes and envisions to promote cricket at grassroots level, offer competitive exposure to promising cricketing talents in Noida schools and continue unearthing good cricketing talent.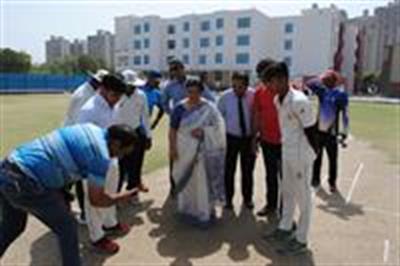 Ms. Sharmila Chatterjee, Principal of BHIS & KK Noida said, "We are proud to host the second season of such one of a kind cricket tournament where more & more schools of Delhi-NCR are participating. At BHIS Noida, we believe sports and games are an integral part of the Total Education of any child and makes valuable contributions to psychomotor, cognitive and affective domains. Our endeavour is provide an array of opportunities for all learners to identify their dream and nurture it".
The tournament is conducted on Knockout basis. Each team consists of 15 players and one coach. The match is 20 over a side. The School shall announce awards for Winner's Trophy, Runner's Up Trophy, Best All Rounder, Best Bowler, Best Batsman for the Final Match & Man of the Match award for winner of the knockout matches.
Schools across Noida & Ghaziabad that nurture cricket and have good teams are participating in the tournament.