Scholars of the school
Astounding Performance By DPS, GBN Students In CBSE Boards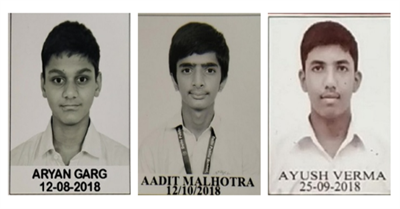 The students of DPS, GBN have once again proved their academic prowess by scoring exceptionally well in the Class X AISSE and Class XII AISSCE Boards.
The Class X students at the top of the scoreboard are:
1. Aryan Garg – He scored an impressive 99% to top the school in class X. He is a Science enthusiast and dabbles in music too. Strumming the guitar has earned him quite a lot of praise.
2. Aadit Malhotra –He is the second-highest scorer in class X with 98.8% marks. He is a perfectionist at heart and as the keyboard player, holds a key place in the school's band Crescendo.
3. Ayush Verma- He scored 98.4 % to be placed as the third-highest scorer in class X. A polite young man, he is also an avid reader.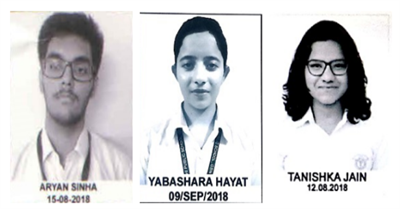 The graduating Class XII school toppers are:
Tanishqa Ajay Jain – She topped the school from Humanities stream with an impressive 97.8%. A serene girl, she is always ready to lend a helping hand.
Yabashara Hayat- She scored 97.8% and topped the school from the Humanities stream. She has adopted a humane approach in life as well and is a Social activist.
Aryan Sinha – He topped the school in the Science stream with 97.8%. He has a scientific bent of mind and has successfully been selected for the KVPY (Kishore Vaigyanik Protsahan Yojana).
Ananya Mehrotra –She topped the school from Commerce stream with 97.2% marks. As the Head Girl of the school, she was quite popular for her active participation in events and captivating oratory skills.
Mohsina Khatun – She is from the NGO- Vidya, and Child. She scored a perfect 100% in Commercial Arts and Music, with an aggregate score of 94%. She is a creative girl and a gifted artist.
Mohd. Sahil- He is from the NGO- Vidya, and Child and has scored 94% aggregate. He is a hardworking student with a never say die attitude.