Sports
THE SPORTS FIESTA: The Annual Sports Day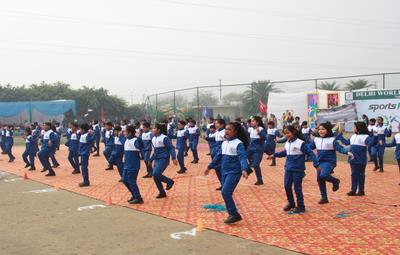 "The more difficult the victory, the greater is the happiness in winning."– Pele
Sports are about leading a healthy lifestyle. Here, at DWPS, extraordinary accentuation is given on the youngster's physical and mental wellness.
The much-anticipated Annual Sports Day was held on 18th Jan'20. It was celebrated with extraordinary arrangements. Various reputed guests had honoured us with their presence.
The event commenced with the hoisting of the flag by the Chairman, Mr. Vipin Sahni and the Chief Guest, Mr. Venkat Sundaram. It was followed by a completely astounding March past by the senior students of DWPS lead by the Head Boy, Akshat Shashi and Head Girl, Nishtha Rai. The cadets were filled with great vigour and enthusiasm and filled the air with sheer patriotism.
Our esteemed Principal, Ms. Jyoti Arora, took over the podium and shared the Annual Report. Every Dipiste present there was filled with pride when our Principal mentioned about the numerous achievements we had accomplished throughout the session 2019-20. Her words of inspiration touched us profoundly.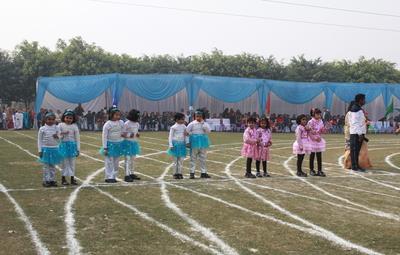 An amazing drill was presented by the blooming buds of DWPS which attracted the interest of the parents and the guests. Moreover, various dance performances took over the stage followed by the races.
Art is the visual articulation of one's creativity and imagination. The Annual Sports Fiesta of DWPS was not only limited to sports but served as an ideal stage to exhibit talent. Countless works of art were put up for the Art Exhibition. Each painting was unique with a specific theme with a profound meaning. The Art Exhibition too was a centre of attraction.
Organic farming is an incredible measure to maintain sustainability and our school did not overlook this aspect. For the past few months, many of our students have been assisting the Organic Farming faculty for creating amazing awareness. As a result, the students were able to grow cabbage, aubergine and different vegetables. The guests and parents were flabbergasted at how hard the students had worked to accomplish their objective. Undoubtedly, all their efforts were justified.
Talking about how DWPS has maintained its accentuation on co-curricular activities, we had a stall set up by Decathlon, a reputed sports brand well-known for their gear and equipment. They had brought with themselves a portable golf set, a table tennis set and an archery board with bow and arrow for the sake of entertainment.
A stall was set up by the renowned Pizzeria, Domino's Pizza for the guests to greet their taste buds with something appetizing and enticing.
The event was indeed a grand success and opened vistas of opportunity the students.
By: Tamish Sinha