From the school desk
Words of Wisdom from Ms. Leena Shankar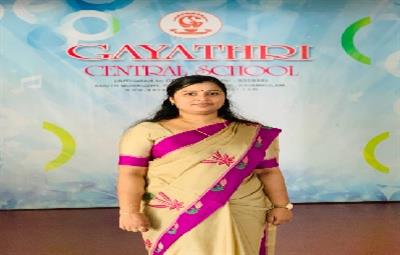 It becomes an investment when we find that education aims at making children capable of becoming active, responsible, productive and caring members of the society.
And, with this end in view, our school has been on the process of nurturing, developing and fostering the 21st century skills -
à Creativity and innovation
à Critical thinking and problem solving
à Communication and collaboration
Our school can make these things happen in our classrooms when we very smartly integrate the above said things in our curriculum by imparting our students with enough and syllabus based activities both scholastic and co-scholastic, of course, based on the guidelines given by the CBSE.
A student who imbibes the quintessence of what has been imparted in the class rooms - based on the 21st century skills for a period of time when a student passed out of Xth Std, shows the potentiality to be a person with comfortable degree of life skills and values besides having the problem solving acumen to be considered for a preparatory level employable skill.
In spite of having all these academic activities that encourage and inspire creativity, innovation, critical thinking and what not, our school is applying some other academic measuring rod - physical, mental, intellectual, emotional and spiritual - lessons which enlighten our students and they are awake, alive and responsive.
Here lies the far sightedness which the school authorities visualizes for an academic wisdom with its base in Indian culture, tradition, ethos and philosophy. This also helps us to build a Future Ready Generation to determine the destiny of a nation like Bharath.