Annual Function
Advait Celebrated At GBN Senior Secondary School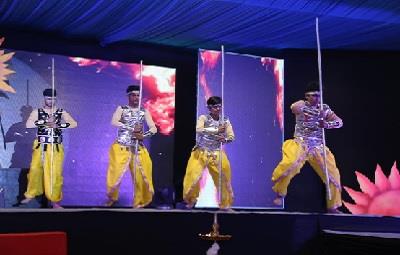 ADVAIT is a belief that universal and individual soul is one. It emanates from a belief that spirit and matter is one. The ability to see the common thread linking all human endeavors and emotions, and the ability to keep in mind the bigger picture, the perspective, are closely linked through ADVAIT. The theme helps build this holistic perspective by bringing in the simple yet eternally powerful techniques of experience the unparalleled life of music, dance and dramatization. GBNites have a great flair for this unique exposure. ADVAIT is the most effective way of weaving together different aspects of activity, thought and existence. Attribute of ADVAIT can be seen in every GBNite as we aim to create unparalleled and unique individual. It means having no dualism and one who is simply distinctive. It imbibes in them individualism and one can never be defeated. It is distinct entity, which nobody can snatch away, and yes this is what GBN is churning out in the GBNites. Being in a competitive and global society, it is hard to be unique as our situations drown us but to keep up the ADVAITNESS is a hard nut to crack. With this theme, we bring forth our most awaited Annual Day Function. Our students are leaving no stone unturned in order to make this event a grand success. Our budding stars have showcased their best of talent in multiple performances. This grand show includes vibrant dance performances, breathtaking acts, melodious performances and many surprises yet to be revealed. Not only performances but also GBN has made this function unique by including various organisations and their stalls will be there where one can hop onto different sorts of games, flavoursome dishes and thirst quenching drinks. ADVAIT- Blossoming 15 years of excellence, GBN aims to groom every individual displaying uniqueness with scintillating performances creating next generation which would perhaps be our creation.
Christmas Carnival At GBN Sr. Sec. School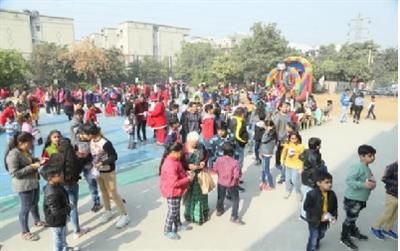 On 22nd December, GBN organized Christmas Carnival. Waves of festivity were spread everywhere. Enthusiasm, Fun and Frolic was everywhere in the school premises. Fun Games and Wonderful Races for Parents and Children were organized. Fun games and related activities were the USP of the event. Lucky Draws were announced every hour. Beautiful photo-booths were organized to capture the beautiful moments forever. Food stalls with delicious delicacies were organized.