Event/Activities
Goodwill Kindergarten Celebrated Independence Day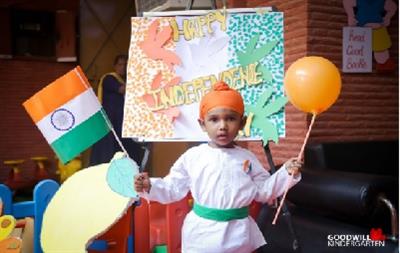 15th August, 1947 is a highly respectable day for India as it was on this auspicious day when India achieved its freedom from the British rule. The day is celebrated as the Independence Day. Many great leaders like Mahatma Gandhi, Jawaharlal Nehru, Subhash Chandra Bose etc. sacrificed their lives for freedom of our country. Britishers ruled our country for 200 years. We celebrated Independence Day in all parts India. President hoists our National Flag at Red Fort. Cultural activities are conducted for the students and prizes are distributed. I am proud of my country.
Goodwill Kindergarten Celebrated Raksha Bandhan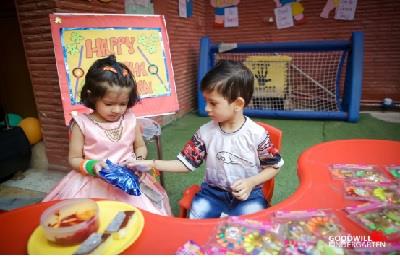 As chidren were familiarized with the customs and rituals followed on Raksha Bandhan. Students enjoyed the Rakhi celebration and were told about the sacred bond between a brother and sister as to how Rakhi symbolizes the sister's love and prayer for the brother's well – being and his life long vow to protect her.
Celebrated Friendship Day At Goodwill Kindergarten, Om Vihar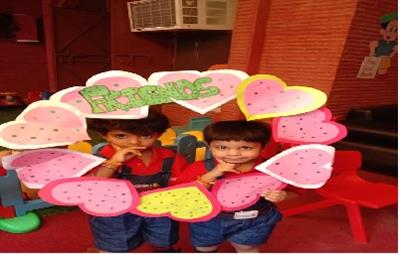 The Friendship that blossoms in tender years of the Pre-school plays an important part in the lives of children. It's a life long bond. On Saturday, 3rd August' 19 - our kindergartners celebrated Friendship Day with love and bear hugs. They went home not only wearing their bonds but also lovely smiles.
Friendship Day Celebration with activity. From our preschool, where we all learn that "it takes a friend to make a friend" through adulthood, where we mingle at bar and water coolers. All of us crave closeness with other human beings.
Yellow Colour Day Celebrated At Goodwill Kintergarden, Om Vihar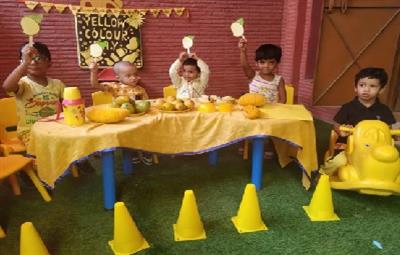 Yellow the colour of sunshine is hope and happiness….. the motive of celebrating this day was to make children aware of the colour yellow, it's significance and to develop the fine motor skills in the children. The day began with fun filled introduction concerning the yellow colour.
Tribute Given To Sushma Swaraj At Goodwill Kindergarten, Om Vihar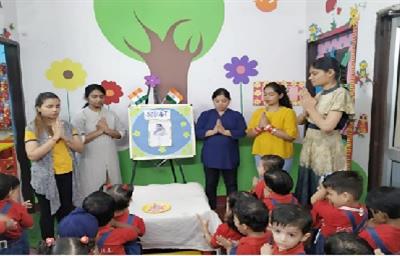 Sushma Swaraj, the glorious chapter of Indian politics ends who was a source of inspiration for crores of people. Her dismiss is loss of our country....May her soul rest in peace. Om Shanti! Sushma Swaraj (14 February 1952 - 6 August 2019) was an Indian politician and a supreme court lawyer. A senior leader of Bharatiya Janta Party, Swaraj served as the Minister of External Affairs of India in the first Narendra Modi Government (2014-2019). She was second woman to hold the office, after Indira Gandhi. She was elected seven times as a Member of Parliament and three times as a Member of the Legislative Assembly. At the age of 25 in 1977, she became the youngest Cabinet Minister of Indian state of Haryana. She also served as 5th Chief Minister of Delhi for a short duration in 1988.
370 Article Celebrated in Goodwill Kindergarten, Om Vihar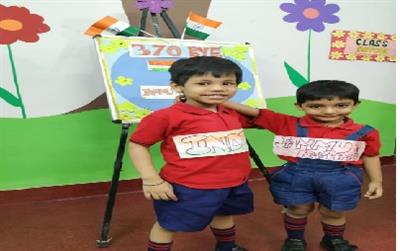 Article 370 of the Indian Constitution gave special status to the region of Jammu and Kashmir, allowing it to have a separate constitution, a state flag and autonomy over the internal administration of the State. The Goverment ended days of speculation by making public its decision to effectively revoke the constitution and to bifurcate the state of Jammu and Kashmir into two union territories. Article 370 accords special status to Jammu and Kashmir,allowing the state to have its own constitution, flag and right. On Monday, Rajya Sabha to announce that the Government was moving a presidential order for parliament's ratification. While the union territory of Jammu & Kashmir would have a legislature a la Delhi, Ladakh would not.