Event/Activities
Children's Day Celebration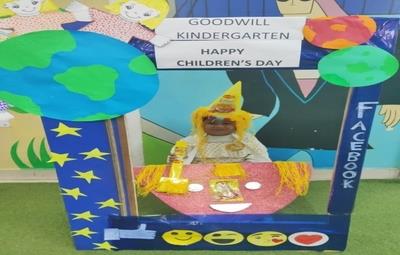 Children's day celebrations focused on children and their enjoyment. The short program started with prayer. After that teachers told their students why do we celebrate this children's day? It is celebrated on 14th November to pay the tribute to the legendary freedom fighter and our first Prime Minister Pandit Jawaharlal Nehru popularly known as Chacha Nehru. The children came in fancy dresses and walk on a ramp. Students were awarded with certificates. One selfie corner was also made. These events not only brought out varied talents in every child, they also help to build a sense of confidence and spirit of participation, which is more important than winning and losing. Teachers made takeaways for their children's as a gift.
Children's Day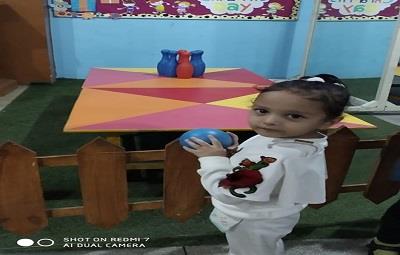 Children's Day is celebrated every year in our school. It was celebrated on 14th November, 2019 with great pomp and show in the school premises. A drawing and slogan making competition was held in the school. Children made beautiful posters. Food and game stalls were also arranged for the children. Some children were dressed like Chacha Nehru. The biography of our first Prime Minister Pt. Jawahar Lal Nehru was told to the students. The teachers and students enjoyed the day very much.
Self Defense Workshop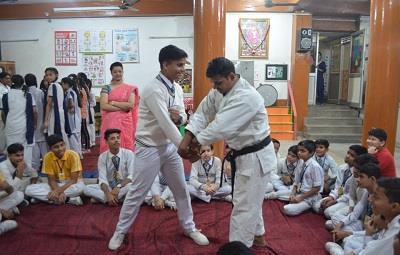 An activity of Self Defence was arranged on 16th November, 2019 in the school premises. Special trainers were invited to teach the rules and techniques of self defence. Children were told the importance of Self defence. Different types of competitions like Judo, Karate and Yoga were held. In. the end, the winners were given awards.
Dussehra Celebration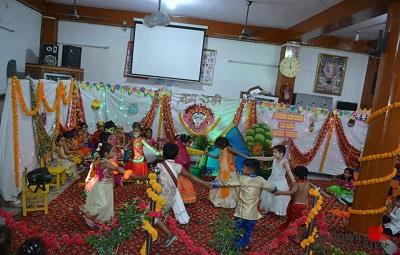 Dussehra was celebrated in the school on 4th October, 2019. It is celebrated to teach the students the triumph of Lord Rama over evil, injustice and falsehood. The effigies of Ravana were made. The students played the role of Rama, Lakshman, Seeta and Ravana. The entire activity was just like the real Ramayana. Parents were also invited to see the whole activity and they appreciated the whole activity.
Poshan Mela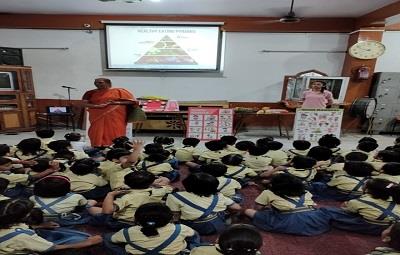 An activity about Healthy Foods was organised on 11th October, 2019. The students were asked about the importance of food. After that the teachers told them that food is our basic need and we cannot live without food. We eat different kinds of food items in different seasons. So, we should eat vegetables, fruits, grains and pulses to remain fit. Milk is very important for all the human beings. We should eat fresh and healthy food. We should be more concerned about the use of hygienic and clean atmosphere.
Pool Party Conducted At Goodwill Public School, Uttam Nagar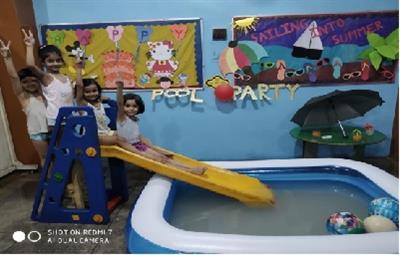 Splash, Splash Everywhere
Puddles of water here and there…….
Goodwill Public School, Uttam Nagar organised a pool activity on 17th July, 2019. The little ones of Pre - Primary welcomes the showers of rain with their pool activity. Bubbling with excitement and enthusiasm, in their colourful swim suits the children thoroughly enjoyed the pool activity, jumping in the water, splashing water on their friends and playing with their floating toys.