Annual Function
Nursery Graduation Ceremony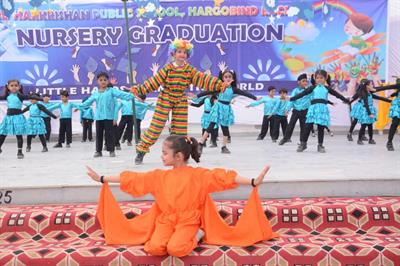 What feels like the end is often the Beginning!
Guru Harkrishan Public School, Heargobind Enclave organized Graduation Ceremony of Nursery Students on 16th March 2018. The occasion was graced by Chairman S. Jatinder Pal Singh 'Goldy' and other committee members including S. Jasmain Singh Noni and S. Bhupinder Singh Bhullar.
The budding hearts recited a shabad to invoke the blessings of the Almighty followed by lighting of the lamp by the dignitaries. The musical extravaganza sharing the theme "Little Hands Change the World" set the spirits high by showcasing the importance of eating healthy food, saving water and earth.
To honour our Guru's teachings that highlights that all humans have an intrinsic sensitivity to the natural world, the students enlightened the audiences by quoting the verses from the Gurubani.