Event/Activities
Nursery Graduation Ceremony At GHPS, Hargobind Enclave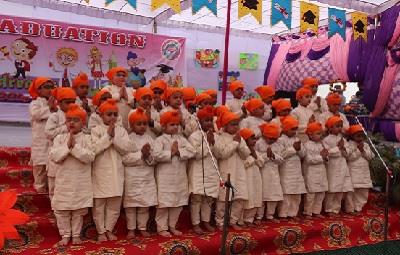 Innocence retained, journey begun and dreams waiting to be achieved ……..
GHPS, Hargobind Enclave organised Nursery Convocation ceremony on 16th March, 2019 of young ladies and gentlemen of tomorrow with fun and frolic.
C. Roosevelt has rightly said, "The future belongs to those who believe in the beauty of their dreams".
Emulating the same, the programmed spotlighted the theme 'Follow your Dreams'. Honourable Chairman Sir S. Harinder Pal Singh Ji and Manager Sir S. Jasmain Singh Ji Noni graced the occasion. The celebration commenced with the 'sow and grow' welcome of chief guests by worthy Principal 'Mrs. Harpeet Kaur' and welcome song by tiny tots. Following the legacy, lamp lighting and shabad rendering was done to invoke the blessings of the Almighty. The esteemed guests also addressed the parents as, partners in progress and called for their support and co-operation with teachers for inculcating moral values and ethics amongst the future generation of our country. Young graduates beautifully showcased their talent through various acts like 'Uthao Basta','Chhona hai asmaan'. Our rising stars also shared their dreams and asked for support from teachers and parents.
The programmed concluded with a pulsating and sparkling act 'Bhangra'. Last but not the least all the graduates assembled on the stage and extended their gratitude.
The Head mistress Mrs. Sandeep Kaur and Nursery Incharge Mrs. Gurleen Kaur gave the "Vote Of Thanks".
Summer Theatre Workshop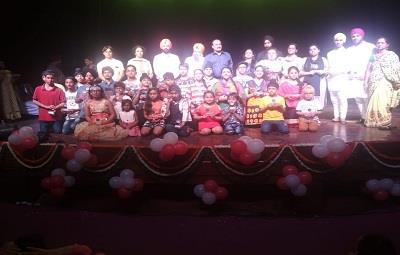 The students of Guru Harkrishan Public School, Hargobind Enclave participated in the "Bal Rang Manch & Gidda Bhangra Utsav-2018" organised by Punjabi Academy at LTG Auditorium Mandi House on June19, 2018. The students showcased the importance and need of empathising with specially abled children through a skit titled "Lado" and sensitising the masses that hard work, dedicated efforts and passion to succeed can help a differently abled child scale all hurdles and obstacles. The highlight of the program was the Punjabi Version of the song "Taare Zameen Te" sung by Abha & Aanchal. The students were trained by Director Mr. Sukhvinder Singh over a month long "Summer Theatre Workshop".
Sony BBC Earth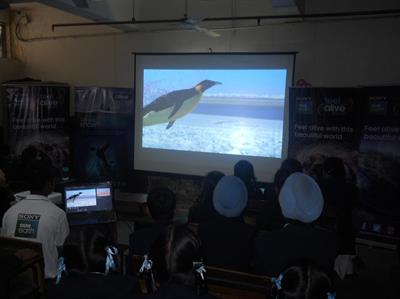 Sony BBC Earth organized School Engagement Program – 'Feel Alive Hours' in school wherein they showcased some mind-blowing stories (videos) revolving around science, nature and adventure – tailored to pique the students' young and curious minds. They demonstrated the concept of Sublimation through an experiment with dry ice and liquid soap. Students were taught 'How to make a terrarium?' followed by Quiz and gave away mini terrarium as prizes to the winners. The session was thrilling, exciting and full of adventure for all the students. The students truly felt alive with the beautiful world.
Transforming Education Awards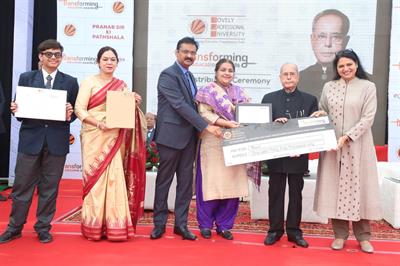 Guru Harkrishan Public School, Hargobind Enclave teachers brought laurels by securing position in Top 13 in 'Transforming Education Awards' launched by Lovely Professional University, Jalandhar. The aim of the award was mainly to acknowledge the dedicated efforts of teachers in channelizing and giving directions to the inherent talent of young minds and imparting holistic education. Mrs. Amardeep Kaur and Ms. Kamalpreet Kaur were nominated by the students for their unique and profound impact on their lives by expressing their gratitude through videos. Cash prize of Rs.25,000 and Rs.10,000 have been awarded to these teachers respectively and a grant of Rs.1,00,000 for the school. Efforts of participating students Sahil Taneja(X) and Simran Kaur (XII) were appreciated with cash prize of Rs.10,000 and Rs.2,000.
World's Largest Lung Health Awareness Programme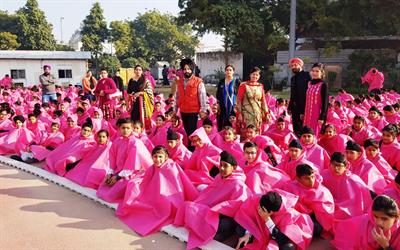 'World's Largest Lung Health Awareness Programme (in 3 Phases) was launched in National Capital – Delhi. The launch event was aimed at creating Guinness World Record with 5100 school children from Delhi NCR on 23rd December 2017 Thyagraj Stadium, New Delhi. The purpose of this event was to raise awareness of health impact of air pollution, bring lung care as one of the top priorities in our society and put it on a strong pedestal for positive action. The event was graced by H.E. Lt. Governor of Delhi, Shri Anil Bijlal, Shri Anil Swarup, School education, Government of India etc. The image formed by students has created history and has been awarded by the Guinness World Record for creating 'the largest human image of an organ'.