Scholars of the school
KUDOS TO THE SHINING STARS OF GHPS KAROL BAGH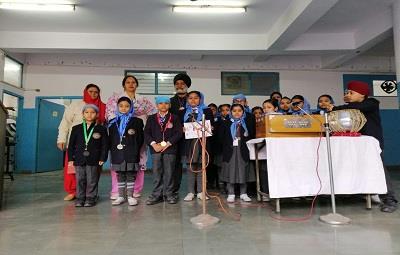 It's once again a proud moment to rejoice and celebrate as the little champs of the Primary Segment of GHPS Karol Bagh made their presence felt in different competitions. Simran of Class V B made her school proud by bagging III rd prize in Inter GHPS Hasaya Kavita Competiton which was held at GHPS Hemkunt Colony on 24th October 2018. She won the hearts of judges by her mesmerizing poetry recitation performance. It was a remarkable victory as she bagged 3rd position out of 12 teams. The poem recited by Simran was "Ganit Ka Paper which not only entertained the audience but also gave a meaningful message in humorous way.
In the second event, Chirag of Class IV A won gold medal in frog race, Vedica of Class II A won silver medal in flat race and Rounak of Class II A won Bronze medal in Ball Race in Zonal Athletics which were held at D.I. Khan school on 18th November 2018.
Proud Moments for GHPS Karol Bagh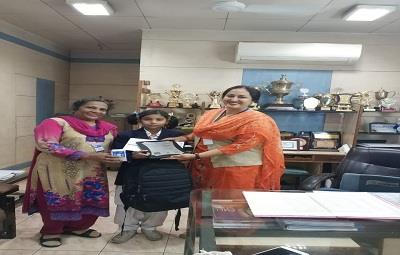 Swastika Nanda of Class VI A of Guru Harkrishan Public School Karol Bagh made her school proud by getting selected for the state level from the event of painting competition organized by Power Finance Corporation Limited at Vishwa Yuvak Kendra Chanakya Puri on 14th November, 2018. Nearly 500 schools participated in the competition .The theme of the competition was "Energy Conservation". The competition gave the students a platform to hone their artistic skills as well as get sensitized about the judicious use of the energy .It was a great honor for the winner of the school to receive a cash prize of Rs 2000/- a trophy, participation certificate and a goody bag.
Senior and Junior Teams of GHPS Karol Bagh Win Laurels for the School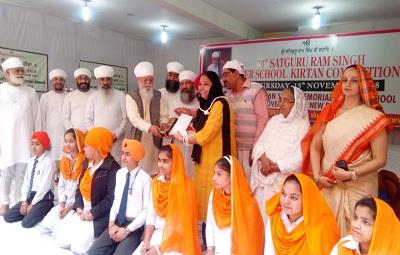 The students of GHPS Karol Bagh added another feather to their crown by winning 3rd position in 20th Satguru Ram Singh ji's Competition which was held on 5th of November, 2018 at Shaheed Bishan Singh Memorial School at Mansarovar Garden.
The students were judged by the following rubrics:
1. Clarity of swar
2. Accuracy of taal
3. Devotional touch in the singing
Both the senior and junior team won the hearts of the judges by their mesmerizing performance and got 3rd position among 12 and 9 teams respectively.
It was indeed a great honor for the students as well as Music teacher Dr. Anju Bhagat to receive trophy, cash prize of Rs.1100/, Certificates, Books and Rosaries for meditation. The above mentioned prize was for each team.
It was a great spiritual experience for one and all.