Annual Function
Nursery Graduation Ceremony (2018)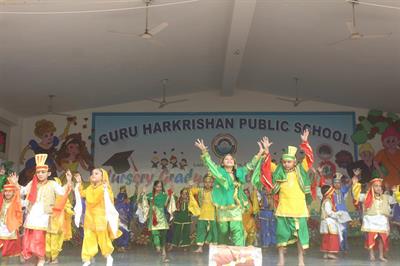 Nursery Graduation Ceremony was held on 8th March, 2018. It was really a solicited gathering of parents & other dignitaries. The chief Guest of the celebration was S. Balvinder Singh Bhunder, (M.P, Rajya Sabha, Senior Vice President, Shiromani Akali Dal). Our Guest of honour Mrs. Gurjeet Kaur Baath (Vice Chairman standing committee, EDMC), Our Chairman Sir S. Kulwant Singh Baath, Manager Sir, S. Ravinder Singh Lovely and our worthy Principal Sir, S. Amarjit Singh, were all present to bless our tiny tots.
Our little ones presented beautiful cultural programme which was started by Shabad and lighting of lamp followed by the welcome address of our chairman sir and primary report by our Principal Sir. Children presented welcome dance, musical act on save trees, Pind Di Paathshala- the name itself describes, then English Fairy Tale, different folk dances of states and our signature programme- Bhangra.
As we have so many talented student in Class nursery, so our Chief guest along with other dignitaries felicitated them with shields. Followed by the ending, Chief Guest addressed the gathering and by closing the ceremony our Headmistress M'am, Ms. Hema Nair by whose hard efforts this celebration was a success, gave the vote of thanks. In the end, we should never forget National Anthem.