From the school desk
Principal's Message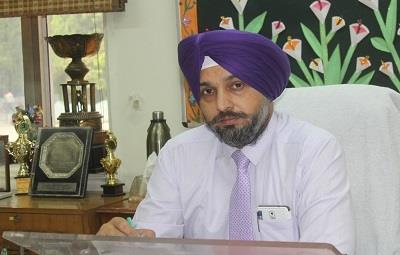 The true congregation of the true Guru is the school, for the soul, where the glorious virtues of the Lord are studied.
Guru RaamDass, RaagKaanraa, 1316. My heartiest greetings to all!
Guru Harkrishan Public School, Loni Road, Shahdara, Delhi, marked the humble beginning of a gratifying odyssey in 1981, bearing a vision of "VidyaVichariTa'nParupkari". When translated in English, it means that "he is learned indeed who does good to others."
We believe to what A.P.J Abdul Kalam said "All of us do not have equal talent. But, all of us have an equal opportunity to develop our talents." Henceforth, we have taken a completely new turn for blooming up the education system by striving for excellence in every possible field and achieving it in a remarkable way. Since the youth of today is the prototype of the future, our teaching methodology kindles their mind so as to search for the knowledge of facts and values and in lieu embrace the wisdom utilizing which they shall be able to craft a better tomorrow.
A dedicated management, committed teachers, loving, caring and co-operative parents whisk cordial to create a child-centroid school and through collective efforts, we can achieve more to benefit our students who are the future of tomorrow.
GHPS tends to go to every extent to achieve holistic development of our children where we guide students to develop personality, acquire knowledge and virtues. We are on a path of building an ideal structure for education, liberal ideas which would prove best for our future generations. We try our children to vent their fullest potential and fulfil their dreams.
We also believe that every child is unique. We believe in motivating a child to become a good human being and grow wings of aspiration and help him soar like a falcon to touch the sky. We try to mould our students and others for making a responsible use of the nature's resources and to be instruments of reconciliation, pardon and compassion.
Moreover, we are resolved to stand with the marginalised and weaker sections of society, to work together in caring for our earth in general and the society in particular.
Therefore, I, on behalf of my team teachers and other staff, am committed to upholding the ideals of our Gurus and other eminent personalities who have shaped the great culture of education in our country and thus attempt to impact the lives of our students in a positive way by providing them an environment full of love care and creativity. We encourage our children a desire to learn with emphasis on their social, emotional, physical, aesthetic and intellectual developmental aspects.
To my students, I would like them to always remember that
The highest education is that which does not merely give us information but our life in harmony with all existence- Rabindranath Tagore
Wishing everyone, an abundance of the peace and joy!
Sardar Amarjit Singh