Event/Activities
Nursery Graduation Ceremony Celebrated at GHPS, Nanak Piao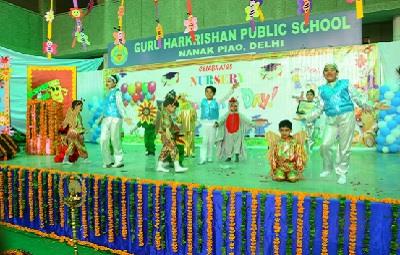 Nursery Graduation Ceremony was celebrated at Guru Harkrishan Public School, Nanak Piao on 20th March, 2019. The program started with the blessings of the Almighty. Nursery students recited school shabad. The principal S. Bhupinder Jit Singh Welcomed S.Harvinder Singh (KP), Joint Secretary, DSGMC and another distinguished guests for the day. The Principal, School Manager S. Vikram Singh and other esteemed guests for the day. The Principal S. Bhupinder Jit Singh thanked the teachers and the parents for bringing the children to the level of achievement.
The program was followed by Welcome song , Punjabi play and colourful dance performance by the primary students students. A strong message on " stop pollution" was conveyed through a dance act by the little ones. The last item "Bhangra" was full of energy and was appreciated by one and all. On the whole the programme was a grand show.
Gurpurab Celebration 2018 – Guru Harkrishan Sahib Ji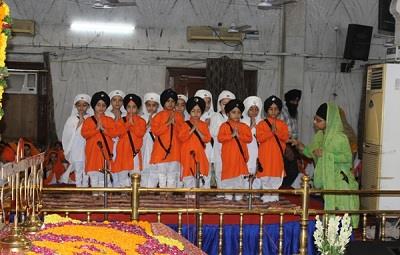 Guru Harkrishan Public School, Nanak Piao celebrated the Prakash Purab of our Patron Guru, Guru Harkrishan Sahib ji on August 16, 2018 at Gurdwara Nanak Piao Sahib with great enthusiasm and elation. Students of Primary, Middle and Senior segment presented a beautiful amalgamation of Kavi and Kirtan Darbar. The main highlight of the programme was the speech throwing light on the life and teaching of Bala Pritam. Guru Ka Langar was served to one and all.
Independence Day Celebration 2018
Guru Harkrishan Public School Nanak Piao celebrated 72nd Independence Day with unprecedented patriotic fervour on August 14, 2018 in the school assembly ground. The programme commenced with the school shabad and hoisting of the tri-colour by the Principal followed by the gamut of celebrational activities consisting of patriotic song, dance and enactment of freedom fighters by the tiny tots. The speech of the Principal was full of patriotic zeal wherein he reminded the students of our great freedom fighters and instilled in them the feeling to serve our motherland, India with all heart, body and soul. The programme concluded with National Anthem commemorating the sovereignty of our nation.
Environmental Science Exhibition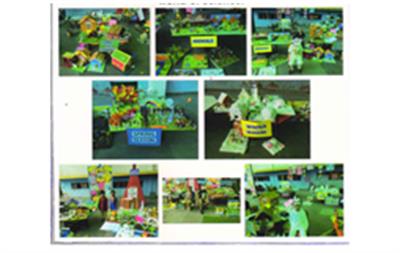 Exhibition provides an opportunity for families to gather, celebrate, mingle and learn about the kind of activities in the school. It offers students, teachers & parents to display their hard work. An exhibition was organised in the school premises on 2nd September, where projects & models of Pre-Nursery & Nursery children were displayed. It was a theme-based exhibition based on area of study. Each section of Pre-Nursery & Nursery students displayed their work according to the theme allotted to them like animal world, homes of animals, states of India, and seasons. This was fun & eye grabbing exhibition which was the perfect way to slowly introduce them to the world of science.
Event Organized by Lung Care Foundation
A historic event in the world, to create a Guinness World Record, was held by Lung Care Foundation on 23rd December 2017 at Thyagraj Stadium Delhi. In the event, about 6000 students had participated out of which 175 students and 9 teachers were of our school. This event was done to generate awareness in consciousness about the need for healthy lungs and emergent actions needed to protect health of mankind from pollution.
Each student was awarded a Certificate of Participation. To make this event a great success B.S.F. had graced the occasion as participant and extended their security cover. All the teachers participated were given Air Purifier Plant. Overall the programme was a big success.
EARTH DAY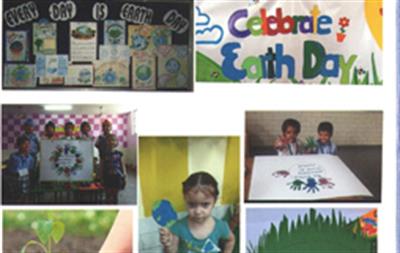 April 22nd was EARTH DAY and we at Primary Segment celebrated this as the week to raise environmental awareness and educated our students on why conservation is so important. Earth Week celebration was just a small step towards recognizing what's important & what needs to change in our society. So that, today's children can have a better world.
Various activities were organised during the entire week for students of primary segment. Even Pre-Nursery & Nursery students were involved in these activities. They did hand printing as a pledge to save earth, made save Earth Flags & head gears along with their teachers.
Tree Plantation drive was organized. Poster making competition was held where in students painted their thoughts on nature conservation.