Workshops
Physical Hygiene and Menstruation Workshop At GHPS, Nanak Piao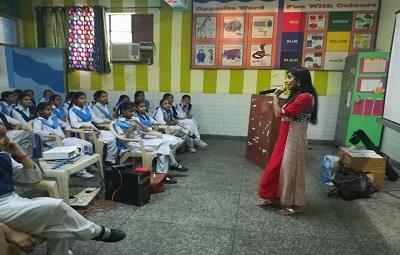 "Main Bolungi, Main uthungi, Tabhi Zamana Badlega"
Workshop on Physical Hygiene and Mestruation was conducted At Guru Harkrishan Public School, Nanak Piao in the school premises, in the workshop by Ms. Rikita where she interacted with girls. She taught the concept of peridos and how to go about it. Many myths were cleared by Ms Rikita. At the end it was questions and answer round session where she replied to the query of the students very paitently.
Career Counselling at Sharda University
A group of Class XII students and teachers from Guru Harkrishan Public School, Nanak Piao visited Sharda University on 23rd November 2017, with the purpose of knowing about career options available in the university campus.
The university hosted a small chat session with professors of different faculties who gave information to the students about different departments and career options. The enthusiastic students were guided by one of the teachers across some of their most unique and creative courses which included Mass Media Department equipped with its own radio station, a court room to train the Law students, the art department full of some awes trucking art and craft work. At the end of the visit , the students relished the refreshment served by the University.
Towards the ending of the session, Mr. Rjesh Gupta, the Director summed up his life experiences in the University and wished the students success in their lives.