From the school desk
Principal's Message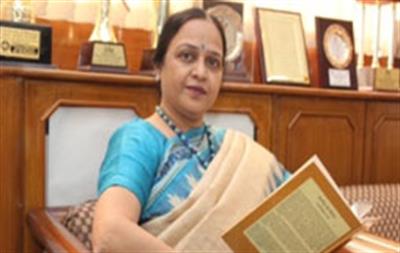 "Education is not mere accumulation of facts,
it is preparation for life itself"
The world is at a juncture where there is a dire need for each country and individual to be aware, resolute and committed to the cause of global peace. This being a Herculean task, the onus of it shifts on to us the 'Educators'- the Teacher, the Father and the Mother. 'This triangle, indeed, is the real role model' - was the reply given by Dr. A.P.J Abdul Kalam, to a question raised by a child, during one of his visits to a school in Tripura.
The meticulously designed curriculum at Guru Harkrishan Public School, India Gate, provides ample opportunities to its students to recognize their innate potential by providing them a steady platform to launch the flight of their dreams and passion.
Our children are taught lessons not for a day; instead they are prepared to make concious choices in life by learning which bridges to cross and which to burn, as they steadily tread the path to success. I strongly believe in the maxim - Children are like wet cement; whatever falls on them leaves an impression.'
At Guru Harkrishan Public School, India Gate, we always seek to work in close collaboration with parents in integrating the systems of the organisation with available resources to instil in our children the ideal ways of living within their homes, school and society and in securing development and growth as best as we can. Hence, I seek every parent's collaboration in equipping our children with positive values that include honesty, courage, responsibility, compassion, integrity , self-discipline, self-reliance, kindness, friendliness, tolerance, respect , love and a sense of fair play.
I firmly believe that if we come together and partner to shoulder the responsibility of securing their future, we can mould our children into holistic human beings and a role model generation in the future. We invite you to collaborate with us as we traverse the journey of developing 21st century global learners with the noble mission of attaining the three E's-
Educate, Enlighten, Empower


Davinderjeet Kaur Dhingra
PRINCIPAL