From the school desk
MRS. KULVINDER KAUR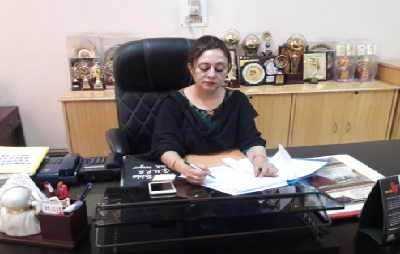 I extend my warm wishes for the session 2018-19. The new session brings with it new expectations, new hope and definitely new ethos and policies to make improvement in every aspect. Being an educationist, presently heading a school for lesser-privileged children, I believe that bitter pills are required for all of us to better ourselves. We need to teach girls to ask for equality and to teach boys to give equality.
Being a Kaur which means a crown princess, i.e., on whom lies a great responsibility, I believe that renaissance of mind set can help us promote gender equality and gender sensitivity.
Being a mother, I believe that it is in our power to create the society we want by raising the children the way we want.
Being dedicated to the cause of education since 1984, I believe learning is a journey of coding and decoding. Rote learning must be discouraged at every level of education system and attempts should be made to make education stress free.
Our institution provides holistic amalgam of academics (scholastic), co scholastic, cultural (co-curricular), social and moral education.
Being the Principal of the school, I believe that team work plays a pivotal role in imbibing the values in young saplings in the safe environment of the institution.
Being blessed by our patron Guru Eighth Guru, Sri Guru Harkrishan Sahib Ji, our aim is to spread the fragrance of values in this cosmos. GHPS, Tilak Nagar running under aegis of DSGMC is a school with a difference. Mission of our patrons to provide equity and affordable education to the students coming from not so privileged background, is surely bearing fruit. The students have left the portals of this school enriched not only academically but also with social, moral and religious values.
Mrs. Kulvinder Kaur
PRINCIPAL
GHPS, TILAK NAGAR