Event/Activities
Gyanodians Participated In 31st National Road Safety Week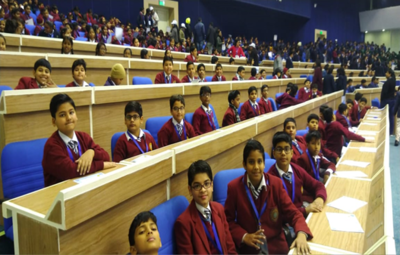 In order to highlight and emphasize the need for safe roads 'National Road Safety Week' is observed every year throughout the country. This year the 31st Road Safety Week is being celebrated from January 11th to 17th, 2020 in Vigyan Bhavan, New Delhi.
Around 100 students of Class VII of Gyan Mandir Public School, Naraina Vihar, along with 4 teachers, attended the inaugural ceremony of the 31st National Road Safety Week 2020 at Vigyan Bhavan on 13.1.2020. The programme, based on the theme 'Bringing Change through Youth Power', was hosted by Indian Road Safety Campaign.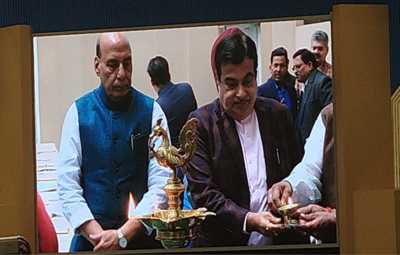 Hon'ble Minister of Road Transport and Highways, Shri Nitin Gadkari, and Hon'ble Defence Minister of India, Shri Rajnath Singh, were the Guests of Honour. The students learnt that over 1.51 lakh people lose their lives every year in our country in road accidents and many more are debilitated, which is perhaps even more than the population of Congo or Finland. This causes immense economic hardships and emotional trauma to their families. There is an urgent need to make our roads safer as loss of lives and limbs cannot be accepted as a price of mobility. Proposed steps by the Central and the State Governments to make our roads safer were discussed. It was also stressed that Road Safety should be made a social movement. At the end of the event all students were administered 'Road safety Pledge'. It is a matter of pride that two students of our school participated in an on the spot Caption Writing Competition conducted by the organisation and won gift hampers.
Self Defense Workshop Organized at Gyan Mandir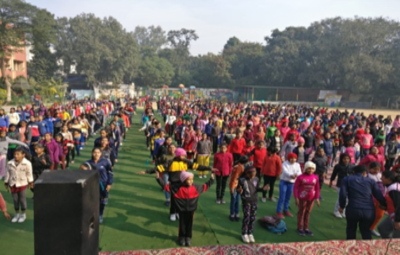 A self-defense workshop for girls and women of all age groups was organized by Delhi Police from 31st December 2019 to 10th January 2020 in Gyan Mandir Public School, Naraina Vihar. The ten-day workshop was organized in four schools of Delhi and Gyan Mandir Public School was grateful to take this great opportunity by providing one of the venues for this workshop. The sole aim of the workshop was to provide defensive techniques to women for their safety so that they could remain safe in tough times. Approximately 1230 participants from various schools of Delhi and local community participated in the event. The trainers from Delhi Police conducted the workshop with full enthusiasm, zeal and spirit and trained all participants to protect themselves in helpless situation. The workshop inculcated leadership qualities in them and prepared them to lead any challenging task in their life and set examples for others. The Chief Guest, Ms. Geeta Rani Verma, IPS, inspired the trainees to take advantage of this camp to the fullest and be their own bodyguard. All participants of the workshop were felicitated with participation certificate.
A Date With Books At World Book Fair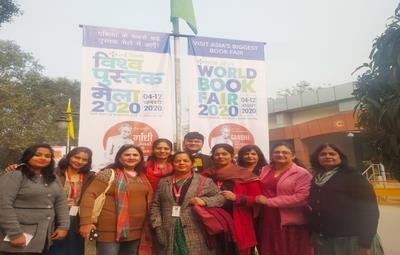 Ten mentors, mostly Heads of Department of almost all subjects, visited World Book Fair at Pragati Maidan on 4th January 2020, the day of inauguration. The theme of the fair of one of the most significant events in the Indian publishing world this year was 'Gandhi: The Writers' Writer to commemorate the 150th birth anniversary of the Father of the Nation. The focus was on different facets of his life as a writer, editor, journalist and publisher and his influence on Indian literature and on generations of writers across the globe. There was an exclusive exhibition of 500 books in different languages, both on Gandhi and by him, and related archival materials at the Theme Pavilion. The book fair being organized by the National Book Trust along with India Trade Promotion Organization attracted participation from major publishing houses across the globe, a unique opportunity for promoting titles, co-publication, arrangements and trade. Spread in a vast area the fair had books on every subject and theme to cater to the needs of every type of book lovers.
The teachers purchased varieties of books based on different subjects, manuals, teaching aids and books based on self-motivation. The visit proved an opportunity to have tate-a-tate with wonderful world of books, the mirror of the world.
'Safe Mobility' Inter School Competition at Gyan Mandir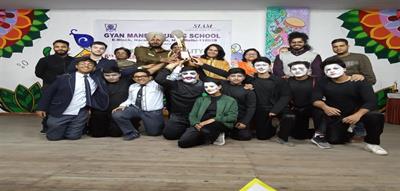 In order to spread awareness and to sensitize future generation road users, Gyan Mandir Public School, Naraina Vihar, organized a week long Safe Mobility
Inter School Competition on 'Road Safety' in the school premises. The 6th Road Safety Inter School competition 'Safe Mobility' inaugurated by Ms Meenakshi Kukreja, Deputy Director, SIAM and Mr. Bhupinder Singh, ASI, Chandigarh Police, witnessed a variety of innovative and creative on line and off line competitions. Students from about 22 schools of Delhi and NCR participated in the events Kala sangam, Stamp designing, Canvas painting, Smaranika, Standee with Safety messages, Design a mask, Design a game, Calendar art, Junk funk art installation, Rap song, Cloth bag designing, Story dramatization, Act an Ad, Speak up, Save lives, Street art, Graffiti, Meri katha, Spin a yarn to name a few which catered to the needs of every age group. The event 'BRAIN O INNOVATION' conducted to search a solution of pollution found fabulous products to control smoke and pollution created by automobiles on the road. The entire programme fueled the imagination of the students and brought out their latent talents to the fore.
Gyan Mandir Participated in Good Air Summit

More than 80 students of Gyan Mandir Public School participated in Good Air Summit, an initiative by IHW COUNCIL at Jawaharlal Nehru Stadion 13.11.19. Honourable Justice Swatantra Kumar, Former Chairperson, National Green Tribunal graced the occasion.
The summit aimed at issues related to Policy and Politics for Good Air, Industrial Growth, Pollution Challenges, Vehicular emissions, role of Government, Industry, and Citizens for Good Air. The summit brought together children from different schools and colleges to address the issue.
Two students Antara Mohanthy and Pratham Bhusal of Class IX were awarded medals and plants and got recognised as 'Ambassadors & Warriors of Good Air'. Students and teachers took pledge on adopting sustainable ways to reduce pollution. Students of classes VII &VIII presented a dance based on the song- 'HAWA AANE DE' and were awarded for the same. Our school was recognised for its valuable contribution to this cause and was awarded with a certificate.
Global Hand Washing Day 15th October 2019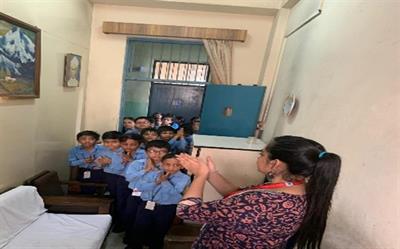 Public Health Foundation of India partnering with Indian Medical Association (IMA) celebrated Global Hand washing Day (15th October). This campaign aimed to highlight the importance of hand washing.
It is very well evident from researches done globally and in India that hands are the main pathway of the germ transmission resulting in various infections across all age groups. Thus, if hand hygiene is maintained, the death and diseases attributed to these infections can be prevented and controlled.
Under this initiative, our school students as well as teachers washed their hands at 11 am on 15th October. Everyone followed all the steps of hand washing to stay germ free. The campaign was carried out successfully with enthusiasm.