Event/Activities
Winter Carnival-2019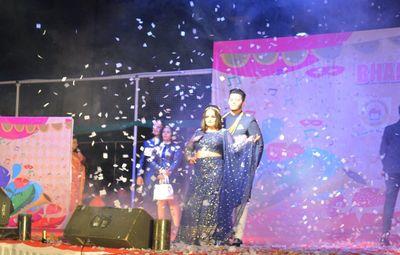 The school turned into a mini 'Fun City' where all the parents, teachers, students and the Principal of Bharat National Public School enjoyed a lot. The Winter Carnival organized by the school lifted the enthusiasm of students to the top level where they participated, managed, learned and to the most important enjoyed with their friends.
𝐀𝐫𝐭, 𝐂𝐫𝐚𝐟𝐭 𝐄𝐱𝐡𝐢𝐛𝐢𝐭𝐢𝐨𝐧 and 𝐁𝐨𝐨𝐤 𝐅𝐚𝐢𝐫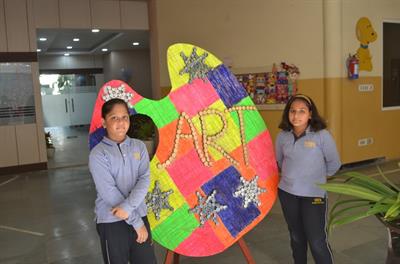 "𝐂𝐫𝐞𝐚𝐭𝐢𝐯𝐢𝐭𝐲 𝐢𝐬 𝐜𝐨𝐧𝐭𝐚𝐠𝐢𝐨𝐮𝐬 𝐩𝐚𝐬𝐬 𝐢𝐭 𝐨𝐧" – A very well said by Albert Einstein on 5th October, 2019 – Happy English School held Art and Craft Exhibition 2019, Book Fair 2019 by Scholastic Publications and Parents Teacher Meeting in their school campus, where students of this school participated and showcase their splendid creativity in art and craft and also enjoyed new content books in Book Fair 2019.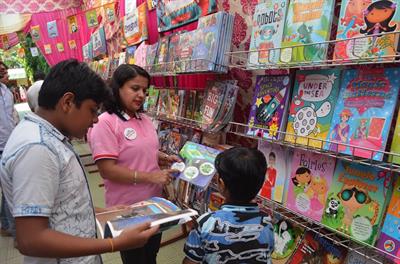 Happy English School provided a platform with the purpose of booming the interest of children into books and towards reading by organizing an enriching book fair. The purpose of the book fair was to promote the habits of reading through which a great enthusiasm and love for books have been witnessed among students.
𝐌𝐞𝐧𝐭𝐚𝐥 𝐇𝐞𝐚𝐥𝐭𝐡 𝐃𝐚𝐲 𝐂𝐞𝐥𝐞𝐛𝐫𝐚𝐭𝐢𝐨𝐧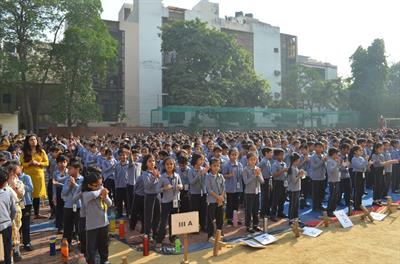 World Mental Health Day is a day for global mental health education, awareness, and advocacy against social stigma. This day, each October, thousands of supporters come to celebrate this annual awareness program to bring attention to mental illness and its major effects on peoples' life worldwide. Happy English School celebrated this day engaging students in meditation.
Special Assembly of UKG Rose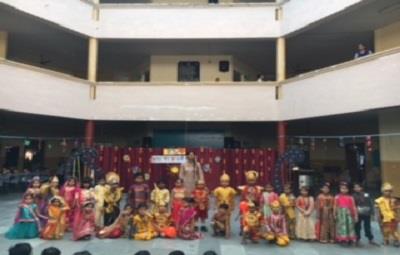 It was an amazing experience to work with young learners for their special assembly. The children were very excited to present their assembly and provided the absolute contribution from the start. Their excitement was such that we began practicing a week before the actual planned date. Their eagerness could be witnessed on the stage during their presentation in terms of their preparedness, their enjoyment, etc. on the 12th of October 2018. This helped children realize their responsibility for their respective roles as well as the feeling of assisting each other was enhanced during the process.
Special Assembly by UKG DAFFODIL on Seed Germination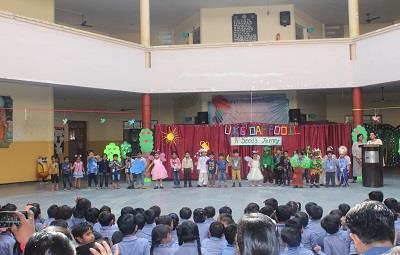 A Journey of a Seed
The little wonders of UKG DAFFODIL joined hands together and came up with a performance depicting the journey of a seed. Starting off by showing how a seed departs from his mother to how a seed grows into a sapling and then becomes a plant with the help of natural resources like water and sunlight. The students of UKG Daffodil were enthusiastic about their performance and enjoyed the play thoroughly.
Art Exhibition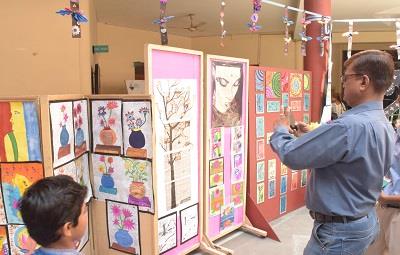 The art exhibition... Vibrance was organised by the school on 6th October. It showcased various activities of art n craft done by children. Volunteer children took care of each n every guest and explained the skills n techniques they learn during art classes. Parents witnessed the exhibition with a lot of interest and queries regarding the displays done. Also wrote the valuable feedbacks to encourage all of us. Thanks to Arti Ma'am for being part of it with a lot of encouraging words and appreciation.