Event/Activities
Body Flow Children's Active Work Martial Arts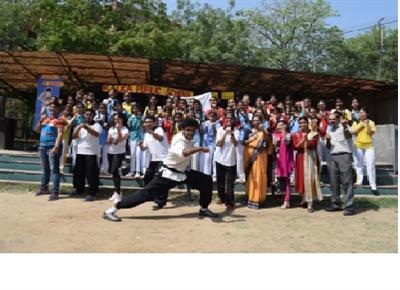 Our mission is to improve children's reflexes, agility, flexibility, peripheral vision, hand-eye coordination and problem-solving skills while having fun.
An ancient Chinese martial art Workshop for the girls of classes VII-X was organized at KALKA PUBLIC SCHOOL ,Alaknanda on 3rd & 4th May 2019 by Kung Fu. The obvious and most important reason for a girl to get involved in the martial arts is the capacity for Self Defence that she will develop.
In today's increasingly violent world, crime can strike anywhere. Women are often times the target of sex crimes and, not knowing how to defend themselves, it can scar a young girl for her entire life. Being able to know how to defend herself is an invaluable tool as she grows up, taking her skills with her to college, and it gives not only her but also her parents a feeling that at least their daughter is safe. During the workshop,girls were made to focus on Kung Fu style warm-up stretching exercises, body alignment and breathing, how to allow the opponents force to naturally drop into your root,to Discover Strength within Softness and how "Less is More" in Tai Chi Push Hands.
Students enjoyed this one hour effective drills to improve their push hands skill! All the participants were given CERTIFICATES in the morning Assembly.
Kalka Public School Celebrates International Peace Day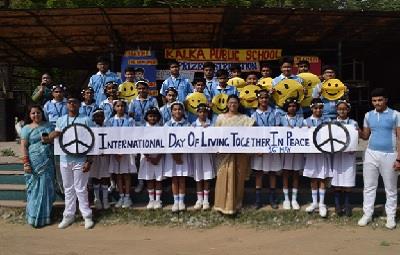 May 16, 2019 is International Day of Living Together in Peace . KPS celebrated it on MAY 3, 2019 in order to recognize the efforts of those who have worked hard to end conflicts and promote peace. A Special Morning Assembly was organized on this occasion.
The day commenced with Shloka Ucharan by Mr Devashish followed by a skit on Importance of Physical fitness by the students of class VIII C and a Musical dance by class VIII D , giving the message of Peace and Harmony. Students presented their views on the importance of maintaining peace and harmony in the society and laid stress on how each one of us can play an important role in achieving it.
A motivational speech was also given by Ms Janki on Physical fitness and inspired students to do good deeds to others. The school Principal,Dr.Anju Mehrotra addressed the assembly explaining the relevance of peace and non-violence in recent times. She further added that aim of celebrating this day is to strengthen the ideals of peace within and among all nations and all people.She reminded students how they too can play an important part in the planetary progress towards maintaining and promoting peace.


45th Founders Day Celebrations At Kalka Public School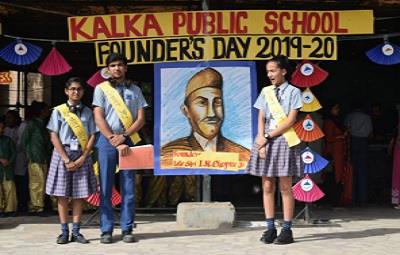 The prestigious Institution, KALKA PUBLIC SCHOOL under the aegis of the KALKA EDUCATIONAL SOCIETY celebrated its 45TH Founder's Day on April 30,2019. . The day began with the Special morning assembly which rendered a humble tribute to the founder, Late I.N Chopra. who had laid its Foundation stone in 1974.
It is an auspicious day to reflect on all those who have contributed to our legacy.. All the Managerial dignitaries were welcomed and congratulated in recognition of their outstanding commitment to educating students and fostering the spirit of lifelong learning.
The children proudly displayed their skills in the Variety Entertainment, aptly titled the 'Kaleidoscope'."It is good that prevails in the midst of evil, it is light that prevails in the midst of darkness and it is positivity that prevails in the midst of negativity.. The cultural extravaganza commenced with an INVOCATION to ALMIGHTY seeking his blessings to give strength to overcome all hurdles that hinders the path of growth and prosperity.
This was followed by an Interactive session by KPS RJ'S on their KPS Radio HITCHKI-99.5-SHADES OF KPS which spoke about the untiring journey of KPS spreading its wings in India and Abroad.
On the occasion of World Dance Day themed -DANCE &SPRITUALITY ,a colourful and religious dance performance on SHIV SHAKTI depicted by the budding artists mesmerized the audience . Their costumes and special effects enhanced the beauty of the show. The KPS NEWSLETTER-NIKUNJ was released by the Principal ,Dr.Anju Mehrotra and Headmistress,Ms Neena Seth.
The programme engaged the audience completely as they became fully involved in various acts. An exuberant RAP song depicting The beauty of the KPS followed by VOTE OF THANKS and sumptuous lunch for KPS family marked the end of the Founder's celebration .
Adventure Camp at Rocksport Muddy Boots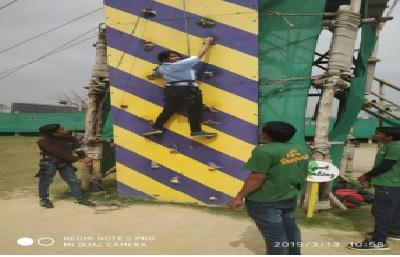 "Every outing is a learning experience"
Picnics and outings are a way to unwind and rejuvenate ourselves and provide us with an opportunity to reverberate enthusiasm and positivity. The X & XII class students of KALKA PUBLIC SCHOOL ALAKNANDA, had a blast with a plethora of fun-filled activities organized by Rocksport at Camp Muddy Boots, Greater Noida on Wednesday 13th March 2019. It was also a welcome foray into the world of adventure and excitement.
Students enjoyed various adventure sports such as Burma Bridge, Sport Climbing and Vertical Ladder. Quick decision making and leadership qualities were tested and enhanced when students played games like Commando Net, Bamboo Square and Laser Beam. Strength and team work were put to test through a game of Tug of War. Adventure sports like Zip Line, Hamster Wheel and Zorbing were so exhilarating that it gave them an adrenaline rush.
Besides, the brave hearts even tried their hands at pottery. Indeed, the Rocksport program was highly motivating, enjoyable and left the children craving for more.
Hawan Yajna Ceremony Celebrated At Kalka Public School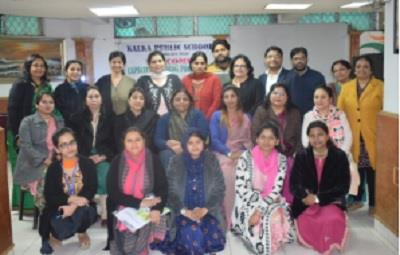 Hawan Yajna Ceremony marks the beginning of new session 2016-17 for KALKA PUBLIC SCHOOL,ALAKNANDA. "Every day is a good day and every moment is an auspicious moment. "With these golden words Kps commenced its new session for classes X an XII on 5TH MARCH 2019. The Holy HAVAN was done by the Sanskrit teacher Mr Debashish,
The school staff and students prayed for the smooth functioning of the institution for the session ahead. Dr.Anju Mehrotra in her address appreciated the session gone by , congratulated all the members of KPS family for the commencement of the new session and called upon young minds to follow the path of honesty, sincerity and dedication. In her address she also mentioned that essential condition for a success of any individual is its health in all aspects i.e. Physical, Social, Mental, Emotional and prayed that all remain in the best of health and should inspire others to lead a healthy life.
Science Day Celebrated At Kalka Public School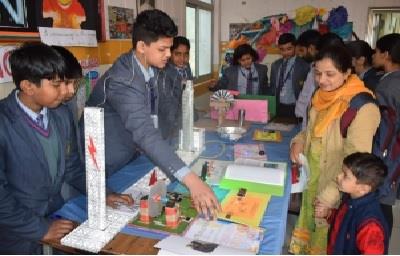 The Theme of the Year is "Science for the People and People for the Science" The purpose of celebrating National Science Day aimed at spreading the message of the importance of science in daily life of the people .
Kalka Public School celebrated National Science Day on Feb 28, 2019 . It is important to develop and encourage passion for science among school children and youth. Hence it is important to celebrate Science Day .
A host of events and activities were conducted by science teachers and students.The K-pites displayed their innovative projects through science exhibition and demonstrated various scientific experiments in the school campus.This was followed by Quiz contest, debate, elocution and lectures .
The day and celebrations were highly appreciated by the parents who visited the school premises to witness the event. They celebration urged one and all to remember and understand the contribution of scientists in India and take inspiration from them to move towards the goal of becoming a more scientific and rational society.