Event/Activities
Visit to National Science Centre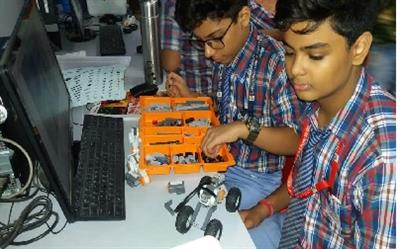 Little Flowers International School organized an educational trip to NATIONAL SCIENCE CENTRE, for Classes IX and X students on 8th and 9th August, 2019. It was an educational as well as a recreational trip. The visit aroused curiosity in the minds of students and it was an eye opening and motivating experience.
Class IX students attended a Robot Making Sesion where they were guided about the difference between a robot and a machine and they had a hands on experience of creating simple robots. Simple Electric Motor – Session was conducted for class X where students made working motors under the guidance of their teachers. Later on, students visited different galleries where they enjoyed the plethora of exhibits. Watching each of these galleries was a great learning experience. Students were also taken to watch 3D show on human body where all the systems were explained in detail.
The sessions caught the attention of students and they thoroughly enjoyed being part of funfilled activities. The Science Centre provided a whole world of knowledge and amazement.
World Population Day Celebrated At Little Flowers International School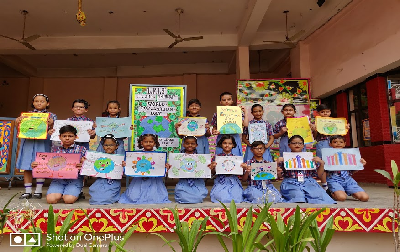 Little Flowers International School celebrated World Population Day on 11th July' 2019 to raise awareness about global population issues. A special assembly was conducted where school Vice Principal, Mrs. Anita Mahajan expressed her deep concern and care for the healthy growth and safety of human race highlighting the tremendously increasing population. Students of Class III and IV made posters and gave speeches underlining the dire consequences of population explosion. The students participated with full enthusiasm and their efforts were appreciated.
Van Mahotsav Celebration At Little Flowers International School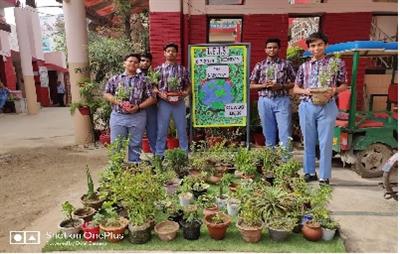 Little Flowers International School Celebrated Van Mahotsav on 5th to 8th July, 2019. "Trees are the kindest things we grow". This has been rightly said as they fulfill our basic needs. But their depleting number has become a serious issue. To make students aware of this issue and taking initiative towards it, the school organized various activities. A special School assembly was held in which the School Vice Principal, Mrs. Anita Mahajan spoke about the depleting trees sensitizing them to save trees. Students of Class X brought saplings to lend a green touch to the school environment. Class IX students made posters and slogans to promote environmental awareness. The celebration was an ideal opportunity to instill the value of social responsibility in the students towards safeguarding trees and forests.
World Hepatitis Day Celebrated At Little Flowers International School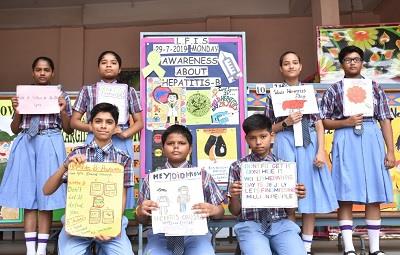 Little Flowers International School celebrated "World Hepatitis Day" on 29th July, 2019, Monday to sensitize the children to raise awareness about Hepatitis. The day was an opportunity for all to get a detailed knowledge about Hepatitis – its causes, prevention, treatment and care. A Special Assembly was conducted to mark this day. School Medical Incharge Mrs. Swati guided the students about hepatitis. The students of class VII and VIII gave speeches on hepatitis and made alarming posters. School Vice Principal Mrs. Anita Mahajan said it was important for everyone to be aware of the risk factors of Hepatitis and that to help in hepatitis free generation.
Inter House Bouquet Competition Organized In Little Flowers International School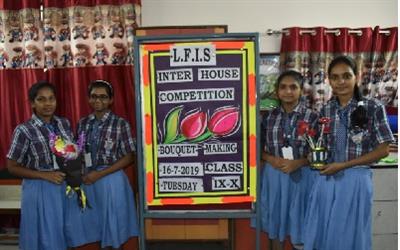 Education, if not incorporated with co-curricular activities cannot be considered workable and complete. Keeping this in mind, various inter house competitions are organized in the school from time to time and the winners are felicitated. Inter house Bouquet Making competition was held on 18th July, 2019 for classes IX and X. The event was graced with the presence of Our Chaiman Sir, Mr. R.K Dua and Vice Principal Mrs. Anita Mahajan who welcomed the participants and conveyed their best wishes for the competition.
In the end, Jasmine House bagged the first position, Lily, Lotus were tied at the second position, followed by Daisy and Pancy house at the third place.
The results are as follows:-
S.no.

Student's Name

House

Class/Sec

Position

1

Vrinda

Kriti

Jasmine

X A

X A

I

2

Manvi

Vanshika

Lily

X A

X C

II

3

Swasti

Srishti

Lotus

X A

X A

II

4

Radhika

Mishika

Daisy

IX A

IX A

III

5

Kainat

Radhika

Pancy

X C

X A

III
World Nature Conservation Day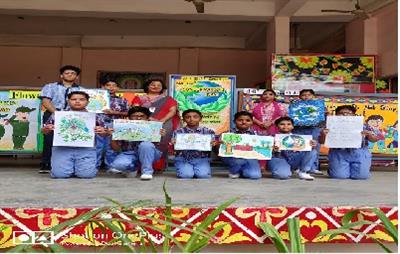 A small effort adds up to protect the world from global warming and make the world pollution free.
Little Flowers International School celebrated World Nature Conservation Day on 27th July '2019. Students of Class VI displayed their ideas through attractive slogans and book covers. The main objective behind it is to create awareness among the students to work towards ecological balance and environmental protection. School Vice Principal Mrs. Anita Mahajan appreciated the efforts of the students and quoted "such events not only encourage the students to save the nature but also make them understand the importance of keeping the world green."