From the school desk
Principal- Ms. Anita Mahajan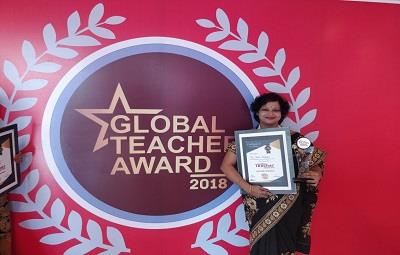 "Education is not the learning of facts, but the training of the mind to think." In today's world education is the key to progress, prosperity, health and happiness of a nation, the world and the people. We at Little Flowers International School, strive to illuminate the lives of the children entrusted to our care through moral, ethical values amalgamated with the curricular and co-curricular activities. A positive learning environment is created to achieve maximum development of the physical, intellectual, and social and spiritual aspects of our students' personality to effectively contribute to the well being of the society.
Being an educator I keenly support the pivotal, proactive role in an educational organization of reputed place in today's society. I feel honoured to be in charge of a seat of learning that can mould the most significant resource of any nation – young, impressionable human minds – I am also sensitive to the important implications of this enterprise.
As Gandhiji said, "Literary education is of no value, if it is not able to build up a sound character". We believe in All Round Development along with Excellence in Education. We value each student as an individual and as a part of community and we develop all aspects of their personhood with excellence to strengthen their "hearts, souls and minds".
Students at LFIS, make the most of the opportunities given to them by their mentors and leave no stone unturned to win laurels for their school. In the process they gain exposure and knowledge of the outer world, and broaden their perspective through such platforms. We make teaching a joy and learning a pleasure. My sincere gratitude to our mentors Founder Director Shri Dhan Raj Patel (Our Bade SIRJI) and Director Mrs C.M. Patel who are a source of inspiration and guide us to fulfil our dreams which come true through their undaunted support and tireless efforts.
I would conclude by saying that I Feel EDUCATION IS NOT A PREPARATION FOR LIFE. EDUCATION IS LIFE ITSELF.