Sports
ANNUAL SPORTS DAY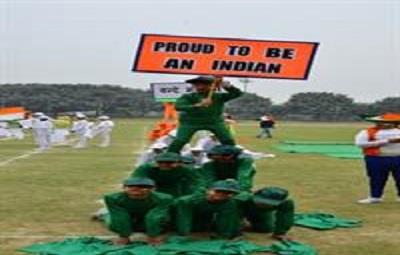 It is a matter of great pleasure that Little Flowers International School, Kabir Nagar celebrated Annual Athletic Meet on Saturday, the 18th Nov' 2017 at Commonwealth Village Sports Complex with great zeal, zest and enthusiasm. The Programme commenced with Flag hoisting by Chief Guest Smt. Kusum Tomar, Municipal Councillor of Babarpur (East Delhi). Lighting of the beacon was followed by School Band and March Past by the students. The Little Florians took the oath of playing games with a true spirit of sportsmanship.
Director Mrs C. M. Patel, School Chairman Sh. R. K Dua, Vice- Principal Mrs Anita Mahajan and our School Coordinator Mrs Bhavna Arora gave a warm welcome and presented Mementos to Chief Guest Smt. Kusum Tomar and other Distinguished Guests.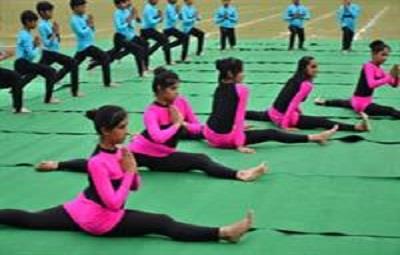 The students displayed a wide array of colourful and reverberant events and mesmerised the audience with their energetic performances .Flag Drill & Mass P.T.by Boys & Girls spell bound the audience with beautiful formations & vibrant steps. Yoga performance exhibited a perfect coordination of body, mind & soul. The Little Florians performed very well in 100m Shuttle run, Hurdle Race, 4x100m Relay Race, 200m Race & Skipping Race.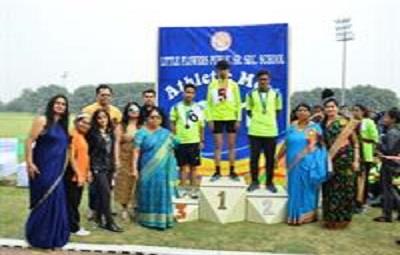 School Director Mrs C. M. Patel awarded the best International Tennis Volley Ball and National Players of Yoga with Championship Trophies. The winners of other Games & Races were awarded Medals. Stressing upon the importance of games in our life, School Director Mrs C. M Patel reaffirmed the commitment of bringing about all-round development of the Little Florians.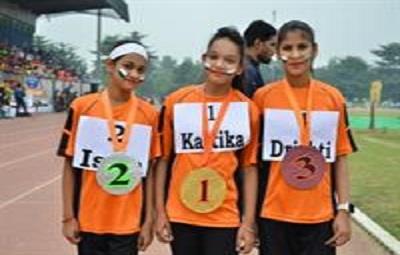 At the end of the program, the Chief Guest and other Guests appreciated School's outstanding achievements in the field of Sports, academics and cultural activities. They also applauded the students for their best performance in different drills. School Vice-Principal Mrs.Anita Mahajan extended the vote of thanks to the guests.