Event/Activities
Phenomenal Achievement of Little Florians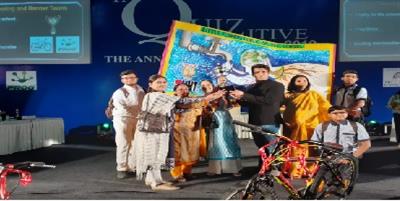 "A work of art is a world in itself reflecting the emotions of the artist's world."
Dynamic students of Little Flowers Public Sr. Sec. School, Shivaji Park, Shahdara participated in HT Pace banner making competition and got first position among hundreds of schools. In the grand event of HT Pace Inquisitive 2019 organized on 8th August, 2019 at Talkatora Stadium our students presented the current scenario through their creativity and compelled each and every person to think judiciously. "Save water for future generation" was the message propagated in the banner. The judges marvelled at the theme and striking presentation by our students. The Chief Guest, Mr. Rajeev Makhani, Quiz Master gave the Trophy to Apurv Jain, XII-B, Aaditya Ahuja XI-A, Sanchit Gupta, IX-G and Shreyansh Garg, IX-G. The students not only won the trophy but also the admiration of all the viewers.
The School Manager, Smt. C. M. Patel and Principal,Mrs. Neeta Dua, applauded the winners and advised them to continue their crusade to save water.
Education Excellence Awards 2019 Bestowed on LFPS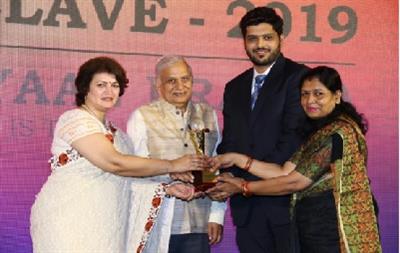 "Patience, persistence and positive approach make an unbeatable combination for success."
Mr. Rohit Dua, School Secretary, added another achievement to the glorious record of L.F.P.S.S.S. by winning 'Education Excellence Awards 2019' in the Award Category- 'Best Faculty Amongst Senior Secondary Schools' on 25th July, 2019 in the event organised by Global Guru's Conclave-2019 at Eros Hotel, Nehru Place, New Delhi. He was awarded by a renowned jury comprising of Sh. Arijit Ghosh, Sh. Ashok Pandey, Ms. Kavita Sanghvi and Dr. Anjali Qwatra, Director General, Centre of Disaster Risk and Safety, Secretary, Association of British Scholars.
The School Management acclaimed Mr. Rohit Dua for making a difference in the society by his outstanding contribution.
Van Mahotsava Celebration at LFPS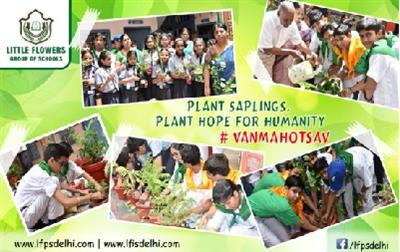 "We don't need to protect environment, we need to create a world where the environment doesn't need protection."
The school celebrated Van Mahotsava with a massive awareness and educational purpose through different activities on 29th July 2019. Students came up with beautiful and inspiring slogans, posters, book marks and cards exhibiting the importance of Tree Plantation.
The students of Eco-Club presented a song on Mother Nature. Students of class IV, V and VI presented a role play showing the different stages of a plant and medicinal plants. They described the importance of medicinal plants and their benefits for a healthy living. The students planted the saplings with School Manager, Smt. C. M. Patel, School Principal, Mrs. Neeta Dua and other Management members.
School Chairman, Sh. P. K. Jayna expressed his conviction that 'Nature never betrays the heart that loves her'. Manager, Smt. C. M. Patel appreciated the students for their enthusiastic participation in the mammoth task of conserving the environment.
Grand Celebration of International Day of Yoga at Little Flowers Group of Schools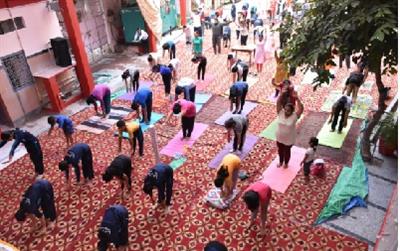 "Yoga is that light, which, if you can lit once; will never get dimmed. The more you practice, the brighter the flame will be."
Little Flowers Group of Schools celebrated 5th International Day of Yoga on 21st June, 2019 with great vim and vigor to raise global awareness about the benefits of the ancient Indian practice.
Little Florians believe that yoga provides a holistic approach to health and wellbeing. It is an established fact that a healthy mind lives in a healthy body and to remain healthy, there is nothing better than yoga. The celebration was not only confined to the students and teachers, but also witnessed the enthusiasm of parents and non-teaching staff. Mass yoga demonstration commenced from 07:00 a.m. to 08:00 a.m. under the guidance of renowned yoga guru Sh. Kishan Kumar, Sh. Niranjan Gupta and school's yoga instructors.
Around 250 students and elders participated in the session and reaffirmed their belief in the healing power of yoga to get one step closer to a positive lifestyle.
Little Florians Emerged Winner at International Level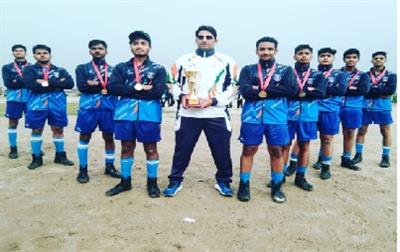 "Talent wins games, but teamwork and intelligence win championship."
Shubham Sharma and Vikas Paul of Class XII represented Indian team under-19 (560kg) category in 3rd Gold Cup Tug-of-War International Competition held at Kathmandu from 28th May, 2019 to 31st May, 2019 and won the Gold Cup against Nepal. Shubham Sharma played at 1st position and Vikas Paul played at 7th position and brought laurels to the nation and added to the glory of Little Flowers Public Sr. Sec. School.
Coach Sh. J. K. Tomar actively participated and brilliantly guided the team. Under his able guidance the Little Florians displayed their herculean strength, balance of mind and superb game technique and were awarded with a sumptuous scholarship.
School Director & Manager, Mrs. C. M. Patel applauded the team and the coach with prized words. School Principal, Mrs. Neeta Dua congratulated the team and exhorted the students to come forward with team spirit.
Little Florians Shine at Sanskrit Academy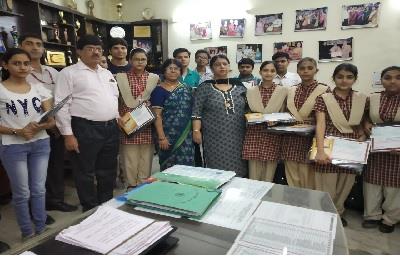 'The Sanskrit language, whatever be its antiquity is of wonderful structure, more perfect than the Greek, more copious than the Latin and more exquisitely refined than either.'
Little Florians believe it and display their reverence for Sanskrit language by scoring well in this subject. Sanskrit Academy awarded 60 students of the school with a scholarship of total Rs. 29,000/- on 28th May, 2019 in a grand ceremony for their marvelous performance in Sanskrit.
Sh. Jeetram Bhatt, the Secretary of Sanskrit Academy congratulated the students, Sanskrit language teachers and the Principal, Mrs. Neeta Dua and blessed the students to be successful in their future endeavours.