Event/Activities
Phenomenal Achievement of Little Florians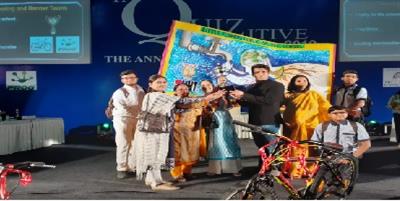 "A work of art is a world in itself reflecting the emotions of the artist's world."
Dynamic students of Little Flowers Public Sr. Sec. School, Shivaji Park, Shahdara participated in HT Pace banner making competition and got first position among hundreds of schools. In the grand event of HT Pace Inquisitive 2019 organized on 8th August, 2019 at Talkatora Stadium our students presented the current scenario through their creativity and compelled each and every person to think judiciously. "Save water for future generation" was the message propagated in the banner. The judges marvelled at the theme and striking presentation by our students. The Chief Guest, Mr. Rajeev Makhani, Quiz Master gave the Trophy to Apurv Jain, XII-B, Aaditya Ahuja XI-A, Sanchit Gupta, IX-G and Shreyansh Garg, IX-G. The students not only won the trophy but also the admiration of all the viewers.
The School Manager, Smt. C. M. Patel and Principal,Mrs. Neeta Dua, applauded the winners and advised them to continue their crusade to save water.
Education Excellence Awards 2019 Bestowed on LFPS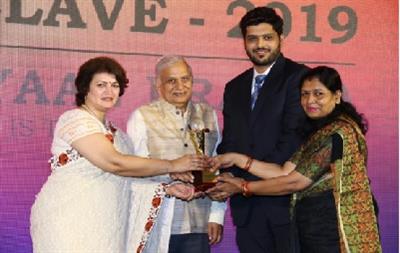 "Patience, persistence and positive approach make an unbeatable combination for success."
Mr. Rohit Dua, School Secretary, added another achievement to the glorious record of L.F.P.S.S.S. by winning 'Education Excellence Awards 2019' in the Award Category- 'Best Faculty Amongst Senior Secondary Schools' on 25th July, 2019 in the event organised by Global Guru's Conclave-2019 at Eros Hotel, Nehru Place, New Delhi. He was awarded by a renowned jury comprising of Sh. Arijit Ghosh, Sh. Ashok Pandey, Ms. Kavita Sanghvi and Dr. Anjali Qwatra, Director General, Centre of Disaster Risk and Safety, Secretary, Association of British Scholars.
The School Management acclaimed Mr. Rohit Dua for making a difference in the society by his outstanding contribution.
Van Mahotsava Celebration at LFPS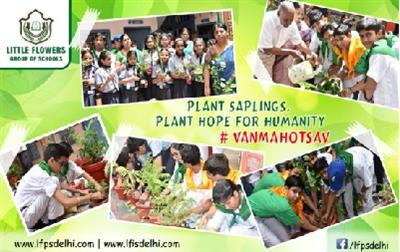 "We don't need to protect environment, we need to create a world where the environment doesn't need protection."
The school celebrated Van Mahotsava with a massive awareness and educational purpose through different activities on 29th July 2019. Students came up with beautiful and inspiring slogans, posters, book marks and cards exhibiting the importance of Tree Plantation.
The students of Eco-Club presented a song on Mother Nature. Students of class IV, V and VI presented a role play showing the different stages of a plant and medicinal plants. They described the importance of medicinal plants and their benefits for a healthy living. The students planted the saplings with School Manager, Smt. C. M. Patel, School Principal, Mrs. Neeta Dua and other Management members.
School Chairman, Sh. P. K. Jayna expressed his conviction that 'Nature never betrays the heart that loves her'. Manager, Smt. C. M. Patel appreciated the students for their enthusiastic participation in the mammoth task of conserving the environment.
Grand Celebration of International Day of Yoga at Little Flowers Group of Schools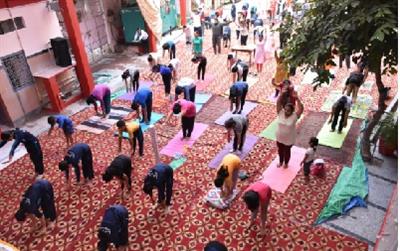 "Yoga is that light, which, if you can lit once; will never get dimmed. The more you practice, the brighter the flame will be."
Little Flowers Group of Schools celebrated 5th International Day of Yoga on 21st June, 2019 with great vim and vigor to raise global awareness about the benefits of the ancient Indian practice.
Little Florians believe that yoga provides a holistic approach to health and wellbeing. It is an established fact that a healthy mind lives in a healthy body and to remain healthy, there is nothing better than yoga. The celebration was not only confined to the students and teachers, but also witnessed the enthusiasm of parents and non-teaching staff. Mass yoga demonstration commenced from 07:00 a.m. to 08:00 a.m. under the guidance of renowned yoga guru Sh. Kishan Kumar, Sh. Niranjan Gupta and school's yoga instructors.
Around 250 students and elders participated in the session and reaffirmed their belief in the healing power of yoga to get one step closer to a positive lifestyle.
Little Florians Emerged Winner at International Level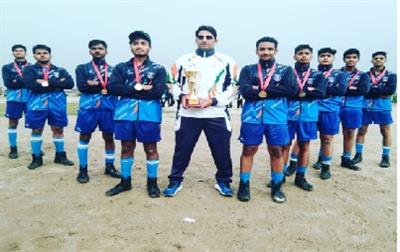 "Talent wins games, but teamwork and intelligence win championship."
Shubham Sharma and Vikas Paul of Class XII represented Indian team under-19 (560kg) category in 3rd Gold Cup Tug-of-War International Competition held at Kathmandu from 28th May, 2019 to 31st May, 2019 and won the Gold Cup against Nepal. Shubham Sharma played at 1st position and Vikas Paul played at 7th position and brought laurels to the nation and added to the glory of Little Flowers Public Sr. Sec. School.
Coach Sh. J. K. Tomar actively participated and brilliantly guided the team. Under his able guidance the Little Florians displayed their herculean strength, balance of mind and superb game technique and were awarded with a sumptuous scholarship.
School Director & Manager, Mrs. C. M. Patel applauded the team and the coach with prized words. School Principal, Mrs. Neeta Dua congratulated the team and exhorted the students to come forward with team spirit.
Little Florians Shine at Sanskrit Academy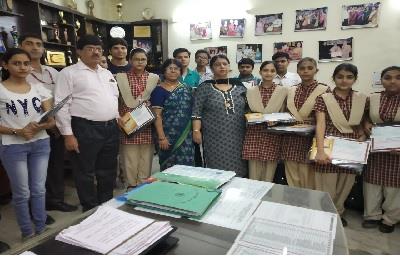 'The Sanskrit language, whatever be its antiquity is of wonderful structure, more perfect than the Greek, more copious than the Latin and more exquisitely refined than either.'
Little Florians believe it and display their reverence for Sanskrit language by scoring well in this subject. Sanskrit Academy awarded 60 students of the school with a scholarship of total Rs. 29,000/- on 28th May, 2019 in a grand ceremony for their marvelous performance in Sanskrit.
Sh. Jeetram Bhatt, the Secretary of Sanskrit Academy congratulated the students, Sanskrit language teachers and the Principal, Mrs. Neeta Dua and blessed the students to be successful in their future endeavours.
Sanskrit Teachers Honoured At Sanakriti Sewa Samman Of Little Flowers Public Sr Secondary School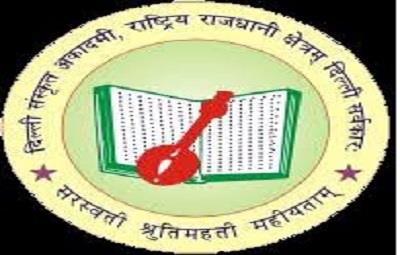 Sanskrit teachers of Little Flowers Public Sr. Sec. School, Shivaji Park, Shahdara, Delhi-32 were honoured with Sanskrit Sewa Samman on May 24, 2019 by Sanskrit Academy in Jhandewalan for their 100% result in CBSE Board Exam 2019. Mr. Arun Kumar & Mrs. Geeta Rani were honoured with the award & shawl and certificates for their exemplary services. Six hundred teachers from different schools were honoured. Secretary of the academy Sh. Jeetram Bhatt appreciated these teachers for their dedication to Sanskrit.
Manager of the School, Mrs. C. M. Patel & Principal, Mrs. Neeta Dua congratulated these teachers and appreciated their spirit of dedication.
Bird Day Celebrated At Little Flowers Sr Secondary School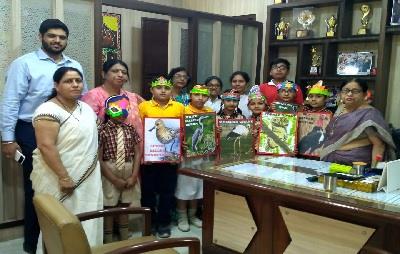 To highlight the need for the conservation of birds, the members of Eco-club of Little Flowers Public Sr. Sec. School, Shivaji Park, Shahdara, Delhi celebrated 'BIRD DAY' on May 4th, 2019 very enthusiastically. During Morning Assembly the students from V & VI Std. enacted the role of various endangered species of birds like Spoon billed sandpiper, White bellied heron, Himalayan quail, Forest owlet, Siberian crane and Red headed vulture & presented the information about these birds. The students amplified the message for bird conservation. Speeches were delivered by many students in which they talked about birds and their natural habitats. They vowed to save the birds from being endangered. The Principal, Mrs. Neeta Dua appreciated the exemplary performances of the students and emphasized the importance of birds and inspired them to conserve the natural habitat of birds.
Aspiring Authors Amazed All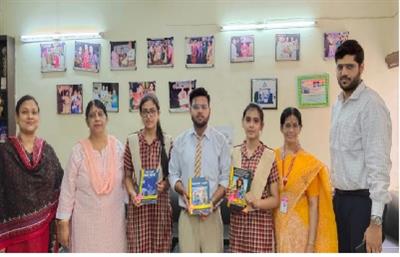 Literary Club members of class 8th to 10th of the school participated in 'Weave a Story' contest and displayed the magical power of their pen. One hundred and fifty students participated in this competition in the school auditorium on 9th April, 2019. The prompts for the stories were given on the spot. Enthusiastic students made the characters of the story alive by their vivid imagination.
It was really a challenge for the judges to choose the winners as each story was a master piece. Their marvellous imagination, superb creativity, precious pearls like vocabulary proves that they are budding and blooming little authors of Little Flowers' gracious garden.
The winners were awarded and blessed by Mrs. Neeta Dua, the School Principal and Mr. Rohit Dua, the School Secretary.
Earth Day Celebrated At Little Flowers Public Senior Secondary School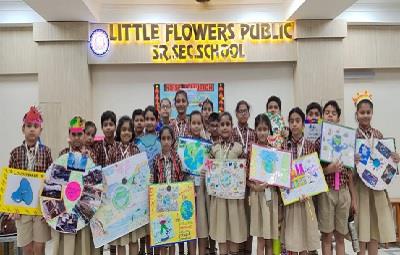 April 22nd is celebrated as Earth Day all over the world. But Little Florians appealed one and all to treat Mother Earth respectfully every day. One week was devoted to create awareness among all the students through various activities .The students of class 1 & 2 presented posters and raised slogans. The students of class 3 & 4 organized a special assembly and presented speeches, poems and awakened the audience. A street play with the message to save the earth was presented by the students of class 5 & 6 .The students of class 7 & 8 enacted a skit and recited thought provoking poems to create mass awareness. The Literary Club members of class 5 & 6 presented role play based on environmental issues. The senior students wrote essays, delivered declamation and presented debates on the burning issues of climate change and global warming. The Eco Club members from 9th to 12th classes participated in Poster Making Activity.
Each and every Little Florian took a pledge to take care of Mother Earth for the survival of humanity. They pledged to follow the rule of Reduce, Reuse and Recycle to save environment.
The School Secretary, Mr. Rohit Dua apprised the students of the ecofriendly steps being taken at the school. The School Principal, Mrs. Neeta Dua advised the students to follow environment-friendly life style. She thanked the School Manager, Smt. C.M. Patel & congratulated the staff and students on the installation of solar panels, rain water harvesting system and the vertical garden in the school. Each student promised to contribute to revive the beauty of our earth.
Preserving Biosphere Than And Now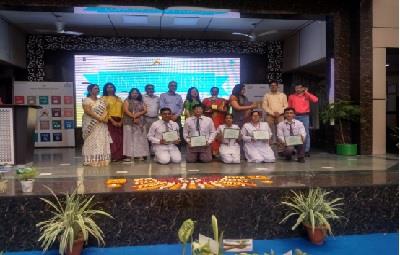 The Little Florians bagged a trophy for doing the project assigned by the Department of Science and Technology and Millenium India Education fund. 25 students of 11th & 12th classes were the part of this project. They submitted an excellent report of flora and fauna of Shahdara region around 5 Km area of the school which was evaluated and studied by the deemed scientists of DST. We are happy to report that 91 schools of Delhi were the part of this programme. 20 schools were selected and our students got 4th position in the prize distribution ceremony at Mount Abu School and were awarded by the Chief Guests - Dr. Nisha Mendiratta, Ranjeet Singh, Dr. ABP Mishra and Udai Kakroo, Eminent scientists of climate change programme, Department of Science & Technology.
Team leaders of the project Tejasvi Khanna & Priyanka Verma along with Vansh Juneja, Yash Chauhan and Srishti Gupta students of class 11th & 12th with their escort teacher Rashmi Saxena participated in the event and brought laurels to the school.
'Competing at the highest level is not about winning. It's about preparation, courage, understanding and nurturing your people and heart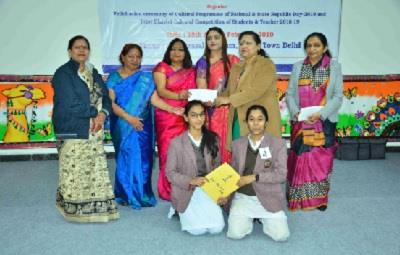 The time of glory came for Little Flowers Public Sr. Sec. School, Shivaji Park, Shahdara, at Chhatrasal Stadium when the students of the school were awarded in different categories with certificates and cash prizes.
On February 18th & 19th, 2019 the awards of State Level Competitions were distributed at Chhatrasal Stadium. The Chief Guests were Mrs. Asha Bansal, ADE (PE & NI) and Mrs. Romi Johri ADE (PE & NI). Prize money of `22,500 came as a shower on Little Florians where 20 students of Qawwali bagged I position and were bestowed with a cash prize of `10,000. 14 students of Nukkad Natak got III position and a cash prize of `5,000. Further individual prizes were awarded to the students. Harish Saifi of XII C got First Position in Poster Making in the Sr. Boy Category. Vaisahli Sharma of X I got First position in English Poem Recitation in Sr. Girl Category and bagged a cash prize of `1000 each. Sonal Swaroop of XII A and Aarti Monga of XI A got Second Position in English Debate in Senior Girls Category. They bagged a cash prize of `750 individually.
Further Navneet Raj Shukla of XI A got Second Position in English Extempore and was conferred with a cash prize of `750.
Anmol Nailwal of XI J got Second Position in Hindi Poem recitation and got a cash prize of `750. Abhsihek Nailwal of XI J got Third Position in English Poem Recitation. He received cash reward of `500.
The school students always plan to win, prepare to win expect to win and emerge as WINNERS. School Manager, Smt. C.M.Patel, appreciated and congratulated the winners for their remarkable achievement. School Principal, Mrs. Neeta Dua, also applauded the endeavours of achievers and encouraged them for the best in the future.