Event/Activities
Little Florians Awarded By Bharatiya Bhasha Academy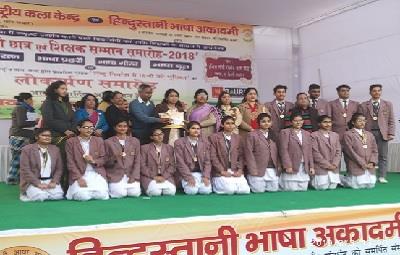 "Every achievements a servitude. It compels us to a higher achievement".
Little Florains have made their mark in every field and it is visible in their grand achievements. Bharatiya Bhasha Academy acknowledged and awarded the students who scored above 90% in Hindi in Class X CBSE Exam. Approximately 2000 students and 500 teachers from 143 schools were awarded in a grand ceremony held at Indira Gandhi Rashtriya Kala Kendra on 3rd January, 2019 by renowned poets, Sh. Ashok Chakradher & Sh. B.L.Gour, Sh. Yogesh Pujan, the Ambassador, Fizi Republic and Sh. Suman Joshi, Chairperson Indira Gandhi Rashtriya Kala Kendra.
Twenty four students of our School got medals and certificates. Hindi Language teachers, Sh. Arun Kumar Mishra, Smt. Geeta Rani and Smt. Alka Shrivastava were also awarded with medals for their remarkable contribution.
School Manager, Smt. C.M. Patel and Principal, Mrs. Neeta Dua congratulated the awardees and motivated them to propagate Hindi and Sanskrit languages.
Little Florians Emerge Victories At F1 In School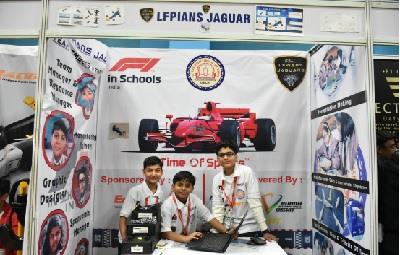 "High achievement always takes place in the framework of high expectation."
Little Florians participated for the first time in 'F1 in Schools' and emerged triumphant in the competition.
F1 in Schools is an international STEM (Science, Technology, Engineering, Mathematical) competition for school children in which groups of 3-6 students have to design and manufacture a miniature car out of the official Model Block using CAD/CAM design tools. It is powered by CO2 cartridges. F1 in schools cars are designed to travel 20 metre race distance as quickly as possible, whilst withstanding the forces of launch, acceleration, track traversing and physical deceleration after crossing the finishing line.
Two teams – Team Lfpians Tigers (Abhishek Jain, Shourya Aggarwal, Soubhagya Daga, Laksh Ludhra from VI-A) &
Team LFPIANS Jaguars (Akshit Jain VII-E, Khyati VII-C, Namya VII-C, Sarthak Choudhary VI-E & Kartik Rustagi VI-E) participated in the event and prepared the miniature cars for the competition.
One hundred eight schools participated in the competition for three days at Genesis Global School, Noida. Thirty two teams were shortlisted. Our team LFIANS Jaguars got selected for National level round that will be held in April.
School Manager, Smt. C. M. Patel applauded the winners for this remarkable achievement and advised them to surround themselves with high achievers that challenge them to excellence.
School Principal, Mrs. Neeta Dua congratulated the winners and commended Mr. Rohit Dua, Mr. Diwaker and the parents of the participants for their guidance and enthusiastic support.
Little Flowers Public Sr. Sec. School Honored By Sanskriti Academy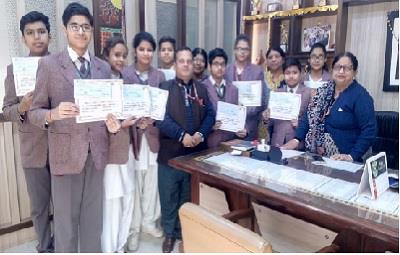 'Little Florians believe that Sanskrit is a language of Enlightenment and it is depicted in their grand victory.'
Twenty Four students of Little Flowers Public Sr. Sec. School were awarded by Sanskrit Academy in a grand ceremony. The ceremony was held on 31.01.2019, Thursday at Gandhi Memorial Sarvodaya Bal Vidyalaya. The students who stood first were conferred with cash prize by Sh. Jeetram Bhatt, Secretary of Sanskrit Academy. There were total 80 schools out of which Little Flowers Sr. Sec. School bagged the highest of Rs. 7000 cash prize. The chief guest told the students about the importance of Sanskrit as a language.
The School Manager, Mrs. C. M. Patel extended her warm wishes to Sh. Arun Kumar & Mrs. Geeta Rani. She bestowed her blessings on the students for their success. The School Principal, Mrs. Neeta Dua also appreciated the students for their grand achievement and motivated them to continue in the same way in future.
70th Republic Day Celebrated At Little Flowers Public Senior Secondary School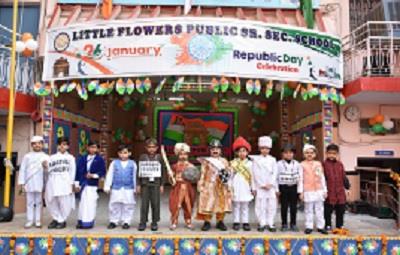 "Our ancestors gave us a glorious past. We need to create a magnificent future."
With the hearts brimming with patriotism and minds reveling in the glory of freedom, Little Flowers Public Sr. Sec. School, Shahdara, celebrated the 70th Republic Day with great enthusiasm. The school was decorated with tricolor balloons, frills and streamers. The event commenced with flag hoisting by School Manager, Smt. C. M. Patel and Principal, Mrs. Neeta Dua followed by National Anthem. The March Past by the Inter House Competition Winners, Science Award Achievers and Eco-Club Members grabbed the attention of the audience. Melodious patriotic songs presented by the school choir reminds to each and every person who sacrifices their life for the country freedom . The Little Florians presented a beautiful folk dances of Kashmir, Haryana, Maharashtra and Odisha which compelled the viewers to tap their feet. The main event was the Kathak dance performed by the students of class V & VI. The contribution of our nationalist leaders was amazingly depicted in the ballad presented by the students of class VII & VIII.
While addressing the students, the School Manager, Smt. C. M. Patel told the students about the importance of Republic Day and stressed upon the values of discipline in students' life. She encouraged the students to get together, be the strength of the nation and help it reach the pinnacle. The School Principal, Mrs. Neeta Dua motivated the students to prioritize their goals in order to be successful in life.
L.F.P.S.S School Celebrates Sports Day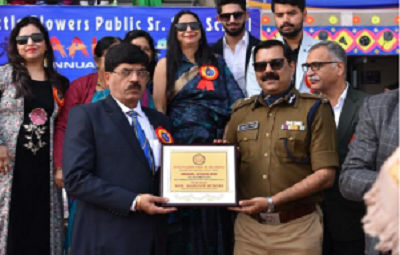 LittleFlowers Public Sr. Sec. School, Shivaji Park celebrated Annual Sports Day on Saturday, the 15th December, 2018at Commonwealth Village Sports Complex amidst great mirth, verve and camaraderie. The Programme commenced with Flag hoisting by the Chief Guest, Special Guest Sh. Sanjay Singh, Special Commissioner of Police, Delhi and Guests of Honour, Sh. S. K. Sharma , DDE, Zone –V and Mr. AmanSaini, International Archery Player.Lighting of beacon was followed by spectacular and well synchronized School Band and March Past by the students of all the Six Houses.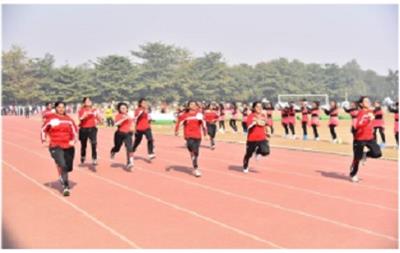 The Little Floriansperformed very well in 100m Race (Boys), 100m Race (Girls),200m Race(Boys) and 4 x100m Relay Race (Boys & Girls).The Chief Guest Sh. Manoj Tiwari awarded the bestNational Players of Tug of War,Isha Sharma, KunalTomar& Aryan Khokhar of Class –XII with Trophies and other winners were also encouraged with Medals. Stressing upon the importance of games in our life, School Director Mrs. C. M Patel reaffirmed the commitment of bringing about all round development of the Little Florians. School Principal Mrs. Neeta Duaopined that Athletic greatness is not marked by perfection but by the ability to constantly overcome.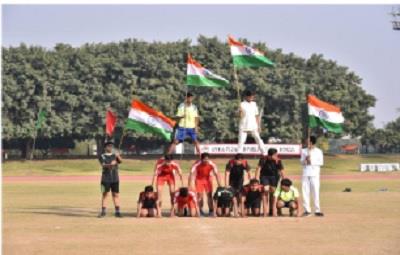 Director Mrs. C. M. Patel, School President Dr. Deepak Batraand Sh. R. K. Dua, Chairman of LFIS,welcomed the esteemed guests with saplings and mementoes.The students entered into the spirit of the occasion in a grand way with the oath being administered by the Sports Captain. Once the events began, the air was filled with cheering and tons of encouragement for the young athletes. The students displayed a wide array of colourful and reverberant events and captivated the audience with their vibrantperformances .Kidzania Drill, Charlie Chaplin Drill, May Pole and Clapping Drill enthralled the audience with their perfect synchrony. Hoops Drill and Zumba performed by the girls displayed their vitality. Black & White Drill (Symmetry Drill) and Yoga performance exhibited the perfect coordination of body, mind and soul.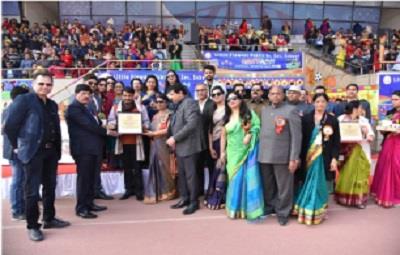 At the end of the program, the Chief Guest and other Guests appreciated School's outstanding achievements in the field of Sports, academics and cultural activities. They also applauded the students for their remarkable performance in different Drills. Mr, RohitDua, School Secretary extended the vote of thanks to the guests.
Little Flowers Participates In 26th National Children Science Congress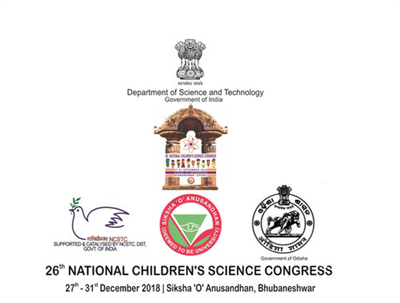 Little Florians believe that the scientists are the bearers of the torch of discovery in our quest for knowledge.
Our junior scientist, Shivangi Verma, a student of VIII-B represented the school in a four day National Children Science Congress held at Bhubaneshwar, Odisha from December 27, 2018 to December 30, 2018 on the topic 'CCIP from Bio waste.' The students' group from Little Flowers Public Sr. Sec. School, Shivaji Park, Shahdara, Delhi led by Shivangi Verma and assisted by Miss. Kirti Aggarwal and Meenakshi Sharma presented their brilliant performance. The other group members Gurkirat Kaur, Malti Sharma, Abhi Jain and Kush Kumar had remarkably represented their school at State level earlier. The Manager of the School Mrs. C. M. Patel and Principal Mrs. Neeta Dua appreciated their efforts and wished them good luck for future.
ECO-FRIENDLY DIWALI CELEBRATION AT L. F. P. S.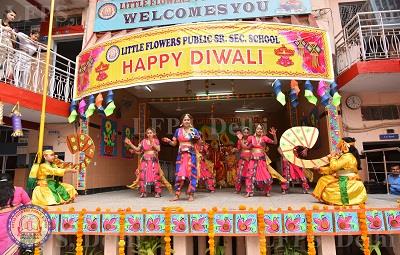 Let's light the lamps of learning,
Let's fire the flowerpots of frolic,
Let's share the sweets of sentiments,
Let's sensibly celebrate Eco-friendly Diwali."
Little Flowers Public Sr. Sec. School, Shahdara celebrated Diwali on 2nd November, 2018 with great fervor and enthusiasm. The entire school was decorated with beautiful handcrafted decorative lanterns, frills and reusable paper rangoli prepared by the students. The programme commenced with Ganesh Stuti presented by the students of class VI to VIII. Inter-House Dance Competition was the most cherished event. Folk and religious dances presented by the students of class VII to IX mesmerized the audience with their effervescene. It was a visual feast and an acoustic treat to watch those graceful and elegant dance steps.
Inter-House Mehandi Competition was also organised for the students of class X to XII. All the winners were awarded by the School Management members.
The School Manager, Smt. C. M. Patel and Principal, Mrs. Neeta Dua advised the students to celebate safe, cracker-free eco-friendly Diwali. School Chairman, Sh. P. K. Jayna & Sh. R. K. Dua and Managing Director, Mr. Rohit Dua wished a happy and prosperous Diwali to all the students and staff.
Wandering through the Memory Lane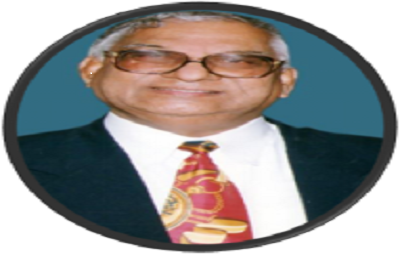 Sh. D.R. Patel, the Founder and Director of Little Flowers Group of Schools, was a great humanitarian, educationist and philanthropist who lived his life for the wellbeing of society. He was a role model for his students as well as staff. The words, Sirji had spoken on various occasions, are an inspiration to all. Here are some of the anecdotes related to his life which motivated the students and will keep on motivating them through generations to come.
I was in V standard and Gandhi Jayanti celebration was going on in the school. Bade Sir Ji was telling us about the life of Mahatma Gandhi the father of the nation. I was listening to each and every word of Sirji. I remember, whenever Sirji spoke, there was pin drop silence in the whole school. Our class was assembled in the school ground whereas, the other class students were in the corridors of all the three floors. I felt Sirji"s words pouring into my heart. Sirji believed that "Child is God" and therefore, the monogram of our school also contains the same words. Sirji asked us to raise the slogan "Little Flowers Ke bachche, hote hai sabse achche." We spoke to the peak of our voice. These magic words still echo in my heart. Whenever I feel less energetic , I recall these words and they rejuvenate me. I feel proud of being a Little Florian.
Riddhima Talwar -XII C
He told us how he worked hard to establish this temple of learning. He came to Delhi from Maharashtra with a petty amount of money. But this scarcity could not bar his way. He was highly determined and diligent. His hard work bore fruit. Slowly and steadily this school grew to big heights. A small sapling, which was planted on 10th May, 1975 has now grown to a full-fledged tree. This episode was an eye opener for me. I have incorporated his ideals in my life. Whenever I feel drained of my energy, I remember Sirji's words and instantly get motivated.
Bhavya Sharma-XII C
Bade Sirji often quoted Robert Frost's lines in his speeches :
"The woods are lovely, dark and deep
But I have promises to keep And miles to go before I sleep And miles to go before I sleep."
Sirji never spoke for the sake of speaking only. He always followed his ideals to the core. He never took rest in his life. His life is an example to be followed by all. He fulfilled his promise of doing something great. He did so by establishing LFPS Group of Schools. He never turned away from his commitments either to his own self or to the society.
Janvi Suri – XI F
We students used to be highly nervous and tensed just before our exams. But Sirji's soothing words would calm our nerves and boost our spirits. He'd ask us to make the best use of our remaining time and not to get disheartened even if we had not prepared well. He used to say, "Let the gone be bygone." He would ask us to start afresh with new zeal and enthusiasm. His words would cast a magical effect on us. We'd get charged with energy and enthusiasm. Sirji is not there among us, but before my exams I always miss him for his motivational speeches.
Rishika Rana – XII C
Vigorous Little Florians shine in Tug-of-War Championship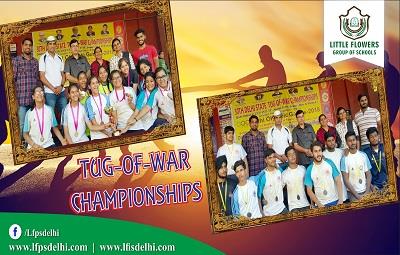 "The five S's of sports training are stamina, speed, strength, skill and spirit, but the greatest of these is the spirit that ensures success."
Mighty Little Florians continued their success story with the marvellous achievements in Tug-of-War Championship. Tug – of – War Federation of India organized 30th Delhi State Tug – of – War Championship 2018 at Siddharth International Public School from 11th October to 14th October 2018. Chief Guest, Honorable Mr. Madan Mohan Ji asserted the importance of games in life. 17 schools participated in this championship. Little Flowers Public Sr. Sec. School, Shivaji Park, Shahdara participated in U-19 boys (560kg), U-19 girls (440kg) and U-17 boys (480kg)and won Gold medals in U-19 girls(440kg) weight category, bronze medals in U-19 boys (560kg) and U-17 (480kg) boys, under the guidance of their coach Mr. J. K. Tomar.
School Manager, Mrs. C. M. Patel showered her blessings on the winners by reminding them that 'Every champion was once a contender that refused to give up.' Principal, Mrs. Neeta Dua and School Secretary, Mr. Rohit Dua congratulated the participants and encouraged them to be victorious in every field of life.
A Rendezvous with Living Legend, Sh. Pranab Mukherjee, our Former President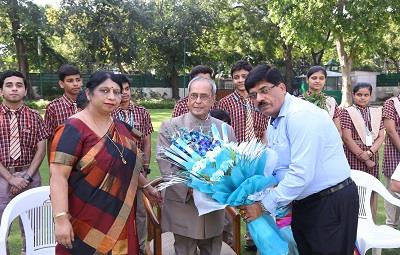 Glorious Little Florians got a golden opportunity to meet our Former President, Sh. Pranab Mukherjee at his residence, 10, Rajaji Marg, New Delhi on 28th September, 2018. It was an awe-inspiring moment for the school toppers and all rounders.
The School Manager, Smt. C. M. Patel, Principal, Mrs. Neeta Dua, other management members and teachers presented mementos, shawl, painting and saplings to the Ex-President as a token of reverence. He showered blessings on the students and shared valuable words of wisdom to enlighten the students. This substantial meeting filled the students with a patriotic fervour and they pledged to serve the nation whole heartedly. Hon'ble Sh. Pranab Mukherjee acclaimed the School Management for achieving a remarkable position in the field of education.
Paryatan Parv Celebration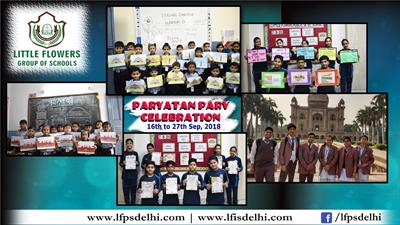 "World is a book and those who visit India, read the most beautiful and colourful page."
Little Flowers Public Sr. Sec. School, Shivaji Park, Shahdara, Delhi, celebrated 'Paryatan Parv' from 16.09.2018 to 27.09.2018 to laud the initiative of 'The Ministry of Tourism, Government of India'.
This year the idea of Paryatan Parv was to propagate the message of "Dekho Apna Desh", with the objective to encourage Indians to visit various tourist destinations of the country. The fest was observed with great fervour by all the students. Different competitions like Essay Writing, Slogan Writing, Painting and Poster Making were organised in the above said period. Students of different classes participated in the competitions with great enthusiasm. They showcased India's rich and vibrant culture and tourist spots in their paintings. In their essays, they depicted India's great potential to become an eminent tourist destination and how our country offers a variety of tourist spots. School Principal, Mrs Neeta Dua addressed the special school assembly and inspired the students to visit various tourist destinations of the country. Different activities during the 'Paryatan Parv' made the students aware of the rich and varied tourist places across the country and filled them with pride.
School Manager, Smt. C. M. Patel lauded the campaign and encouraged the students to participate in various activities as she believes that Education and Tourism move hand in hand. Every year the school organizes trips for students of all classes.
Hindi Diwas Celebrated In L.F.P.S.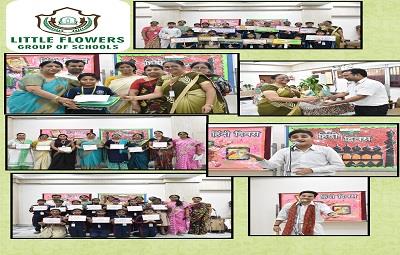 Hindi Diwas was celebrated with great zest on 14th September, 2018 at Little Flowers Public Sr. Sec. School, Shivaji Park, Shahdara, Delhi. Different types of activities like Poem Recitation, Essay Writing, Nukkad Natak, etc. were organized in different classes and the winners were awarded by the Principal Mrs. Neeta Dua. A rally was also organized on this occasion. The students of all classes holding card-boards in their hands and raising slogans created awareness about (Mother Tongue) Hindi among the people. The Manager Smt. C. M. Patel appreciated the programmes presented by the students. Principal, Mrs. Neeta Dua told them the importance of Hindi Diwas & wished them.