Event/Activities
Star Educator Award,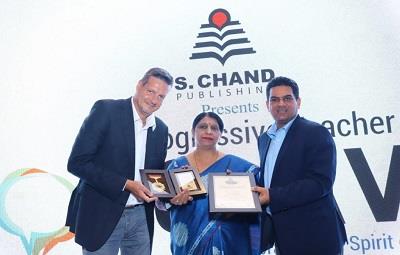 "It is the supreme art of the teacher to awaken joy in creative expression and knowledge. The society is obligated to the teachers for their constant efforts to uplift the future of the nation."
The most committed, persevering and goal-oriented School Principal, Mrs. Neeta Dua had been felicitated with 'Star Educator Award' on 1st September, 2018 at The Crowm Plaza Hotel in a grand ceremony. The event was organized by S. Chand Publications.
The School Manager, Smt. C. M. Patel appreciated the latest achievement of Mrs. Neeta Dua and acclaimed the efforts of all the teachers by saying that entrusted with a huge responsibility of enriching lives of students, teachers indoubtedly bring about a positive change.
Report of Science Exhibition at Zonal Level
Little Flowers Public Sr. Sec. School participated in "Science Exhibition" at Zone V (11 & 12 Sept 2018) at GBSSS School of the zone. More than 20 schools participated in the event & exhibited their models under various themes.
Eight of our students got selected to present their theme at district level. The students of class V, Kirti Jalan & Palakshi Gupta, presented their model on Energy conservation Nidhi and Manya of class VIII prepared model of sustainable development a key to survival. Students of class IX, Prateek Sharma and Shrija Chhabra had prepared a model 'Waste to Wealth that was well appreciated by the judges.
Apart from Science class XI students Tanvi and Bharti also got selected for SUPW by creating beautiful things from waste.
Tree Plantation Drive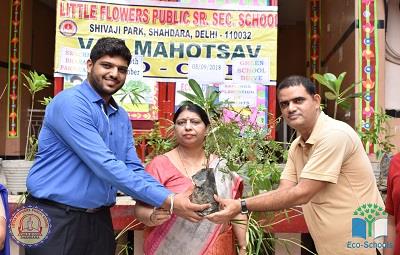 Little Flowers Public Senior Secondary School, Shivaji Park, Shahdara organised a "Tree Plantation Drive" in the school premises on Sept. 8, 2018 with great zest and zeal under the motivational message and mission of Honourable Chief Minister of the state to plant five lakh saplings at six hundred sites in Delhi.
The Manager Mrs. C. M. Patel, the Principal Mrs. Neeta Dua, the Director Mr. Rohit Patel, the staff members, parents and students planted hundreds of saplings enthusiastically to contribute to the mission of the Chief Minister and each parent interested in gardening was gifted a plant by the School Management. The response of the parents was overwhelming. They appreciated the initiative of the school and promised to join hands with the school to revive the beauty of Mother Earth
Dr. S. Radha Krishnan Award-2018
"One looks back with appreciation to the brilliant teachers, but with gratitude to those who touched our human feelings. Such teachers are revered by knowledge-seekers and the society."
Dr. Deepali Bhalla, Manager L.F.P.S. Yamuna Vihar and Mrs. Bhawna Arora, HOD Social Science had been awarded with prestigious Dr. S. Radha Krishnan Memorial National Teacher Award-2018 in a grand ceremony held at Constitution Club of India on 4th September, 2018. The function was organized by Akhil Bhartiya Swatantra Patrakar Avom Lekhak Sangh.
Delhi BJP Chief Sh. Manoj Tiwari, Deputy Speaker of Delhi Vidhan Sabha Ms. Rakhi Birla and Mayor of N.D.M.C. Sh. Adesh Gupta honoured the awardees and commended their endeavours.
School Manager Smt. C. M. Patel and Principal Mrs. Neeta Dua adulated the awardees and motivated them to continue enriching the society with their genuine efforts.
Teachers Day Celebrations
Dear Teachers
The result of your efforts is like fruits adorned on the branches of a tree, they need soil of your toil and manure of your affection on regular basis .Then these saplings become fruit bearing trees. Your efforts may not be visible right now but their impact will be felt in every step taken by your students. If they are on the right path, it is because of your teachings. If they are successfully contributing to the society, it is because of your preaching. If they are indifferent to social problems, it might be due to your negligence.If they are forgetting Indian culture and patriotism, it might be because you forgot to imbibe these virtues in your lessons.
Dear teachers, you can't forget that you are the crusaders who are bringing the revolution of knowledge, you might be undervalued but you are actually a philosopher's stone turning pebbles into gold with your magical touch. You chose this divine profession because you owe it to your own teachers.
Be like the teacher who inspired you in your childhood. Be like the teacher who made you stand firmly to face every odd situation.
Happy Teacher's Day and happy every day because you are a noble person striving for a noble motive.
Rakhi Jha
BEST TEACHERS' AWARD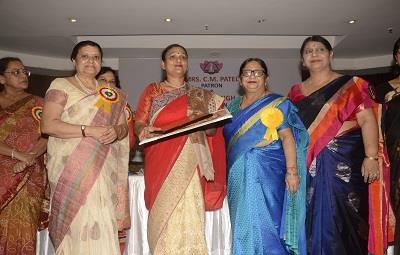 "A good teacher can inspire hope, ignite the imagination and instill a love of learning."
Great teachers are revered by all beacause they motivate others to follow their vision. Teacher's day celebration is incomplete without teachers' appreciation. A grand award ceremony was held at India International Centre on 2nd September, 2018 to felicitate esteemed personalities creating revolution in the field of education.
School Manager, Smt. C. M. Patel & Principal, Mrs. Neeta Dua had been awarded 'Special Honour' for her great contribution in the field of education, good administration, nation building national integration & social security. Honouring Mrs. Neeta Dua on the occasion, Sh. Rajender Pal Gautam, Social Welfare Minister, Patron, Smt. C. M. Patel, Ms. Juhi Aggarwal, Deputy Director Education and Mrs. Padmavati Dwivedi, Founder of NGO Compassionate Living India acknowledged her to be an asset to society who has been persistently working for the noble mission of enlightening the younger generation.
The dynamic and enthusiastic, School Secretary, Mr. Rohit Dua, had been awarded A.P.S. Golden Peak Award for his great contribution in the field of Education, Nation Building, and National Integration & Social Security.
PGT (Chemistry), Ms. Meenakshi Gupta, had been awarded with PPS Millennium National Teacher Award. The award ceremony was organised by Institute for Environment, Yoga & Social Security, Delhi.
School Manager, Smt. C. M. Patel and staff congratulated the awardees for their genuine efforts in the field of education.
Independence Day Celebration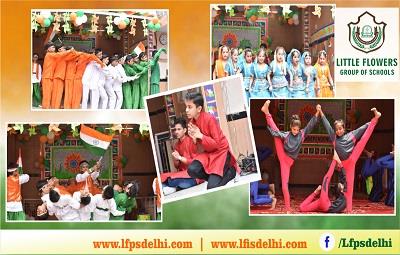 Little Flowers Public Sr. Sec. School, Shivaji Park, Shahdara celebrated the 72nd Independence Day on 14th August, 2018 with great zeal, zest and patriotic fervour. The school campus was adorned with tri-colour flags, kites, balloons and the craft items prepared by the students. School Director Smt. C.M. Patel hoisted the National Flag and gave a very inspiring speech. She advised the students to follow their passion with a heart full of patriotism. She inspired the students to contribute in making India a developed country and pay real tribute to the freedom fighters who sacrificed their lives for our independence. The school choir presented patriotic songs that echoed the school premises. The students of primary and middle classes mesmerized the audience by their vibrant and enthusiastic dance performance. A folk dance depicting Teej celebration was praised by all. A fusion of classical dances of India spell bound one and all. The tiny tots dressed as freedom fighters and soldiers filled the hearts of viewers with patriotic feelings. The School Principal, Mrs. Neeta Dua appreciated the performers and inspired the students to stay focused on their goals and maintain respect for the nation. The programme concluded with enthusiastic and patriotic slogans.
Splendid Performance of Little Floria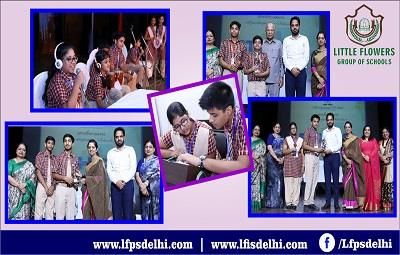 "The most distinguishing feature of winners is their intensity of purpose."
Winners are born, but champions are made at Little Flowers Public Sr. Sec. School. This is evident in the performance of Little Florians in academics as well as co-curricular activities.
The versatile Little Florians participated in an Inter School competition 'Ethos' organised by Vivekananda School, Anand Vihar and emerged as winners in various competitions. The events were held on August 16, 2018 and August 20, 2018.
In Innovision, model making competition, Arnav VIII-F and Naman VIII-E won 1st prize by making a model of disaster management.
In Graffiti, wall art competition, Harish Saifi XII-C, Samyak XII-C and Divyanshu Jain XI-E got 1st prize. They gave the message of being environment friendly with their spectacular wall art.
In Cinemagix, Documentary Making Competition, Suryansh Manav XI-B and Amaan Shahid XI-C won 1st prize. Their documentary, based on substance abuse, was really an eye-opener.
In Master Minds, Quiz Competition, Anshika Jain X-G and Ojuswi Singhal X-I won 1st prize.
In Prudencia, create an alert, PPT presentation competition, Shreya Rai IV-B and Bhoomi Jain V-A presented their views on globalisation & emerged as 2nd runners up.
In Chatterati, radio show competition, Dravya VII-C, Utkarsh and Sanyam VII-B, Tithi and Drishti VII-D, Roohi and Hiba VIII-E and Mayank Mishra of VIII-B presented a gripping radio show and emerged as 2nd runners up.
The School Manager Smt. C. M. Patel congratulated the winners and encouraged other participants for better performance in future. The Princpal, Mrs. Neeta Dua appreciated the efforts of the participants and advised them to focus on their strengths and always be willing to go the extra mile to see their dreams turn into reality.
Van Mahotsav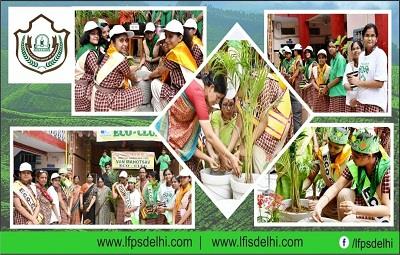 "The forest is a peculiar organism of unlimited benevolence that makes no demands for its sustenance and extends generously the products of its life and activity."
This has been rightly said by Mahatma Gandhi as the needs of all the living beings are fulfilled by trees.
"Trees are the green lungs of a city. Plant saplings and secure your future."
This message echoed in the school and nearby area during tree plantation day celebration on 24th July, 2018. A skit based on 'Forest Conservation' was staged by the students of class VII and VIII. The students of Eco Club and Scout and Guides planted saplings in the school ground and nearby park under the guidance of the school Manager, Smt. C.M. Patel, Principal, Mrs. Neeta Dua, Vice Principal, Mrs. Valsala and Eco Club In charge Mrs. Satya Bose. The students raised slogans and displayed placards to create awareness among the masses. They took a pledge to save environment and restore the beauty of nature. Mr. Rohit Dua, Secretary of Little Flowers Public School advised the students to think green and take care of environment for sustainable development.