Sports
LITTLE FLORIANS SHINE AT NATIONAL LEVEL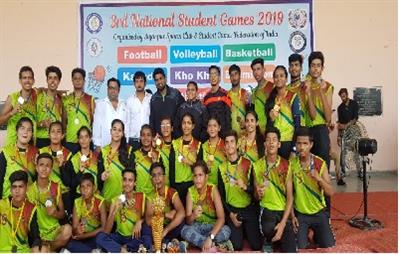 Little Florians are such champions whose victorious performance demonstrates their team spirit and persistence.
Thirty four students participated in Volleyball Under-19 and Under-17 groups in the 3rd National Student Games organized by Student Games Federation of India at Sujanpur (TIRA), Himachal Pradesh from 19th July, 2019 to 21st July, 2019.
Anushka Gupta, Shitika Choudhary, Shariya Iqbal, Muskan Sharma and Sara Siddiqui participated in Under-19 girls category and got first position and gold medals.
Aditya Kaushik, Tilak Pawar, Gaurav Choudhary, Kartikey Sharma, Shivam Garg, Vansh Ojha and Vaibhav Atrey participated in Under-19 boys category and got third position and bronze medals.
Ashish Kumar, Sarthak Garg, Amaan Shahid, Saransh Kaushik, Rishabh Pawar, Tushar Vats, Kunal Sharma, Aditya Dev, Aditya Arora, Abhay Singh and Aryan Sharma participated in Under-17 category and won second position and silver medals.
The winners and the coach Mr. Brajpal Rajput were appreciated by the school management for their momentous achie
Little Florians Shine In National Tug – Of – War Championship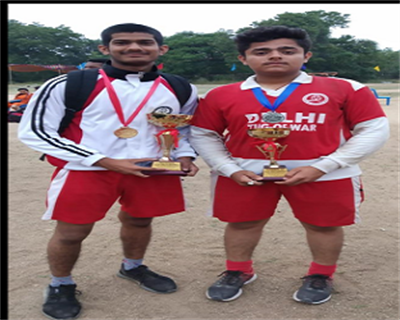 20th Sub Junior and 31st Junior National Tug-of-War Championships (Men and Women) were held from December 26 to December 29, 2018 in Sholingpur, Vellore, Tamil Nadu in which two students of Little Flowers Public Sr. Sec. School, Shivaji Park, Shahdara, Delhi – Shubham Sharma (XI-I) and Rydhem Nagar (XI-J) made the audience their presence felt. Shubham bagged Gold Medal and Rydhem got Silver Medal for the school.
The Manager of the School Mrs. C. M. Patel congratulated the students for their remarkable performance. Principal of the School Mrs. Neeta Dua also appreciated the efforts made by the students and their coach Mr. J. K. Tomar and encouraged them for the best in the future.