From the school desk
MESSAGE FROM THE PRINCIPAL'S DESK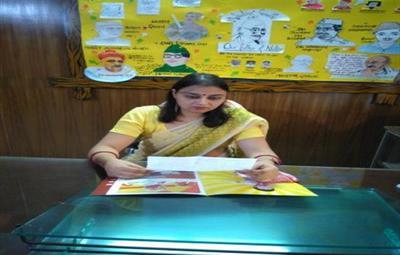 'LEADERSHIP IS THE CAPACITY TO TRANSLATE VISION INTO REALITY',
I as A PRINCIPAL OF Manava Bhawna Public School I am fortunate to be a leader of mass students, teachers and parents. I believe that every child is having an innate talent i.e. A Power Hidden Inside which can come out and be utilized for Nation's Progress, only if proper guidance and motivation is transferred to him. My objective is directed towards enhancement of skills for Holistic Development of the child i.e. striking the balance between academics and curricular activities.
I have seen this Tree Of Knowledge Manava Bhawna Public School, Nathupura Spreading out its magnificent branches, with its each leaf turning to a new dimension, each fruit bearing sweetness. The roots have gripped tighter, making it firmer over the years. We must teach students how to think rather than what to think. The students must not be bound by societal norms, bindings and beliefs but must be free to rediscover themselves, their lives and hence able to create a world of their own.
'With Sincere And Warm Regards'.
Kavita Sharma
PRINCIPAL