From the school desk
Principal's Message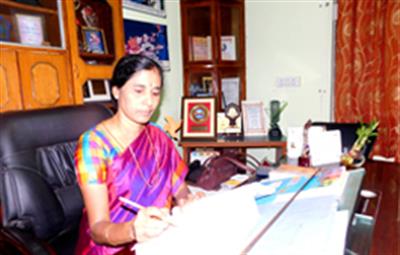 It gives me immense joy to be a part of RAINBOW FAMILY that has grown steadily over the past years under the care and guidance of committed Chairman Dr. J.R.Kashyap, dedicated service of the staff, cooperation of the parents, good wishes of benefactors and well wishers; above all the manifold blessings of the Almighty.
As we reminisce the challenges and success stories of the past years, we become aware of our responsibilities towards our children. Since they are with us during the most impressionable period of their life. Rainbow English School endeavors tirelessly to impart the "Education for fullness of life for all" . This is successful achieved by careful and diligent diving into the unknown regions of physical emotional, social, intellectual, moral and spiritual life. Though attainment of high academic performance is the hall mark of our educational ministry, the co- curricular activities which aim at the topping of the dormant talents. As the say goes, "Behind every successful man there is a woman. I believe , Behind every successful student there is a teacher."
To conclude, I have only this to express that. "Goodness is inherent in the soul of the pupil (Seed) and this can be drawn out by the teachers by providing the right kind of environment for them to nurture and grow.
With heartiest greetings and wishes for the years ahead.
Mrs. A Raghvan
(Principal)