Annual Function
Annual Day Celebration 2016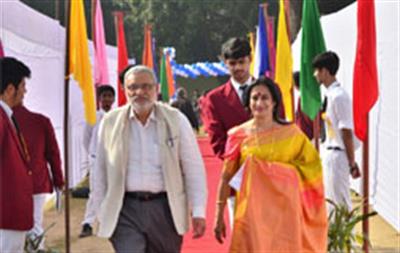 Ramjas school, R. K. Puram celebrated its Annual Function on 23rd November,2016. The school premises were mesmerizingly decorated by the school's creative team. To grace the occasion, the guests of honour present were Mr. Somnath Parthui & Dr. Kuldeep Sehgal accompanied by the Chairperson, Principal of the school Mrs Rachna Pant and other honourable members of the Ramjas foundation.
The event started with lighting of the lamp by the Chief Guests and Principal. The choir group welcomed the parents and the guests by singing a hymn in the praise of god. Next in the line was a dazzling performance by the orchestra group who melodiously gave an ode to some of the old Bollywood hits. The choir group was next with their euphonious voices; they sang a multilingual song in praise of the river "Ganga".
This was followed by an amazing performance by the tiny tots of Ramjas, succeeded by a soulfully active yoga performance by students of classes I and II. The audience was truly spellbound by some of their yoga postures. The umbrella dance and drill by students of classes III to V left the audience awestruck followed by the prize distribution ceremony in which the school honours and nurtures the young academic achievers and appreciates student's achievement in field of sports and creative arts. The Principal addressed the audience and gave the annual report of the school and thereafter the Chief guests motivated the students with inspiring words. The school heads gave report of their respective departments like sports, academics and cultural achievements.
Then was an authentically beautiful performance by the students of classes VI to IX. They gave a glimpse of the Punjabi traditional dance "Bhangra". they concluded the performance with a fusion of acrobats and the bhangra dancers. The event was concluded by Mrs. Smita Hegde giving the vote of thanks to one and all. This was followed by the national anthem.