Event/Activities
Interact Club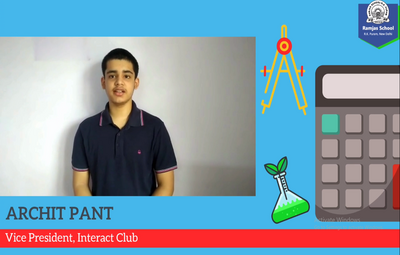 Teachers are the next level of COVID warriors, fighting for the nation and shaping the future of tomorrow. With this thought, the newly appointed Interact Club of Ramjas School, RK Puram began their journey by expressing gratitude to their teachers. The Club prepared a video for their beloved teachers. The video was presented during the virtual teachers' day celebration. The video included messages from the core team thanking their teachers for everything that they've taught them. The Club even acknowledged their parents, grandparents, and neighbors, as they also teach us important life values. The Club presented 'Care Coupons'-a coupon which states 'I care for you, thank you for your teachings!' and also a promise to help them (parents, grandparents, or neighbors) in the best way possible. They (parents, grandparents, or neighbors) can avail of this coupon anytime without any condition, just as they shower their love and guidance unconditionally. All the members of the Club feel blessed to have teachers who are no less than a Superhero.
ATL TINKERFEST 2020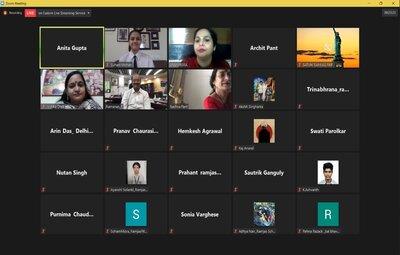 'Curiosity, Creativity, Imagination- the real skills of the future. The primary goal of the Atal Tinkering Lab is to foster the spirit of experiment and creativity in young minds. Using this technique one becomes well-equipped to solve global problems with their unique perspectives.'
TINKERFEST'20 was celebrated virtually by Ramjas School RK Puram on 27th and 28th August 2020. About 22 Schools across the country participated competed for the events. In total, 100 students, 30 teachers, 10 dignitaries attended this celebration. There were three events namely 3D DESIGN, IDEA PITCHING, AND POP THE QUESTION (Quiz) organized by the teacher and student's co-ordinators of the ATL Ramjas Team.
Tinkerfest is a very prestigious event for our school and it became more memorable this year when Mission Director AIM Mr. R. Ramanan joined this celebration. Atal Innovation Mission (AIM)-a flagship national innovation initiative of the Prime Minister and the Government of India under the NITI Aayog, National Institution for Transforming India.
The event was attended by the Advisory Committee Members, Mentors, School management, students and teachers from participating schools, the Host school, and the parents. The program was streamed live on YOUTUBE through ATL Ramjas YouTube Channel.
The other guests were- our mentor Mr. Atul Pant who is from Timeless Lifeskill joined our Virtual Tinkerfest remotely from Singapore. Since 2013, Timeless Lifeskills Foundation has been working with under-served children, helping them build skills and dispositions that make them Future-Ready (value-creators and hence employable in the emerging economy) and Life-Ready (healthy and joyful).
Mr. Murlidharan, who is also the parent of our ex-student is a water resource professional with 27 years of experience. He is currently working with the Department of Drinking Water and Sanitation as Deputy Adviser. Also, he is working for Jal Jeevan Mission - an important initiative of the Government of India.
Dr. RC Aggarwal, who works for the Propagation of education in the field of agriculture. He is also the father of our ex-student, Hemkesh Aggarwal. He is the Deputy Director-General of Agricultural Education, ICAR.
Mr. Surender Verma is the Joint Director at the Federation of Indian Chambers of Commerce & Industry.
Mr. Purnendu Hota, who is the General Manager, NIIT Foundation.
'Design is intelligence made visible'. To inculcate in the students the spirit of teamwork, thinking out of the box, and the art of bringing ideas into work, we successfully organized the Event-1 '3D Designing'.
Abhinav Anand and K. Ashvanth of class XII headed the 3D Designing event in the senior and junior category respectively. The teacher in-charges were- Ms. Sonia Varghese, Mr. Mukesh, Mr. Himanshu Singh.
'An idea can change your life' – was rightly covered in our Event-2 'Idea Pitching', which was headed by Varchaswa Mohan of class XII. The teacher in-charges were- Ms. Jyotika Drall and Mr. Sandeep Kumar. Young innovators from various schools came up with great ideas to participate in Event-2 'Idea Pitching'. To count a few of them were as follows- Sanitiser pen, HAFPS (High Altitude Falling Prevention system), Apolymanete ( Touchless hand and shoe sole sanitizer), and PRITHVI- a robot for COVID-care and many more.
'Quiz competition boosts our morals and helps us test our knowledge' – this was inculcated in our Event-3 'Pop the Question'. This event was headed by Akash of class XII. The teacher in-charges were- Ms. Purnima Vivek and Ms. Nutan Singh.
Also, the overall in charge of this Celebration was Ms. Anita Gupta and Ms. Anu Misra, members of our ATL Team, and the conduction of the Event virtually was done under the guidance of Mr. Mustafa Azizi.
Video of ATL Journey so far and young innovators of Ramjas School sharing their innovations during COVID-19 was also showcased during the Virtual Celebration2020.
The complete event was managed under the comparers Suhani Mohan and Archit Pant of class XI.
At last but not least the most inspiring person behind the success of our Virtual Tinkerfest 2020 is our respected Principal Ma'am Ms. Rachna Pant, who showed her complete faith in the organizing members of ATL Ramjas.
Overall this Virtual Tinkerfest 2020 witnessed the teamwork spirit of all the Teacher Incharges and Student coordinators of the ATL Ramjas Team.
ATL RAMJAS Team ROCKS!!!!
ATL INCHARGE
(Ms. JYOTIKA DRALL)
RAMJAS SCHOOL, R K Puram
Teachers Day 2020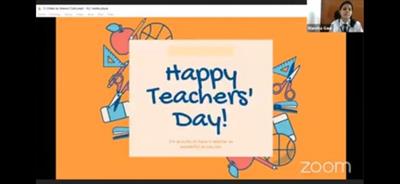 'A good teacher can inspire hope, ignite the imagination, and instill a love for learning'.
Teacher's Day 2020 at Ramjas School, R. K. Puram was yet another insight into the school's unceasing efforts to live up to the times, to embrace the change, to overcome all challenges and move ahead undeterred. On 5th September 2020 Ramjas School, R. K. Puram celebrated the teacher's Day virtually. The program was attended by the honorable Principal, Mrs. Rachna Pant, the staff, and all parents and students through live streaming on YouTube and Facebook. The special guests at this year's program were the family of (late) Mrs. Santosh Sachdeva- one of the first teachers to retire from the portals of Ramjas School, R. K. Puram in the year 1995.
The program started with Shloka recitation followed by a speech by deputy Head Boys and Head Girls. A special mention of our late president Sh Sarvapalli Radhakrishnan and the contribution of teachers in nation-building was made. These were followed by beautiful messages from students of class XII expressing gratitude for the contributions made by their teachers in shaping their lives. A fun quiz based on tastes, habits and hobbies of teachers was presented by students, which kept everyone's brain ticking for the right answer.
This was followed by Mrs. Suman Khanna, one of the senior teachers of the school bringing to life the memories and contributions of our beloved Mrs Sachdeva. Mrs. Sachdeva had devoted as many as 21 years of her life in the service of Ramjas School, nurturing and instilling in her students a sound value system and life lessons that went a long way in shaping many successful futures. To honor her service and keep her memory alive, her family has graciously decided to fund a scholarship for the underprivileged students from the pre-primary and junior sections of this school in the form of Tuition Fee or Books or Winter Uniforms. Principal Mrs Rachna Pant also fondly remembered Mrs. Sachdeva and her last visit to the school during the Ramjas Alumni Meet in December 2019.
A beautiful song, self-composed poems highlighting the importance of a guru were presented by the students. A video showcasing the love and affection bond that holds together the members of the Ramjas family was also presented. A mesmerising dance was presented as a dedication to teachers who are considered to be second parents of the students. A video showcasing the role of a teacher in moulding a student's life was presented by the Interact Club of the school. The program ended with words of inspiration from the Principal Mrs Rachna Pant. Ma'am thanked all teachers for their diligence, sincerity and hard work. Her words left the teachers elevated and inspired.
Virtual Summer Camp Pre-Primary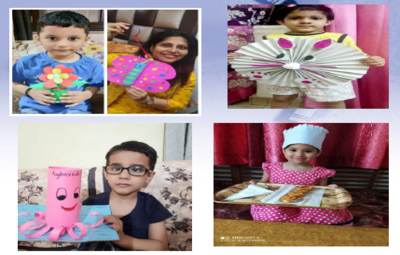 The Nursery "Summer camp " included several life skill activities like , Cooking Without Fire , Paper Folding , Paper Pasting , Paper Crumbling , Painting, Art (Dance and Music) , Origami , Physical (Yoga , Meditation, Aerobics) Brain Storming (Picture Puzzles) , Weaving , Story - Telling Using (Hand Puppets , Finger Puppets , Stick Puppets ) ,Napkin, Folding , Newspaper Folder, Sing Along, Story time, A Virtual Trip to KidZania, Virtual Roller Coaster Ride, Pouring Activity, Gift Wrapping Paper Craft, Origami ( Ducks), Story on Sparrow and the Crow, Father's Day card, Water Transferring with Sponge, Cloth, and Napkin, Paper Weaving Mat, Emoticons Craft (expressing feelings), Yoga Special Day Activities, Cooking Without Fire ( Churmura chaat and chocolate cake), Baby Shark Dance, Paper Bowl (craft), Game time (Simon says), Paper Machie Balls, Picture Puzzle, Arranging Socks, Same and Different Things Around Me, Spot the Difference, Spray Painting Circle - Time with Kids and Show and Tell Activities.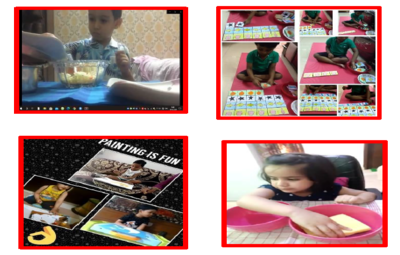 Ramjas School R. K. Puram organized an innovative SUMMER CAMP for K.G Tiny Tots where kids enjoyed fun-filled activities.
The most enjoyable activities were related to things useful in everyday life.
Children were taught leadership qualities, which enhance their confidence and change their attitude.
Vital non- academic skills such as ART, YOGA, PAPERCRAFT, COOKING WITHOUT FIRE, SIMPLE EXPERIMENTS, VIRTUAL TOURS, CELEBRATIONS, etc. were the highlights of the camp.
The Virtual Summer Camp was a big success and a great initiative by Ramjas School R. K. Puram.
Following Activities were undertaken during the Summer Camp:
WATERMELON FAN, FLOWER BOUQUET, BANANA DESSERT, VIRTUAL TOUR, AEROPLANE TOY, GERMINATION ACTIVITY,
FREEHAND DRAWING, BIRD, AND ITS NEST,
PINWHEELS, PAPER BAG SHIRTS,
MONACO SANDWICH SNACK, MAGIC WORDS WALL HANGING,3D OCTOPUS, GIRAFFE, FINGER PUPPET, SINK/FLOAT EXPERIMENT,
DANCE COMPETITION, RABBIT ORIGAMI
BUTTERFLY, WALL HANGING, PAPER BAG TREE, SELFIE PROPS&YOGA.
The Earth Day-By Pre-Primary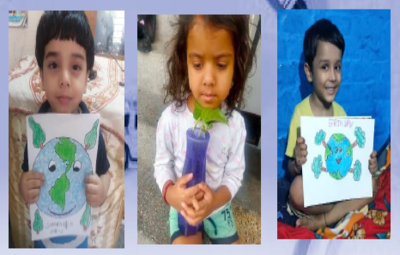 Earth Day was celebrated to sensitize the students and generate support for the protection of the environment. K.G. children celebrated "World Earth Day" on 22nd April 2020. They were shown pictures of planet Earth and made aware of different ways to protect Mother Earth. Fun-filled activities like rhyme recitation, tearing and pasting in a fun sheet were done by the children.
Mother's Day Celebration -By Pre-Primary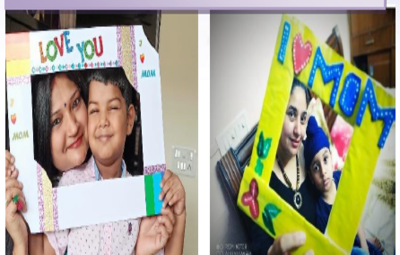 Mother's Day was celebrated through a virtual class by our tiny tots on 10th May 2020. The day was planned with special activities and games for all mothers. Principal ma'am Mrs. Rachna Pant and Ms. Ritu Raha (HOD) also joined in the celebration and addressed the mothers with lovely messages.