Event/Activities
Virtual Summer Camp Pre-Primary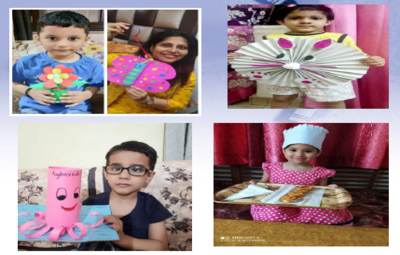 The Nursery "Summer camp " included several life skill activities like , Cooking Without Fire , Paper Folding , Paper Pasting , Paper Crumbling , Painting, Art (Dance and Music) , Origami , Physical (Yoga , Meditation, Aerobics) Brain Storming (Picture Puzzles) , Weaving , Story - Telling Using (Hand Puppets , Finger Puppets , Stick Puppets ) ,Napkin, Folding , Newspaper Folder, Sing Along, Story time, A Virtual Trip to KidZania, Virtual Roller Coaster Ride, Pouring Activity, Gift Wrapping Paper Craft, Origami ( Ducks), Story on Sparrow and the Crow, Father's Day card, Water Transferring with Sponge, Cloth, and Napkin, Paper Weaving Mat, Emoticons Craft (expressing feelings), Yoga Special Day Activities, Cooking Without Fire ( Churmura chaat and chocolate cake), Baby Shark Dance, Paper Bowl (craft), Game time (Simon says), Paper Machie Balls, Picture Puzzle, Arranging Socks, Same and Different Things Around Me, Spot the Difference, Spray Painting Circle - Time with Kids and Show and Tell Activities.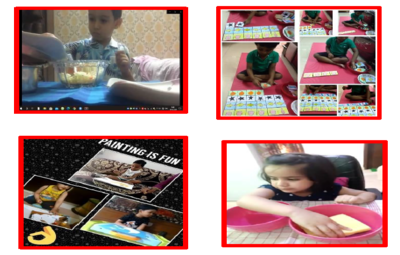 Ramjas School R. K. Puram organized an innovative SUMMER CAMP for K.G Tiny Tots where kids enjoyed fun-filled activities.
The most enjoyable activities were related to things useful in everyday life.
Children were taught leadership qualities, which enhance their confidence and change their attitude.
Vital non- academic skills such as ART, YOGA, PAPERCRAFT, COOKING WITHOUT FIRE, SIMPLE EXPERIMENTS, VIRTUAL TOURS, CELEBRATIONS, etc. were the highlights of the camp.
The Virtual Summer Camp was a big success and a great initiative by Ramjas School R. K. Puram.
Following Activities were undertaken during the Summer Camp:
WATERMELON FAN, FLOWER BOUQUET, BANANA DESSERT, VIRTUAL TOUR, AEROPLANE TOY, GERMINATION ACTIVITY,
FREEHAND DRAWING, BIRD, AND ITS NEST,
PINWHEELS, PAPER BAG SHIRTS,
MONACO SANDWICH SNACK, MAGIC WORDS WALL HANGING,3D OCTOPUS, GIRAFFE, FINGER PUPPET, SINK/FLOAT EXPERIMENT,
DANCE COMPETITION, RABBIT ORIGAMI
BUTTERFLY, WALL HANGING, PAPER BAG TREE, SELFIE PROPS&YOGA.
The Earth Day-By Pre-Primary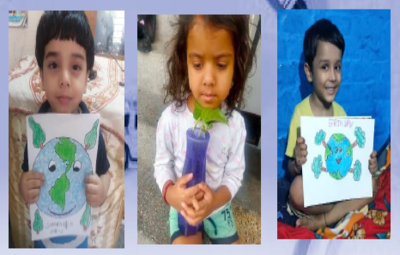 Earth Day was celebrated to sensitize the students and generate support for the protection of the environment. K.G. children celebrated "World Earth Day" on 22nd April 2020. They were shown pictures of planet Earth and made aware of different ways to protect Mother Earth. Fun-filled activities like rhyme recitation, tearing and pasting in a fun sheet were done by the children.
Mother's Day Celebration -By Pre-Primary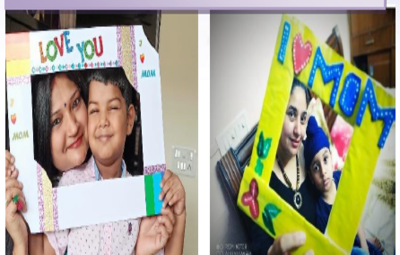 Mother's Day was celebrated through a virtual class by our tiny tots on 10th May 2020. The day was planned with special activities and games for all mothers. Principal ma'am Mrs. Rachna Pant and Ms. Ritu Raha (HOD) also joined in the celebration and addressed the mothers with lovely messages.
Nursery Orientation 2020 - By Pre-Primary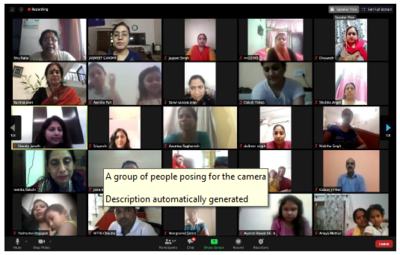 The Virtual Orientation was conducted on 12th May'2020 for new Nursery parents. The aim was to give parents an opportunity to understand the world their child would explore. The School's vision, approach, and pedagogical tools were shared with parents by HOD Ms. Ritu Raha.
Virtual PTM Of Pre - Primary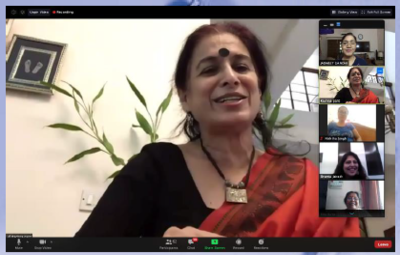 A Virtual P.T .M was conducted (on 30th May'2020) for Nursery and K.G. parents in different batches. It was an interactive session where parents concerns and suggestions were noted and responded to by our Principal Ma'am Mrs. Rachna Pant and Ms. Ritu Raha.
World Environment Day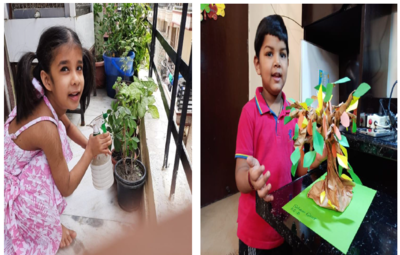 The pre-primary students of Ramjas School R. K. Puram celebrated World Environment Day on 5th June 2020 through virtual classes. The day was a chance to raise awareness about different environmental issues that are being faced by the world today. The students were encouraged to do their part in preserving our nature. Different activities were conducted like watering plants, sharing PPT on the environment, preparing 3D models of trees, and rhyme recitation. Students found a creative and interactive way to celebrate the day.