Event/Activities
International Yoga Day Celebrations -Classes I & II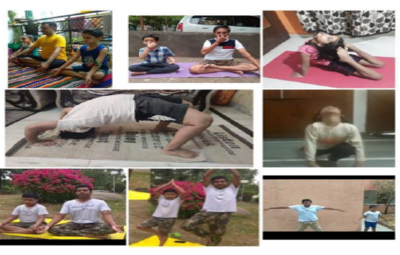 "Yoga is a light, which once lit will never dim. The better your practice, the brighter your flame." To celebrate the International Yoga Day, we at Ramjas School, followed this year's theme which is "Yoga at Home and Yoga with Family". We motivated our students to do yoga to become healthier both physically and mentally. Students shared excellent videos in which they were performing yoga asana.
Mother's Day Celebrations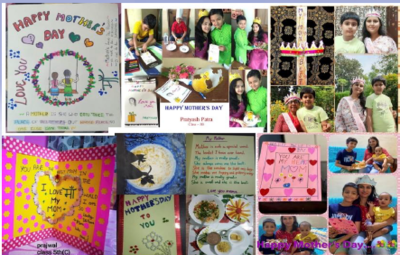 God couldn't be everywhere, therefore he created mothers." On this beautiful day, the students of Ramjas School R K Puram expressed their gratitude and love for their mothers by giving them beautiful cards, dancing, and singing songs, decorating the room with balloons and flowers. Some even made them wear a tiara/ crown and gave them a title - QUEEN OF THE DAY. It was also seen that some honored their GRANDMOTHERS and aunts too.
They also made cards and crowns for their mothers on Mothers' Day. They prepared sandwiches and juices for their mothers with the help of some senior family members. A grand celebration, indeed.
Father's Day Celebrations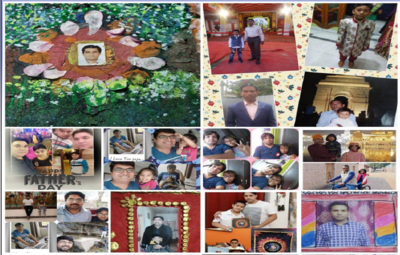 "A dad is someone who wants to catch you before you fall but instead picks you up and lets you try
again."
21st June 2020 was celebrated as Father's Day by the children of Classes 1 and 2 where the students performed activities with heart-warming expression to make their fathers feel special. They interviewed their fathers, asked questions about their favorite destination, fond memories, likes/ dislikes, etc.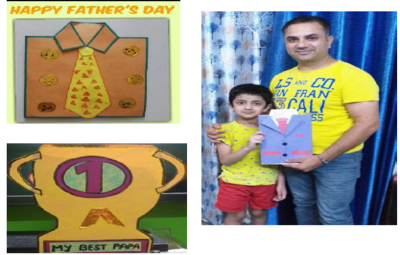 They gifted him with wall hangings where they wrote a few things, for example: - why they like their dad the most. Some of them even gifted them, pen holders. The children also surprised their dads by cleaning their vehicles and helping them in their daily work.
It was a tremendous effort on the part of the children who made this day a memorable day for their dads.
International Labour Day Celebrations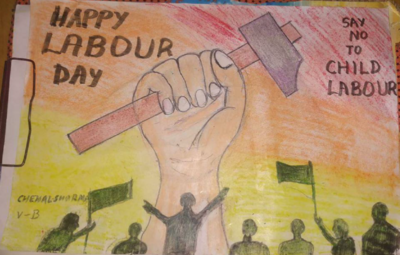 International Labour Day is celebrated on 1st May every year to honor the laborers and working classes and to pay tribute to their contribution. we at Ramjas School R. K. Puram wanted to sensitize our students of classes I to V on how the working class toils each day to ensure smooth functioning of a school, office, and society, etc. The students of classes 1 to 5 celebrated Labour Day to honor the achievements of the people who help us. They thanked and expressed their gratitude towards the people who put their life at risk to make our life easier in this pandemic COVID-19. With this activity, they understood the importance of the people who help us in our daily life.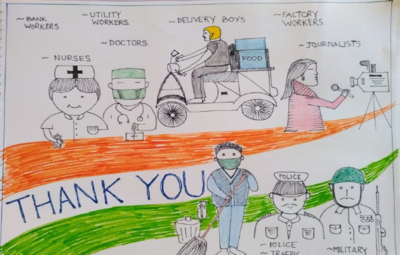 This year too, students were asked to express their thoughts and feelings for the working class. They paid tribute by sharing feelings through beautiful posters and videos.
It was indeed heartwarming to see our young students' responses
Art And Yoga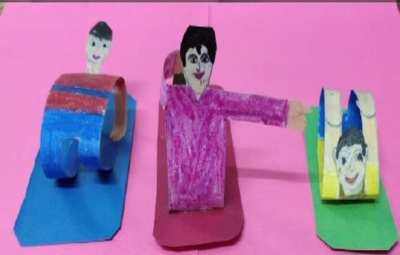 In one of the class activities, a simple act of folding a 2-dimensional paper figure, by joining both hands to their respective feet became the Yoga pose Chakrasana. And then there was no looking back. Students of class VIII A, B, and C came up with terrific poses like Paschimothanasana, Tadasana, Dhanurasana, Setubandh, Bhuganjasana, as allowed by the medium.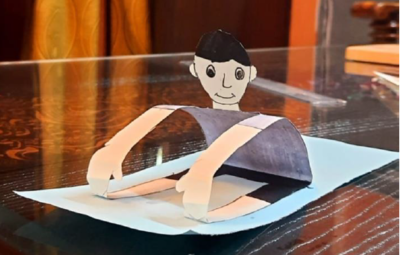 Children showed great interest as they were making a model of what they have been practicing in their Yoga class. As we all know that Yoga imparts numerous benefits to one's mental and physical health, the same is with the Arts. Art acts as an outlet to express, vent any fears and feelings you might have kept in. Once involved in the process of creation, it helps to improve confidence and self-appreciation at the completion of a project, just like successfully accomplishing an Asana. Eventually, both Art and Yoga help relax the mind and body.
Mothers Day Celebration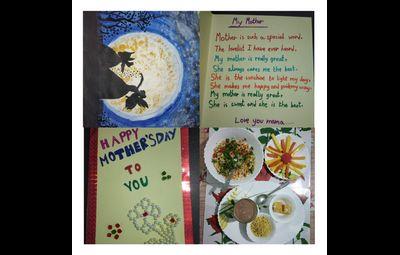 "Mother is the name for God in the lips and hearts of little children." —William Makepeace Thackeray
Students of 3-5 celebrated Mother's Day on 10-5-20 with a lot of zeal and vigor. Children ensured that they did something special for their mother's on this day...some of them made beautiful cards, some made breakfast with the help of their fathers, and some sang songs and recited poems.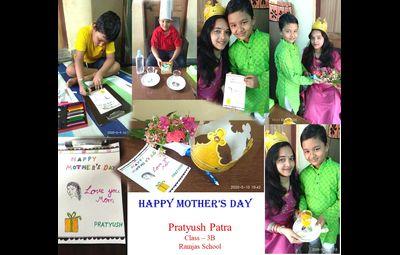 The activity assigned to them by their class teachers ensured that they learned values, empathy, and life skills even when they are confined to their homes during the lockdown. We are proud of each one of our little Ramjasians.