Event/Activities
National Zoological Park Visit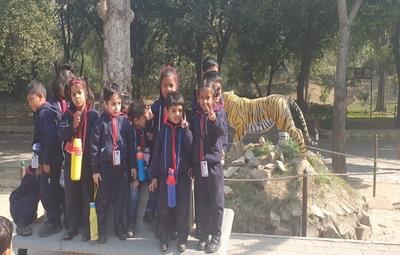 A trip to the National Zoological Park was organized for the students of Pre-primary on 17th February 2020.The Delhi zoo is home to several mammals, reptiles, birds and other species in a diverse natural habitat. The children enjoyed the ride in mini buses near the entrance gate from point to point. The morning was sunny and pleasant, making it perfect for walking around the zoo.
The students enthusiastically observed an array of animals and birds and the teachers explained the special characteristics of each one of them. They saw some familiar and unfamiliar species of animals and birds like African elephant, jaguar, Gaur, African parrot, migratory birds etc. Watching them live was a memorable experience for all of them. Next day, children did free hand drawing on their experience at zoo.
Ramjas School R K Puram Grandparents Day Celebrations 2019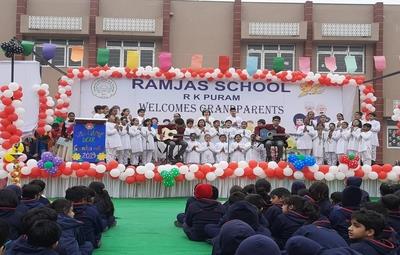 The students of classes III to V of Ramjas School R K Puram celebrated Grandparents day on 24 December, 2019. Students welcomed the grandparents with Teeka and a handmade brooch.
The program began with the lighting of the lamp by the grandparents and the Principal, Mrs. Rachna Pant .This was accompanied by chanting of a shlok. It was followed by a cultural program which included a Welcome song, Ganesh Stuti and a Rajasthani Folk dance. Various interesting games were also organized for the grandparents in which they participated with great enthusiasm. A number of prizes were given to the grandparents. These prizes were wrapped in newspapers to spread awareness about usage of eco-friendly material.
A few grandparents also showcased their talents. They also freely interacted with Principal and teachers and thoroughly enjoyed the day. After the program refreshments were served.
The Fun Filled Fiesta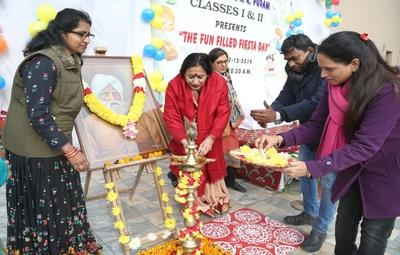 A kaleidoscope of activities through dance, song, poem, fun games marked the celebration of 'The Fun Filled Fiesta' at Ramjas School, R.K.Puram on 27th December, 2019. The program started with lighting of lamp by our Principal, Mrs. Rachna Pant along with few parents. Various games for children and parents were organised. The colourful vibrant program left everyone awe struck and mesmerised.
Fruits Game Activity In Junior Classes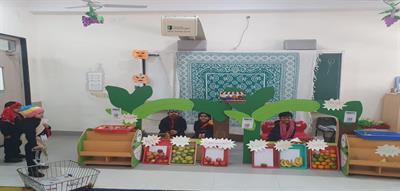 In Nursery - A, the teachers and students altogether arranged different types of seasonal fruits in trays and baskets. The cost of each fruit was also displayed on the tags. Two vendors eagerly participated in the role-play and enacted as shopkeepers. Other students also experienced buying fruits of their choice in exchange of money. All this was a wonderful experience of integrated teaching learning.
Non- Fire Cooking by Young Kids of Ramjas

The budding chefs of Nursery and K. G. were given a list of ingredients which they were required to bring for the salad making activity. On the scheduled day, the students prepared nutritious salad and also exhibited their culinary skills while preparing it under the guidance of their teachers. The corn-cheese salad was well prepared and all the children relished it. Our Principal ma'am enjoyed interacting with the little chefs and it was appreciated them for their efforts and experience.
Funtush Masti at Kidzania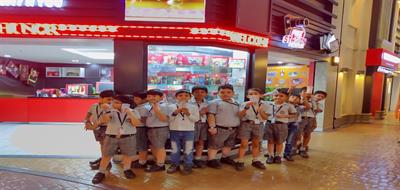 Educational trip to Kidzania, Noida was organized on 23.09.2019 for classes 1 & 2. It provided an environment that empowers kids to explore and challenge themselves and open their minds to new experiences. It stimulates creative thinking and boosts self-esteem and self confidence level. Kidzania offered a truly unique experience and an interactive learning opportunity. It fosters a hand on approach for children to explore the world of work and a wealth of possibilities that it presents in a safe and vibrant environment.
Children enjoyed role plays as fire fighters, cops, nursing, journalists, reporters, bankers, artists etc. Children enjoyed baking pizzas, candies, chocos and learned about food factories. They had delicious and sumptuous food with frooty, cookies and ice cream.
Children developed a wide range of essential skills and attributes including team work, communication, entrepreneurship, financial literacy, digital literacy, emotional intelligence and global citizenship.
Children learnt about real life jobs or professions, developing key skills like psychomotor, cognitive, emotional, and social and language skills.
Thank you to our principal ma'am for arranging such a good edutainment trip activity for our little ones.