Workshops
Best Out Of Waste Workshop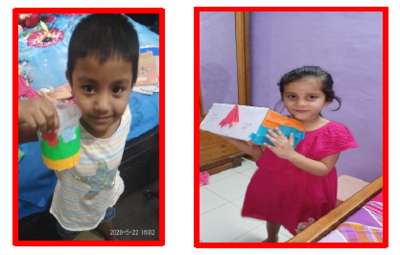 Students of pre-primary got an opportunity to attend a
workshop conducted by their teachers on 22 May 2020.
The event was related to Earth Day. Our earth is filled with plastic and electronic waste. The waste is piling up and continuously accumulating. Plastic waste is one of the biggest problems for us now. The solution to this problem is Recycling. Kids were made aware of different types of pollution and their agents. Recycling is a way to convert used items into new products. Children made dustbins from waste materials. It helped them understand the process of recycling.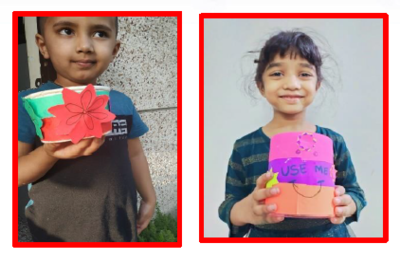 Students of the pre-primary class had an opportunity to attend a workshop conducted by their teachers on 6/3/2020 to develop Life Skills.
In this activity, Tiny Tots learned to use Magical words like Thank You, Sorry, Please, Excuse Me, and Welcome. They made colorful and attractive wall hangings with magical words. All the kids enjoyed reciting rhymes while doing the activity.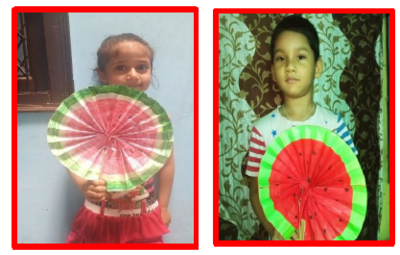 Students of pre-primary classes attended a workshop conducted by their teachers on 7/3/2020 while attending a Virtual Summer Camp. The workshop helped them develop their fine motor skills. They also learned to do more things with their hands as their cognitive and social/emotional skills improve. Children made paper boats and 3D watermelon to improve their eye-hand coordination.
A Visit to OH ! MAX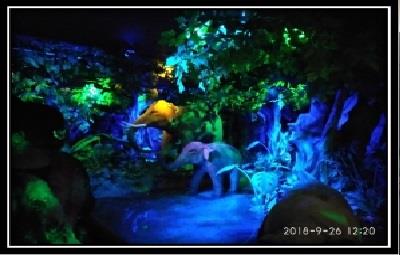 The students of primary were taken for an educational cum recreational trip to
OH ! MAX greater Noidia. The students were shown the secret chambers of Taj Mahal, Jungles of Amazon , Egyptian mummy land , funny experiences in chocolate factory , Treasures of TUT and did some adventurous activities .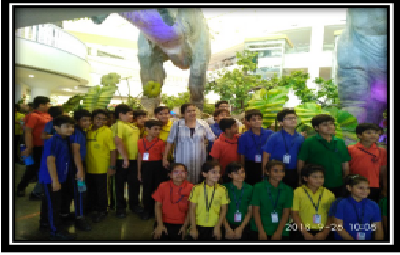 They were shown the history of unsinkable Titanic too . The children had wonderful learning experience of OH!Explore , OH !ADVENTURE , OH! EXPRESS .
ATL TINKERFEST - 2018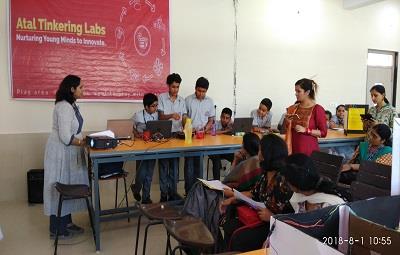 Ramjas school organised an ATL Tinkering Summer Festival from July -31st to August 1st , 2018.
Day 1: On 31st July, 2018 , the students brought their ideas to life for which students had been given the exploration time at home or outside ATL prior to this date where they were made to identify a problem in their community / society and conduct a survey around their neighbourhood and list down the pain points. The students were motivated to develop a detailed problem statement with the help of their research. They were made to create a prototype for the same.
Day 2: On 1st August, 2018 , the students refined their prototypes , showcased them and proposed a business plan and a business pitch for their prototypes.
Students from Ramjas RK Puram and various other schools like Bluebells school International, DeepalayaSchool, KV RK Puram and Gyan Bharati School participated in the event.
The dignitaries of the event were Dr. R.C Agarwal Registrar General in "Protection of plant Varieties and farmers rights authority "of Central Government. He talked about the use of technology in agriculture and apprised all of us with amazing facts. His thoughts were highly motivational for all.
Dr. Agarwal was accompanied by Ms Chhavi who is working as a management consultant with DelloiteUS , motivated and guided students for entrepreneurship. She is an engineer from Delhi College of engineering and an MBA graduate has worked for prestigious names like Goldman Sachs and Google.
The programme also included certain knowledge enriching presentations like the foldscope presentation by Mrs Sonia Warghese and Arduino workshop by Mr Mohit. This event helped various students to present their innovative ideas catering to the needs of the society.
The students were awarded various prizes under different categories like best presentation, best idea and overall winners.
The fest culminated on a positive note with a planning to come back with a greater energy the next time.
ATL-Unbox Tinkering Workshop at Ramjas School, R.K. Puram, New Delhi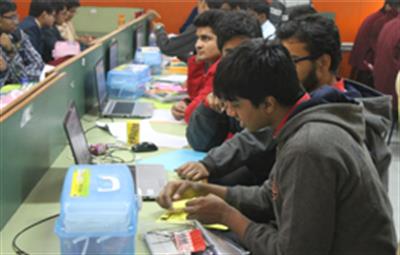 A two day unbox tinkering workshop was held at Ramjas School, R.K. Puram on 21st and 22nd November 2017. Eleven schools, teachers and students, participated from the community and neighbourhood along with the host school. The schools invited do not have an Atal Tinkering Lab facility in their own school. The purpose of organising such a workshop at Ramjas was to encourage students to identify problems in their immediate surroundings, ideate and come out with solutions which could benefit the society at large.
The workshop started off with the words of encouragement from our guest of honour Mr A. Muralidharan (parent advisory committee) and our Principal Mrs Rachna Pant. The activities of the first day consisted of an introduction to ATL, Introduction to the ATL takeaway electronic kits and a hands-on session using paper circuits.
Day two consisted of an introduction to Arduino, problem-solving and a brainstorming session on related problems. An ATL challenge was put forth to the teams so that they could come up with solutions to problems that affected them the most. The teams demonstrated their ideas and solutions by the end of the workshop. It was a great learning and enriching experience for all stakeholders as suggested by their feedback forms of the participating schools.
We thank STEMROBO technologies Pvt. Ltd. for technical support during the workshop.
Ramjas School, R.K. Puram welcomes all the neighbouring schools of the community to participate in such endeavours in the future as well.