Event/Activities
परम श्रद्धेय स्वामी रामदेव जी द्वारा एस डी पब्लिक स्कूल में शैक्षिक उद्बोधन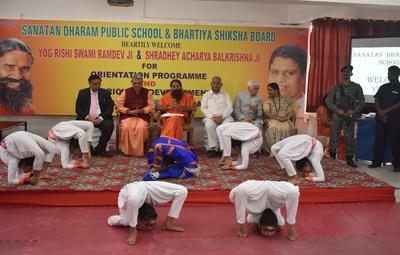 जिस प्रकार पतंजलि योगपीठ ने योग और अध्यात्म के क्षेत्र में विश्व भर में अपनी पैठ बनाई है उसी प्रकार शिक्षा के क्षेत्र में सामाजिक उत्थान एवं विकास हेतु भारतीय शिक्षा बोर्ड का गठन किया गया है जिसका उद्देश्य वैदिक आध्यात्मिक और आधुनिक शिक्षा के सामंजस्य से ऐसे विद्यार्थियों एवं भविष्य निर्माताओं का निर्माण करना है जो अपने संस्कारों एवं आधुनिक तकनीकी शिक्षा द्वारा एक नए उन्नत समाज का निर्माण करने में सक्षम हो सके इसी संदर्भ में एस डी पब्लिक स्कूल पीतमपुरा, दिल्ली में दो दिवसीय कार्यशाला का आयोजन दिनांक 23 और 24 नवंबर 2019 को योग ऋषि स्वामी रामदेव जी के सानिध्य तथा भारतीय शिक्षा बोर्ड के तत्वाधान में किया गया। कार्यशाला के प्रथम चरण का शुभारंभ स्वयं स्वामी रामदेव जी ने तथा संचालन विद्यालय की प्राचार्या श्रीमती अनीता शर्मा ने किया। इस शुभावसर पर विद्यार्थियों ने सरस्वती वंदना और प्रभावी योग प्रस्तुति देकर सभी को मंत्रमुग्ध कर दिया। तत्पश्चात विद्यालय प्रबंधक श्री चंद्रभान गर्ग जी के द्वारा प्राकृतिक स्मृति चिन्ह भेंट कर अभिनंदन किया। इसके बाद स्वामी जी ने सभी शिक्षाविदों को संबोधित करते हुए भारतीय शिक्षा बोर्ड के उद्देश्य और नीतियों से परिचित कराते हुए कहा कि भव्यता और दिव्यता से युक्त सर्वांगीण रूप से विकसित विद्यार्थियों को तैयार करना ही इस बोर्ड का लक्ष्य है।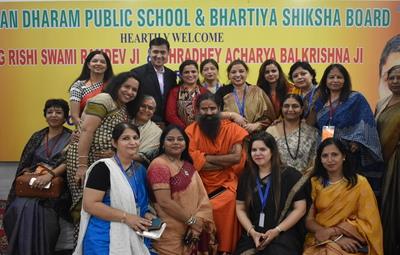 कार्यशाला का दूसरा चरण प्रश्नोत्तरी का रहा जिसमें शिक्षाविदों की पाठ्यक्रम से संबंधित सभी जिज्ञासाओं का समाधान स्वामी जी ने किया। कार्यशाला के तृतीय चरण में शिक्षाविदों और विषय विशेषज्ञों ने समूह में पाठ्यक्रम पर चर्चा करते हुए विषय – वस्तु का निर्धारण कैसे किया जाना चाहिए इस पर सर्वसम्मति से से प्रारूप तैयार किया। चतुर्थ चरण में सभी ने अपने-अपने विषय के प्रारूप एवं विशेषताओं से सभी को अवगत व आश्वस्त किया कि दिखाए गए मार्ग का अनुसरण करते हुए ऐसे पाठ्यक्रम का निर्माण किया जाएगा जो समाज के निर्माण एवं उत्थान में सहायक एवं पुराने का संवाहक बनेगा। कार्यक्रम के अंत में परम श्रद्धेय स्वामी रामदेव जी ने प्राचार्या माननीया अनीता शर्मा जी को भारतीय शिक्षा बोर्ड की पाठ्यक्रम समिति का राष्ट्रीय संयोजक घोषित किया।
YUVAKRITI: EMPOWER, EVOLVE, EXCEL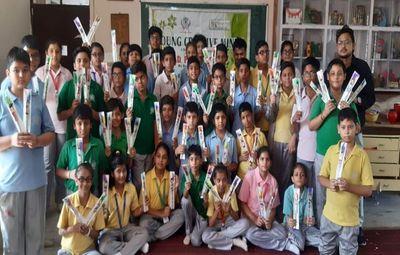 YCM (Young Creative Minds) specializes in the manufacturing of handicraft items using waste materials generated in the school such as – waste paper, beads, leftover fiberglass, etc.
In the current session, YCM organized the production of a wide range of items, including, but not limited to:
• Fashion Accessories:
- Manufactured fashion accessories like earrings, necklaces, bracelets, tiara bands, etc.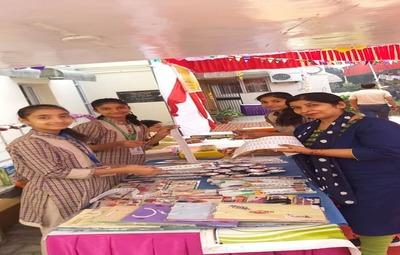 Air Purifying Plants:
- Preparation of organic manure and compost, cultivation of herbal/air-purifying plants.
• Cane Wool Items:
- Purses, wallets, sling bags, mobile cases using: -
 Cross Stitch [IX Standard]
 Long Stitch [X Standard]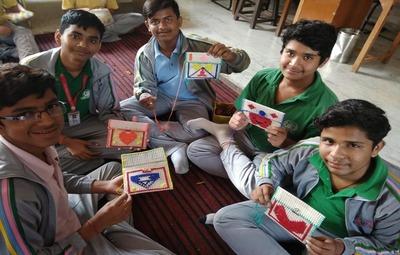 Handicrafts:
- Hanky/Scarf/Stalls, fancy envelopes, funky pencils, decorative diyas, paper bags, traditional wall hanging, candle eye masks, pebbles, [Primary Sections]
Over 1,611 students and a staff of 13 members participated in the initiative to bring about a profit of 71.73% with an investment of approximately just Rs. 150 per section, and along with that:
 Integration of Art with other subjects.
 A mental revolution by overcoming a major bottleneck where the initiative faced resentment, being considered a hurdle in the academic schedules of students.
 Development of the oratory, thinking and writing skills of the students involved in the project.
EDU DAY by Microsoft.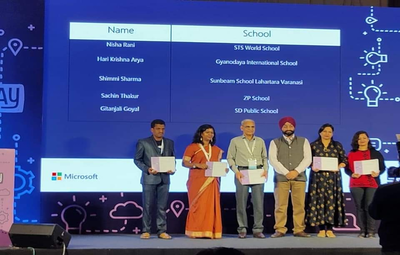 Microsoft India organized an event EDU DAY-2019 on 19th & 20th November, 2019 in Westin, Gurgaon. Where I got this golden opportunity to take part in this event as Microsoft Innovative Educator Expert and collaborate my working with other MIEEs from all over INDIA.
Where we group of 7 members under the theme of "SIMPLIFING COMPLEXITY IN LEARNING by GAMIFING" was announced as a winner (Secured 1st position) for the project instilling values and principles of GANDHI Ji among young generation and solve real life issues with gamification tools.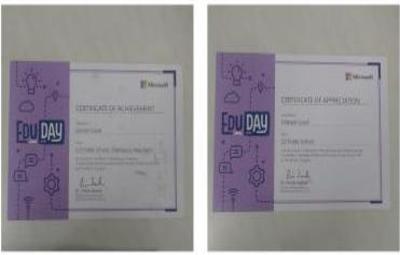 Microsoft Global Learning Connection ("OPEN HEARTS, OPEN MINDS") on 5th and 6th November, 2019 was an event that makes it possible for students to virtually travel around the world and connect beyond the classroom using Skype, Teams and Flipgrid!
My students virtually travel different countries to meet students and educators, Exchange their culture and learnings with them. I was honored at MICROSOFT EDU DAY EVENT for maximum virtual travelling and contribution to collaborating through MICROSOFT GLOBAL LEARNING CONNECTION CAMPAIGN.
KIDS CARNIVAL-"A day to be a child and be with your child"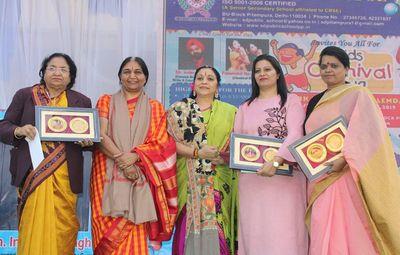 On 8th of December, S.D. Public School, Pitampura organised the kid's carnival of 2019. And also, it ensured 'to make the attendants day awesome, so they can blossom.'
The Chief Guest for the event was Ms. Nalini, a famous Kathak dancer. There were few more guests, namely: Dr. K.K. Agarwal, a cardiologist; Dr. Sita Bhimran, a D.U. professor(retired) and Sadhvi Pragya from Divya Jyoti Jagriti Sansthan.
Venue was in the school itself.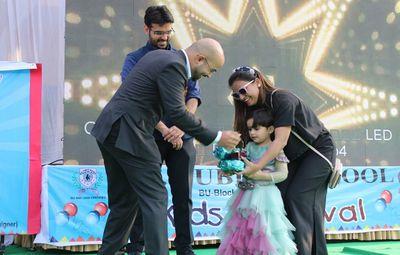 The carnival started from 10:00 a.m. and continued till 5:00 p.m. The first highlight for the day was the talent show for children of 6-8 years of age, it was held for one hour from 11:00 a.m. to 12:00 p.m. After a short break, it was the babies' turn. The baby show for children up to 3 years continued till 2:00 p.m. At last, the fashion show and ramp walk were held for another hour. After that, the children indulged in various other activities, including the Food Mela, Plants Stalls, Buggy Rides with cartoon characters on walk.
Additional cultural shows and presentations were arranged for the children along with the handicrafts stall by the SDPS entrepreneurs (YCM).
After all, the SDPians succeeded in providing a good time and loads of fun and Cultural education to the children!
Anti Pollution Rally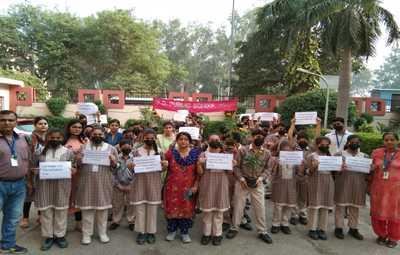 Recently Delhi has been facing acute problem of air pollution and everybody was trying to find the cause and cure for it. Due to the severe condition prevailing in the city and surroundings areas, schools were closed as children are more vulnerable and can have disastrous impact that can trouble them for lifetime. Keeping this in mind Ministry of AYUSH distributed N-95 masks for the students of special need of our school which was really commendable step.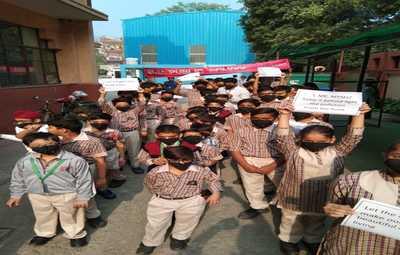 On 6th November 2019, in a short morning assembly, all the special students along with the students of eco-club gathered in the hall and discussed about the effects of air pollution and how to face it. Children shared their experiences and our principal Mrs. Anita Sharma also addressed them. During assembly the N-95 masks were distributed to the students. A silent rally was organized and all the students walked through the streets with slogans and air purifying plants to give message to the adults to keep the air clean for the good health of their children.
Value Education Olympiad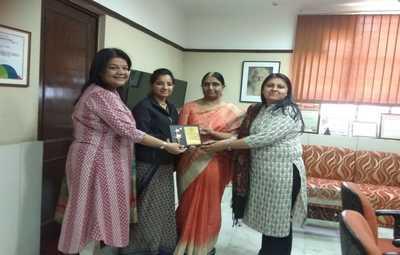 This Olympiad is based on the teachings of bhagvad Gita was held in the school. The mission of this kind of a competition is to assist the student community to lead a highly cultured and balanced life centred around ethics in character. The students of classes 5 to 11 took part in this.
Avni Nagpal , a student of class 10 got first rank (level2) and Parth Aggarwal a student of class 8 got second rank (level 1) in value education Olympiad among 5800 students . We , at S.D.P.S , congratulates the winners.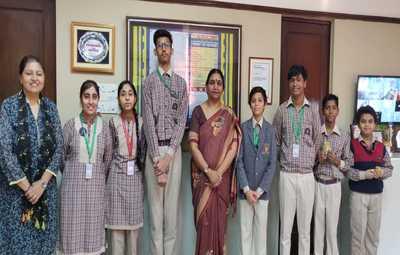 Avni Nagpal , a student of class 10 got first rank (level2) and Parth Aggarwal a student of class 8 got second rank (level 1) in value education Olympiad among 5800 students . We , at S.D.P.S , congratulates the winners.