Event/Activities
Independence Day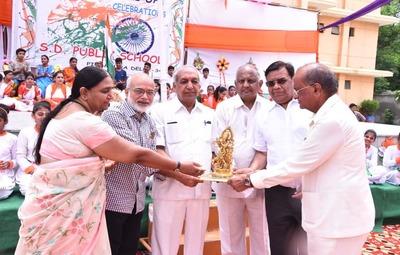 S.D. Public School celebrated Independence Day on 13th August, 2019 with great patriotic fervour.
The chief guest. Professor Hari (Delhi University) Mohan Sharma kicked off the function by unfurling the tricolour. Principal of the school, Mrs. Anita Sharma welcomed the chief guest and office bearers of the school's managing committee and shared glorious achievements of students in academic and co-curricular activities. She apprised the guests of a school alumnus, Vidit Attrey and IIT graduate from Delhi who bagged 25 million dollars from Facebook for his app 'mesho' and brought laurels to the school. She further motivated the students to follow the path of truth and integrity and rise above caste, colour and religion in the greater interest of the country. Orchestra presentation by students captivated the audience with the rythmic beats.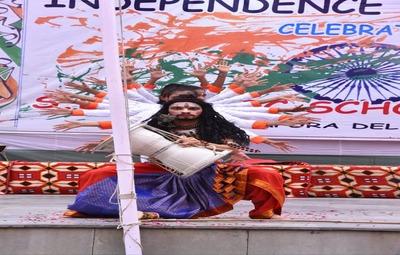 Fusion of lord Shiva dance with yoga moves depicting origin of Sanskrit language enthralled the spectators. A bellet 'Bhasanjali' showcasing the importance of traditional language as the key cidentity of any nation spell bounded everyone.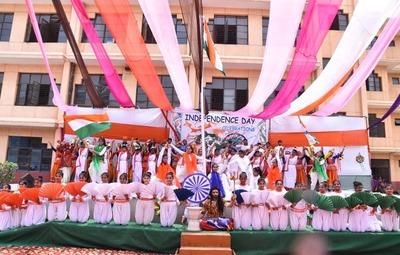 Students in colourful attires depicting different regional languages were indeed feast to eyes. The chief guest addressed the gathering and applauded the students for their marvelous act and Laid stress on the use of traditional languages specially Hindi as the proud element for the development of our nation. Chairman Shri krishan Lal Bansal presented vote of thanks to the chief guest and all the dignitaries present on the occasion . The function ended with the echo of National Anthem.
Creating Icosahedron Activity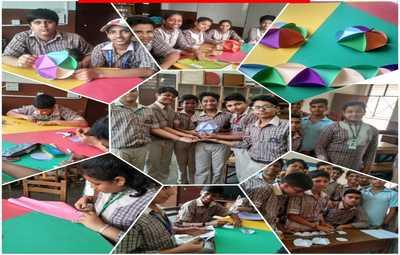 Learning with understanding helps children enjoy Math and brings them closer to Math. Maths club activity: Creating ICOSAHEDRON ball was held for students of class 9. Students did this Art and math integration activity in which they created ICOSAHEDRON ball using 20 circular cutouts. They worked in groups and explored the mathematical concepts involved in it.