Workshops
Indraprastha and Delhi School Sahodaya Webinar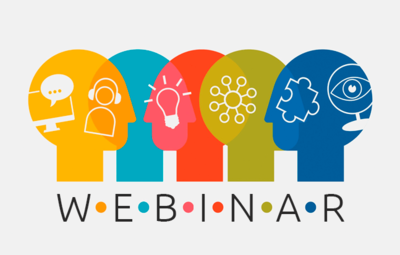 The webinar was organized by Indraprastha and Delhi School Sahodaya held on 16th April, 5 pm
The main speaker for the session, CBSE Secretary Mr. Anurag Tripathi was greeted with warm words of welcome by the President of Indraprastha Sahodaya, Mrs. Jyoti Arora
Mr. Tripathi apprised over 235 school heads with the various doubts and questions with regards to CBSE policies and procedures during the difficult time of lockdown and closure of schools
He was erudite in expressing that it is uncertain as to when the schools may reopen
During this time, he appreciated the endeavors made by schools to carry on schooling through online mode
Mr. Tripathi answered the various questions put by the Principals:
1. The course of Class X, XII: CBSE has been in discussion with MHRD and NCERT concerning various concerns over course completion. The course may be shortened but it was too early to comment. He suggested that the schools should start teaching in serial order of chapters and not take up a course from in between
2. Provisional Affiliation and Extension:
Mr. Tripathi confirmed that the same has been extended for the lockdown period and may also be extended further if need be
3. Closure of schools
" The Schools must follow the guidelines given by their State Government on this issue"
4. Upgradation of schools from Secondary to Sr Sec: the schools need to wait for confirmation and not start classes without the same
5. Introduction of the new subject: no permission is required from CBSE and elective/ skill subjects may be started by the school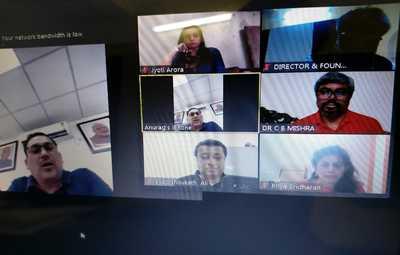 Since Mr. Tripathi was facing some network issues, the gap was efficiently utilized by Mrs. Jyoti Arora to take up other school-related matters with the attendees. Mrs. Anita Sharma, Principal SD public School, Pitampura was kind enough to explain the nuances of the new subject " Applied Mathematics" Her inputs were useful in ascertaining applicability of the subject for students in choosing their choice of studies at the college level.
Mr. Tripathi also extended that this subject has been introduced to various universities and CBSE has already requested that the students should not face marks deduction for the same.
However, Applied Maths is best suited for Commerce and Humanities students
Mr. Tripathi eloquently put forward the need for school leaders to be sensitive with students in these unique yet upsetting times and to guide them towards positivity
All participants were eager to hear more from Mr. Anurag Tripathi for him being a good orator and an exemplary educationist but for the urgent MHRD meeting, he was called for.
Dr. CB Mishra proposed the vote of thanks
The session was very useful and motivating to continue our efforts to impart quality education
Food Defense Workshop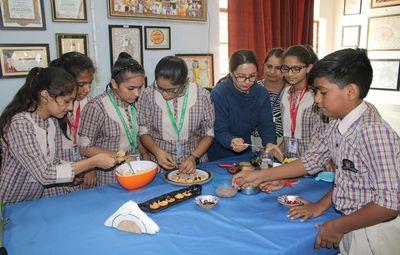 A productive workshop was conducted at S.D. Public School, Pitampura regarding "Food Defense" by Ms.Sangeeta Madan, Chef. The workshop was on non fire and healthy cooking tips and tricks. She also enlightens the healthy food activities.
Journalism and School's Online Newsletter Training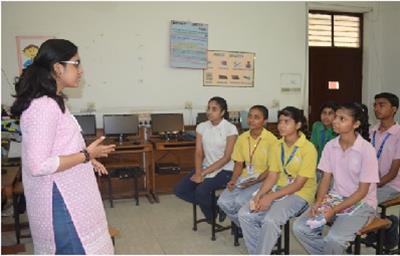 FairGaze, largest K- 12 Media has conducted journalism and online newsletter training at S. D. Public School, Pitampura, New Delhi on 30th August, 2019 in the school premises by the Assistant Editor of FairGaze, Ms. Bhavna Sharma. Here, she interacted with PROs and student journalists of S.D. Public School and taught them about journalistic ethics and standards. Trainer also discussed about the Online Newsletter and how to write good report. In the workshop they discussed about the news elements that are needed while writing for the online newsletter. Also, how to earn and represent as a journalist of the school, and how to improve their written and oral communications were discussed. Pros and cons of the Journalism field was also a concerned sub topic that was discussed.
BEHAVIOURAL ASSESSMENT IS THE KEY TO BECOME A BETTER TEACHER!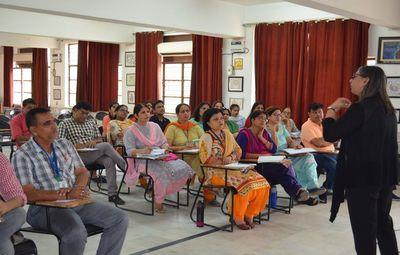 FairGaze media Network has organised a teachers training at S D Public School, Pitampura, the most important aspect which we found and which should be seen in today's era and which also should be taught to the teachers is Behavioural Assessment. An effective teacher's training must counter some basic problems, when we speak about behavioural assessment, identifying students with stress behaviour which can be caused due to surroundings or any other factor, health issues, nowadays many students suffer with anxiety and peer pressure.
We study an array of effects that comes with various types of education and trainings on the productivity of teachers while promoting student achievement. Earlier studies on the subject have now been hampered by inadequate and inappropriate measures of teachers training. It is found that middle school and elementary teacher's productivity increases with the increase in experience. The largest and also highest gains from experience occur in the first few years, but studies have also found continuous gains in first five years of career of a teacher.
Gender Sensitization Programme- Challenges and Solutions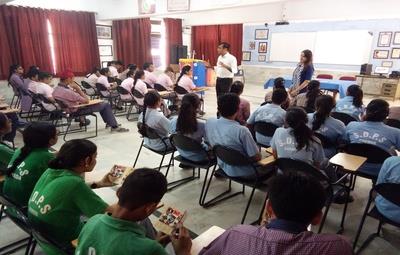 A workshop was organised in Conference Hall, SDPS, Pitampura on topic "Gender Sensitization- Challenges and Solutions" by Mr. Rajeshwar Nagpal, Advocate and RTI Activists, Delhi. House Captains, Vice-Captains and 72 prefects from Kaveri, Ganges, Narmada and Chenab Houses participated in the workshop. Mr Nagpal had focused on the rules, updated acts and laws for female empowerment. He had given awareness about some challenges, that were important to know to all the students, like self-defense, to understand the nearby environment, focus on the risks for danger etc. Mr Nagpal had informed to students for the forthcoming event on Gender Sensitization on mega level in NSP, Pitampura. All prefects had received invitation card and relevant information to register in that event. He had also shared some web links and brochure to provide basic knowledge and information about gender sensitization.