Event/Activities
Online Inter-school Competition by SVIS- Quarantech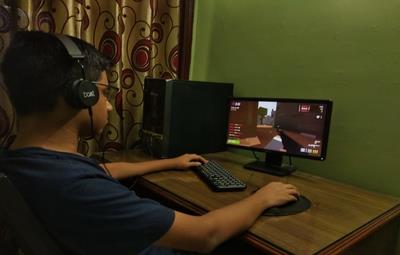 In the time of an ongoing global pandemic, SVIS (Dwarka Sec 18) School decided to conduct an online interschool competition for various schools. They named it 'QUARANTECH'. A tech-related competition for the people stuck in quarantine.
Many events took place but I was particularly interested in gaming. I have always loved playing the game Krunker.io and I believe I play it well. So, the moment I got to know that there will be a competition on gaming, I took no time to volunteer to participate. My event started around 11:00 AM and ended around 03:30 PM and for those four and a half hours I was completely glued to my computer screen. I was so excited about the event that I did not even bother having my lunch on the break time.
The first two rounds were easy and I was easily able to reach the third and the final round. In my last match, I faced tough competition and played an intense, nerve-racking match with my opponents. After a long and eventful day, I was finally able to see my name on the winner's list. I had secured the second position for my school and I feel extremely proud of my achievement. I appreciate that gaming is now being treated as a sport and is receiving the respect it deserves.
By: Kshitij
Online Is The Solution For Sri VIS National Behes Jr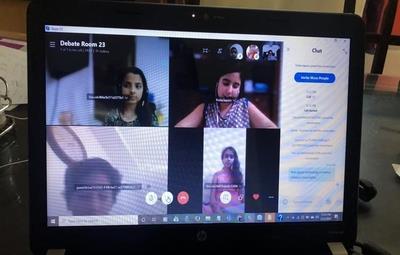 The New Gen Round by Quarantine: Online Debate, was a competition hosted by the students of Sri Venkateshwar International School, on 25-26th of April, along with a non-profit initiative called Behes, which is a non-profit initiative which is working to promote debating, public speaking and reasoned expression in India and beyond.
This competition got the participation of around 300 students nationwide with around 80 educators supporting this event in forms of adjudication and student training.
The Organisers of this debate were Arjun Garg, Tarannum Sehdeva and Shashvat Narindra from Sri Venkateshwar International School, Dwarka along with people from Behes, namely Salil Singh, Nabhaneel Tiwary, Christy Varghese, Srishti Aren, Adil Sami and many other members.
All the debating rounds were conducted on the Skype app, where two teams of three would be present with an adjudicator.
On Day 1, 96 teams debated head to head for 3 rounds, to qualify for the knockouts on Day 2. Only the Top 32 teams out of 96 teams were selected for the knockouts.
After a session of heated debates, the final round was between the teams-
The Iron Maidens- Unstoppable, consisting of Lavanya Chaudhary, Vanya Chanana and Vani Buttan from the Ahlcon International School, and Hukum ka Ikaa, consisting of Kinza Rahman, Anubhuti Mittal and Ipshita Joshi.
The closing ceremony was held after the finals, which revealed the top 80 speakers of the event, with Sudiksha Kumari, from The Heritage School, Vasant Kunj as the Best Speaker. It unveiled Team Hukkum Ka Ikka from the Finals as the Champion Team of the debate and Team Iron Maidens- Unstoppable as the Runners Up team.
SVIS Spanish Students Made Everyone Proud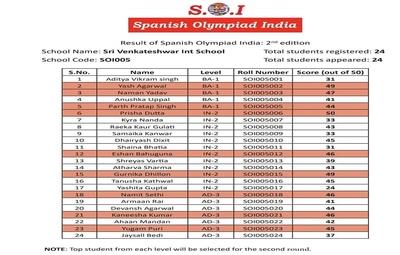 Our Spanish students are bound to repeat the history that they set last year.
They topped the Overall Spanish Olympiad.
This year again, three students will compete at the Second Level. There will be a tie-breaker between Namit Sethi and Kaneesha Kumar.
Other two qualifiers are Yash Agarwal and Prisha Datta
In fact, many students had outscored the competitors from other schools in Level 1 but could not compete at Level 2 as the policy is of only School Toppers to compete.
Heartiest Congratulations dear students, parents, Ms Chetna and others.
Young Students of SVIS Performed Great in IOM and IOEL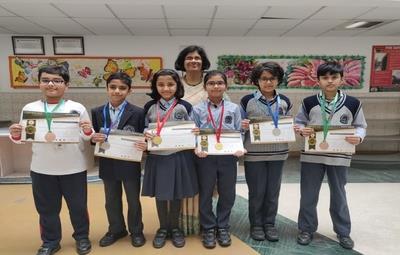 The students of Sri VIS never leave any stone unturned in making us bask in the glory of their success. It is a matter of immense pride for us to share the result of the first level of IOM and IOEL for classes I-V wherein, yet again, our students have showcased their excellence and supremacy by winning accolades.
Tanaya Das, Liza Lochav, Prissha Bir and Tia Jain of Class 2 scored a perfect 100% each in IOEL. Huge congratulations dear prodigies and mentors at home and school!
Green Olympiad at School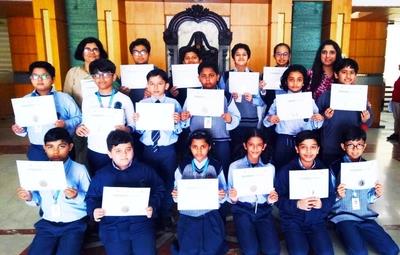 "No one is too small to make a difference. "
The ultimate test of man's conscience may be his willingness to sacrifice something today for future generations whose words of thanks will not be heard by us. The school organised a Green Olympiad which is an annual environment education examination conducted by the Energy and Resources Institute. It is an endeavour to promote environmental stewardship at the school level. Students participated with a lot of zeal thereby spreading the message that every single step makes a huge impact in the creation of a world where the environment would not need any protection and the earth would be a paradise to live in.
We congratulate our merit holders, their parents and mentors and wish them all the best for all future endeavours.
Mrs Nita Arora Honoured at Eldrok India K-12 Summit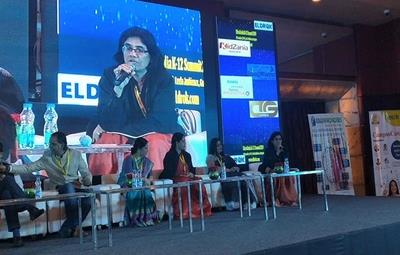 School Principal was among the Panelists on 4 Cs in Education at the Eldrok India K -12 Summit and was honoured, not only as a speaker but also for leading the school that has the most comprehensive evaluation techniques in the education programme.
Excerpt from Eldrok Panel Discussion on 4 Cs in Education that are Creativity, Critical Thinking, Collaboration and Communication
To the moderator's question on are there more Cs to be added, Mrs Nita Arora feels that care, concern, compassion and above all courtesy are needed to be inculcated by role modelling and positive examples set by homes, school and society. Add Confidence to this list and the millennials make a mark.
Competition is the negative C.
She also talked about a few pedagogical practices that enhance 4 Cs.