Event/Activities
SVIS Spanish Students Made Everyone Proud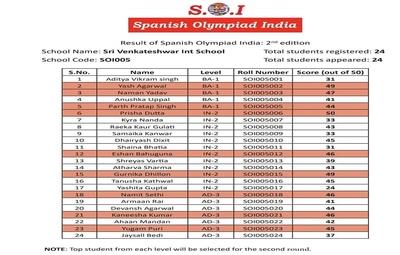 Our Spanish students are bound to repeat the history that they set last year.
They topped the Overall Spanish Olympiad.
This year again, three students will compete at the Second Level. There will be a tie-breaker between Namit Sethi and Kaneesha Kumar.
Other two qualifiers are Yash Agarwal and Prisha Datta
In fact, many students had outscored the competitors from other schools in Level 1 but could not compete at Level 2 as the policy is of only School Toppers to compete.
Heartiest Congratulations dear students, parents, Ms Chetna and others.
Young Students of SVIS Performed Great in IOM and IOEL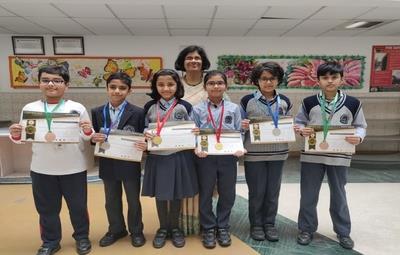 The students of Sri VIS never leave any stone unturned in making us bask in the glory of their success. It is a matter of immense pride for us to share the result of the first level of IOM and IOEL for classes I-V wherein, yet again, our students have showcased their excellence and supremacy by winning accolades.
Tanaya Das, Liza Lochav, Prissha Bir and Tia Jain of Class 2 scored a perfect 100% each in IOEL. Huge congratulations dear prodigies and mentors at home and school!
Green Olympiad at School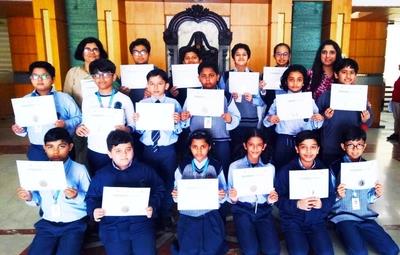 "No one is too small to make a difference. "
The ultimate test of man's conscience may be his willingness to sacrifice something today for future generations whose words of thanks will not be heard by us. The school organised a Green Olympiad which is an annual environment education examination conducted by the Energy and Resources Institute. It is an endeavour to promote environmental stewardship at the school level. Students participated with a lot of zeal thereby spreading the message that every single step makes a huge impact in the creation of a world where the environment would not need any protection and the earth would be a paradise to live in.
We congratulate our merit holders, their parents and mentors and wish them all the best for all future endeavours.
Mrs Nita Arora Honoured at Eldrok India K-12 Summit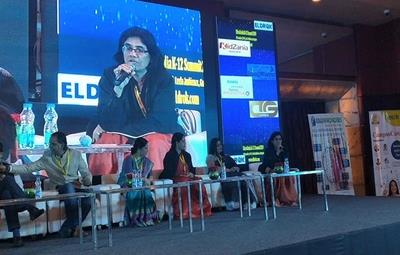 School Principal was among the Panelists on 4 Cs in Education at the Eldrok India K -12 Summit and was honoured, not only as a speaker but also for leading the school that has the most comprehensive evaluation techniques in the education programme.
Excerpt from Eldrok Panel Discussion on 4 Cs in Education that are Creativity, Critical Thinking, Collaboration and Communication
To the moderator's question on are there more Cs to be added, Mrs Nita Arora feels that care, concern, compassion and above all courtesy are needed to be inculcated by role modelling and positive examples set by homes, school and society. Add Confidence to this list and the millennials make a mark.
Competition is the negative C.
She also talked about a few pedagogical practices that enhance 4 Cs.
Bidding Adieu With Lots Of Best Wishes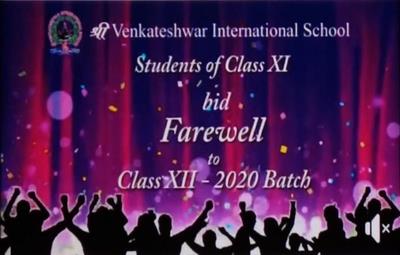 We have tears in our eyes and feeling very sorry as this is the time see off a very talented batch of ours. However, we are feeling very lucky to be having such a batch with us. It seems that we met yesterday and are getting separated very soon. However it is a happy moment for them as they have completed their school study and it's time for them to make their career, we should not be so sad and should see them off happily. They have completed this part of their journey with full glory, great achievements and beautiful memories. They have attained this impressive milestone in their life with great honour and integrity. We are proud of their many achievements over the years, their various accomplishments in all curriculum and extra curriculum activities.
Sri Venkateshwar International School Students Made Everyone Proud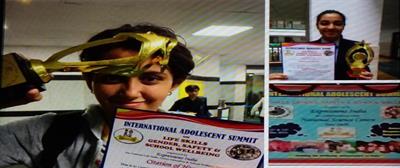 SVIS students participated in the 7th edition of international adolescent Two days summit on life skills, Gender, Safety and School Well being that was held on December, 12th and 13th, 2019 at the National Science Centre, Pragati Maidan, New Delhi.
Tarannum of class XI won the Jury's award in Rhetorics -The Young Orator Championship.
Niharika Soni and Namrata Singh (class XI students) participated in the Global School Health Exhibition in the key scholastic areas such as Life Skills, health and well being.
Mimansa Bharti (Class XI) bagged the 2nd best speaker award in the National Youth Health Parliment.
Nivedita Soni (class XI) Expressed her beautiful ideas in painting on the topic 'Positive Psychology'.
Roshni Choudhary (class IX)showcased her talent through Western Dance.
We solemnly hope our budding artists keep making us proud and continue to bring glory to the SVIS family.