From the school desk
Commander V.K. Banga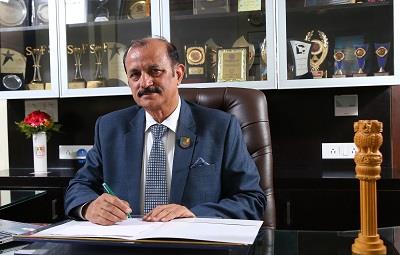 Parents and teachers are the two closest and best factors in a child's ultimate growth, who are mutually bound by a purely unselfish common thread of an earnest desire to see the young child/pupil go ahead of them in life, to prosper and flourish better than they have done.
Such thinking, it goes without saying, is only natural for the parents, because it is based on their shared love with the child due to emotional, traditional and biological reasons.
In the case of a teacher, the same intense concern for the child is based on profession as a mission, which establishes that teaching, by its very nature, is a process of enabling and empowering a child into a fine human being and better citizen of tomorrow. In this sense, teaching is purely a service, a missionary act, rather than an occupation which is always mercenary. That is why a teacher is called a gardener who nurtures his saplings with all the loving care he can afford.
It needs, however, to be borne in mind, that the analogy of parents and teachers on an identical attitude towards their wards cannot be stretched too far. It's a fact that for parents, their ward is the best and, therefore, he must claim all the 100% of his teacher. But, for the teacher, it is always a set of students being treated as wards and which changes every year, who have to be taken care of and, therefore, every child of a particular year simply takes 100% attention of his. He has to treat every student in analytical and comparative terms in relation to his classmates, since all of them are born with different talents and interests and capacities, and they have to be attended to and served as per their needs, resulting in their assessment on a scale of comparative ratings.
Parents need to understand and realize such practical problems being faced by teachers and refrain themselves from blaming teachers for not giving their best to their ward. Parents and teachers need to develop strong mutual faith and trust in each other for the best monitoring of the children. Constant interaction between the two is the only best method to develop such trust as it used to be some 50 years ago. What has happened to the age-old valuable bond of mutual respect and trust between parents and teachers after all? It can be put down to two major changes in today's society (a) impact of computer based rapidly growing technology and (b) ever increasing need of parents to go out to work. Both these factors have widened the generation gap between parents and children on the one hand, between the children and their teachers on the other, thereby progressively thinning down of interaction between parents and teachers.
Technology has so powerfully impacted the raw young generation that they love to spend their time more and more with cell phones and internet which provides them all sorts of information on all subjects, that they do not feel the need to consult their parents regarding their problems and prefer to listen to their like-minded peer groups instead of their teachers/parents. They also take advantage of the fact that parents and teachers belong to an old world and are not well-versed in today's technology as they are. Naturally, the image of the parents and teachers and their regard for them, have gone down in the eyes of the young generation, leading to a blame-game among all three stake-holders of education of children, viz, students, parents and teachers. Dissatisfaction is writ large on everybody's face that children are not learning well or are not being taught well.
The only panacea available to us to bridge the generation gap and bring about an equilibrium in school sphere lies in adoption of the latest technology by parents and teachers who should use it habitually like the young ones do. In other words, both must change with change of time. It will restore elders' image in their eyes and elders will be able to monitor students better and faster. On the parallel lines, parents will be able to frequently interact with teachers through mail, Facebook and other channels to update themselves about the progress of their wards at convenience. After all, parents and teachers owe a great responsibility to enrich the society by contributing exemplary citizens to it.
Commander VK Banga
Former Chairman IPSC &
Principal
The Mann School, Delhi -110082